8 Matcha Skin Care Products You Haven't Tried Yet But Should
November 16, 2017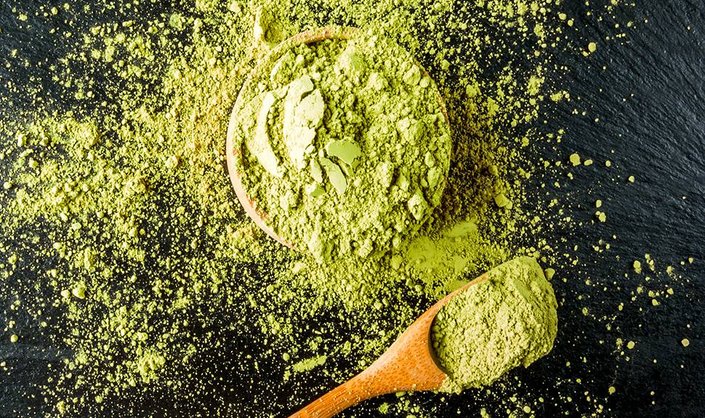 You've enjoyed matcha in your morning lattes consecutively for as long as you can remember, but that's not the only way to get your fix of the buzzy powder made from milled green tea leaves. Matcha is also making its rounds in a handful of beauty products, including sugar scrubs, face masks, toner and more. And though the antioxidant-packed ingredient isn't the first to crossover from our cups to our skin care, we're willing to bet it likely won't be the last one either. Ahead, we share a few of our favorite beauty products infused with matcha.
 SISTER & CO RAW COCONUT & MATCHA GREEN TEA SUGAR SCRUB
Sugar scrubs are a fan-favorite way to exfoliate and remove dead cells off the skin's surface, and this particular formula features none other than Japanese matcha green tea. Give it a try if you're looking to tackle any dull or rough skin woes. 
PLANT APOTHECARY MATCHA ANTIOXIDANT FACE MASK 
There's no such thing as having too many clays masks in your arsenal, and this one—formulated with white clay, matcha tea, and chamomile—certainly deserves a spot in yours. Not only can it help boost your skin with a dose of antioxidants, but it's also super easy to use. All you have to do? Mix a teaspoon of powder into your palm with a few drops of water to form a paste. Apply it to your skin, let it dry, and rinse off. 
TOSOWOONG GREEN TEA MATCHA SHEET MASK
For the ultimate skin treat, reach for this hydrating sheet mask formulated with fermented green tea extract. To use, unfold the mask and lay over clean skin. Leave it on for 10 to 15 minutes—the prime opportunity to multi-task and cross more to dos off your list—before removing and gently massaging any excess serum into the skin.
As far as skin care must-haves go, toner doesn't always get the praise it deserves. Nonetheless, this toner—formulated with kombucha, witch hazel, and matcha green tea—is one to keep your eye on. It's a solid formula in a convenient stick format, making it an ideal choice for refreshing your skin both at home and while on the go.  
FIRST AID BEAUTY HELLO FAB MATCHA WAKE UP WIPES
 For skin that's in need of a quick, easy refresh look to these portable, pre-moistened towelettes. Formulated with vitamin C, caffeine, matcha tea, and aloe vera, these wipes can help remove dirt and impurities from your skin's surface in a pinch. 
LILFOX CHLOROPHYLL & TOURMALINE BRIGHTENING MASK
Not only can this green-hued clay mask give you a solid selfie opportunity, but it also scores points in the beauty department for its chic packaging and skin-brightening benefits.
Give yourself an at-home spa day with this blend of matcha tea, coconut milk, and detoxifying minerals. A few spoonfuls to the tub and you're well on your way to relaxation.
H2O+ BEAUTY AQUADEFENSE SHIELDING MATCHA FACIAL ESSENCE
To refresh your skin after a long day, spritz on this matcha-infused essence spray. You can use it after moisturizing, after applying makeup to help set it in place, or while sitting at your desk for an extra dose of hydration.
Read more

Back to top