The 10 Commandments of Concealer
September 12, 2017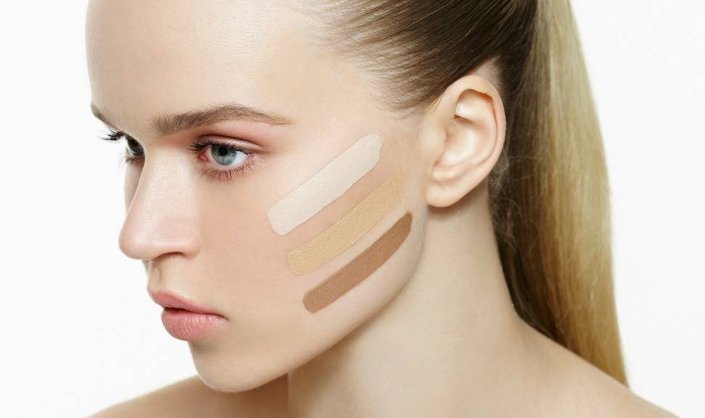 We all love and use concealer in our daily beauty routines to cover up dark circles, eye bags, blemishes, and even an uneven skin tone— it's a beauty staple we won't be skipping out on any time soon. By now, you probably know which concealer works best for your under-eye area and which concealer is ideal for covering up blemishes, but are you buying the right shades and applying them the right way? Below, we share 10 unbreakable rules for using concealer that have you—quite literally—covered. 
1. PREP YOUR SKIN
All masterpieces begin with a clean canvas, so follow suit. Create a base for your concealer by hydrating your skin with a primer or moisturizer and letting it sink in for a few moments. The last thing you want to see is your makeup products settling into the fine lines around your eyes or the dry patches on your cheeks, and properly hydrating the skin beforehand can help avoid this from happening.
2. CHOOSE YOUR SHADE WISELY 
This seems obvious, but picking a shade that's too dark or too light for your skin tone will look…off. Not to mention, everyone will be able to tell that it's not natural— and no one wants that! To find your perfect concealer shade, we recommend testing a few different colors on your skin before committing, and re-testing your skin tone throughout the year as the skin tone may change with the seasons.
3. BUY MULTIPLE SHADES 
On that note, your complexion won't stay the same throughout the seasons. In the summertime—especially if you're rocking a sun-kissed glow—you may need a darker shade than you do in the wintertime. Keep a few shades of concealer on hand so keep your complexion looking as natural as possible. Better yet, buy two separate shades and blend them to create an in-between shade you can use when your skin tone is slightly more bronzed.
4. DON'T BE AFRAID TO COLOR CORRECT
Speaking of shades, don't just limit yourself to light, medium, and dark. Whip out the color wheel and pick a colorful concealer that can help color correct your specific skin concerns— from dark circles to acne. As a refresher: green conceals redness, purple neutralizes yellow undertones, and peach/pink masks blue-hued discoloration (think: dark under-eye circles).
Check out our color correction guide for more helpful tips on picking a shade!
5. CONSISTENCY MATTERS 
Concealer consistency is key when it comes to achieving a natural-looking finish. If you're covering redness and blemishes, you'll want a thick, densely pigmented formula that won't require a ton of layers to get the job done. But don't use that same rich consistency in the inner corner of your eyes, for example, where a sheer liquid would work best. For the delicate skin under the eye area, reach for a creamy formula—bonus points if it has light-diverting pigments—that blends well.
6. PICK THE RIGHT PRODUCT (FOR YOUR SKIN TYPE)
Now that we've covered shade and consistency, it's time to choose the perfect concealer for your skin type. For dark circles, try L'Oréal True Match. Available in nine shades, this ultra-blendable concealer can help camouflage circles and bags for an even under-eye skin tone. For zits, we like Maybelline Superstay Better Skin Concealer, a 2-in-1 concealer plus corrector that is infused with antioxidants that help target spots and imperfections on the skin's surface. To brighten the look of your complexion and erase signs of fatigue, use Yves Saint Laurent Beauté Touche Éclat, a lightweight formula that's beloved amongst top makeup artists worldwide. As always, make sure the product is safe for your specific skin type!
7. KEEP THE ORDER 
There is no cardinal rule on when to apply your concealer, since you technically could wear it on its own. However, we recommend you use it after an application of foundation, BB cream, or tinted moisturizer to make sure it doesn't budge too much. Applying concealer before your all-over facial makeup can lead to smudging and can reduce the coverage of your concealer. Follow this sequence: primer first, foundation second, and concealer third. 
For more information on the proper order to layer your skin care products, read this.
8. USE IT WITH LOOSE POWDER
Once your concealer is in place, you want it to stay where it belongs without creasting or melting away throughout the day. To go one step further in setting your concealer in place, sweep some loose, translucent powder—like Urban Decay Naked Skin Ultra Definition Loose Finishing Powder—over the area. Not only do some setting powders help your makeup look last longer, they can help kill shine and even out the skin tone, as well.
9. CHOOSE THE RIGHT BRUSH
If you're used to applying concealer with your fingertips over a pimple, stop now. You don't want to introduce new dirt and bacteria from your fingertips into the area. For hard-to-reach places like the corners of your eyes and on blemishes, use a tapered brush for more precision. For larger surface areas, a densely-packed brush will deliver the most amount of product. Just be sure to clean your brushes regularly to keep bacteria at bay.
10. LIGHTING IS EVERYTHING
Take it from someone who has applied concealer in the dark one too many times with one too many failures, make sure you apply your concealer in good lighting—seriously. Step into a room that's filled with natural light (this may not be your bathroom) so you can ensure that all problem spots are concealed and blended the way they should be, and look natural once you step outside.
Read more

Back to top