Ask the Expert: What Is Cystic Acne?
June 20, 2018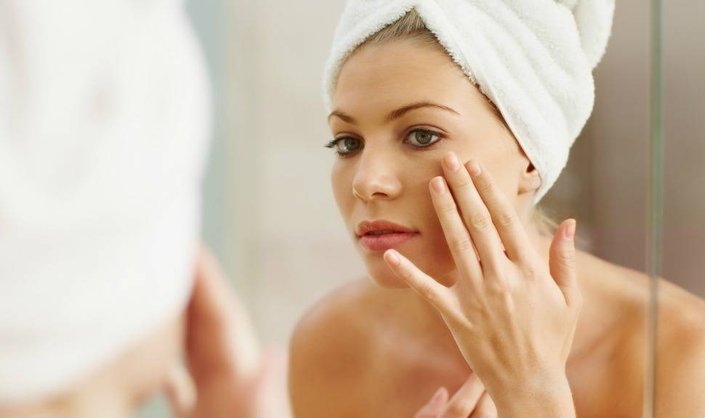 If we measured acne on a scale of 1 to 10 with 10 being traumatic, a pimple would fall somewhere below 5 (annoying, but bearable), and cystic acne would, hands down, land closer to 10—if not on 10 itself. These gnarly papules are large-and-in-charge, often painful, and can be difficult to address with just a topical treatment. To learn more about these underground blemishes, we reached out to board-certified dermatologist, and Skincare.com expert, Dr. Dhaval Bhanusali. Below, everything you need to know about cystic acne.
WHAT IS CYSTIC ACNE? 
According to the Mayo Clinic, cystic acne is the most severe type of acne. It typically occurs when oil and dead skin cells build up deep within the hair follicles. Dr. Bhanusali reiterates, "When your pores are clogged (by dead skin cells, debris, etc.), you can occasionally get a bacterial overgrowth in the area that tends to be deep in the skin. Your body's response? Cystic acne. "These tend to be red, swollen, and more painful than typical superficial acne bumps."
CAN CYSTIC ACNE LEAVE BEHIND SCARS?  
"Definitely! The lesions tend to be deep and patients sometimes mistakenly try to 'pop' the cysts, which can lead to further infection and even scarring," Dr. Bhanusali says. "That's why it's important to see your dermatologist right away." You heard the guy—no picking at your skin! It'll only make things worse. 
If you happen to have the urge to pop your pimple, stop for a moment and follow these tips instead.
WHAT IS THE BEST WAY TO DEAL WITH CYSTIC ACNE?  
With cystic acne, it's best to leave the action plan to the professionals. Seek the advice of your dermatologist to come up with a skin care regimen that may work for you. 
HOW CAN ONE AVOID GETTING CYSTIC ACNE?  
"Prevention is key!" says Dr. Bhanusali. "If you are prone to cystic papules, exfoliation is important and should be done often." Look for cleansers and light moisturizers formulated with acne-fighting ingredients like salicylic acid and benzoyl peroxide. Just be sure to follow up with a moisturizer formulated for your skin type as these ingredients can dry out the skin.
HOW TO HIDE THE APPEARANCE OF CYSTIC ACNE 
As with all skin concerns, addressing your cystic acne can take some time. If you're looking to hide the appearance of your blemishes in the meantime, turn to Dermablend's range of high coverage, non-comedogenic foundations. Below are three of our favorites:
Dermablend Blurring Mousse Camo Foundation
This oil-free mousse foundation is ideal for acne-prone skin types. Its medium coverage formula smooths the appearance of blemishes to a matte finish. What's more, it boasts SPF 25 to help protect the skin against the sun's harmful rays. Just apply it with a beauty blending sponge and finger-tap to build up the coverage as desired.
Dermablend Blurring Mousse Camo Foundation, $38 MSRP
Dermablend Intense Powder Camo
If powder foundations are more your preference, try the Intense Powder Camo foundation. This non-comedogenic powder—available in 15 different shades—contains high-performance pigments in an ultra-blendable and breathable formula that offers hours of wear.  Buff it on with a brush or intensify it with a sponge— you can't go wrong!
Dermablend Intense Powder Camo, $35 MSRP
Dermablend Cover Creme Full Coverage Foundation 
Another great full coverage option is the Creme Full Coverage Foundation. Thanks to its innovative resurfacing technology, it can help address the look of an uneven skin tone in a cinch. The best part? It even offers broad-spectrum SPF 30 protection to help shield your skin against the sun's harmful UV rays.
Dermablend Cover Creme Full Coverage Foundation, $39 MSRP
The bottom line? Cystic acne can be a real pain, in more ways than one. Keep up with a consistent skin care regimen and use products that won't clog your pores, always visit a dermatologist for the best treatment plan for cystic acne, and for the love of everything good, stop trying to pop them! And while you're at it, educate yourself even more about adult acne, here. We have the answers to some of the most frequently asked questions.
Read more

Back to top