How to Color Code Your Skin-Care Routine for a Monochromatic Shelfie Moment
November 25, 2019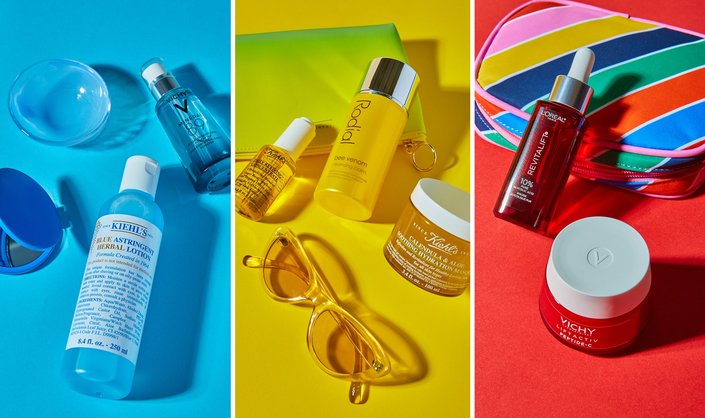 When we're not trying new skin-care products, you can probably find us reorganizing our bathroom cabinets to ensure our shelves are always ready for a good Insta moment. Recently, we've been seeing the color-coded shelfie popping up everywhere on the 'gram, and we wanted to get in on the fun. We decided to create a list of product recommendations all packaged in the same hue and based on different skin types — and, of course, we photographed each set together. Read on for our recommendations. 


If You Have … Oily Skin
We know there's a fine line between dewy and oily, but if you're in the market for products that will target any unwanted shine, we got you covered with these blue-packaged picks. 

La Roche-Posay Effaclar Gel Facial Wash
Add this gentle foaming gel cleanser made for oily skin to your regimen to help address excess shine. It cleanses and purifies your skin without overdrying and removes excess oil. 

Kiehl's Blue Astringent Herbal Lotion
Pair your blue face wash with this blue astringent that soothes and balances oily skin. You can use it as a spot treatment or all over your face to help with those oily-prone areas. 

Vichy Minéral 89 Hyaluronic Acid Face Moisturizer
Simply because you're oily doesn't mean you can skip out on a good moisturizer. Reach for a lightweight formula like this Vichy Minéral 89 Face Moisturizer. Made with the Vichy mineralizing thermal water, 15 different minerals and hyaluronic acid, it strengthens the skin barrier and makes it more resistant to visible signs of aging without leaving your skin too shiny, greasy or sticky.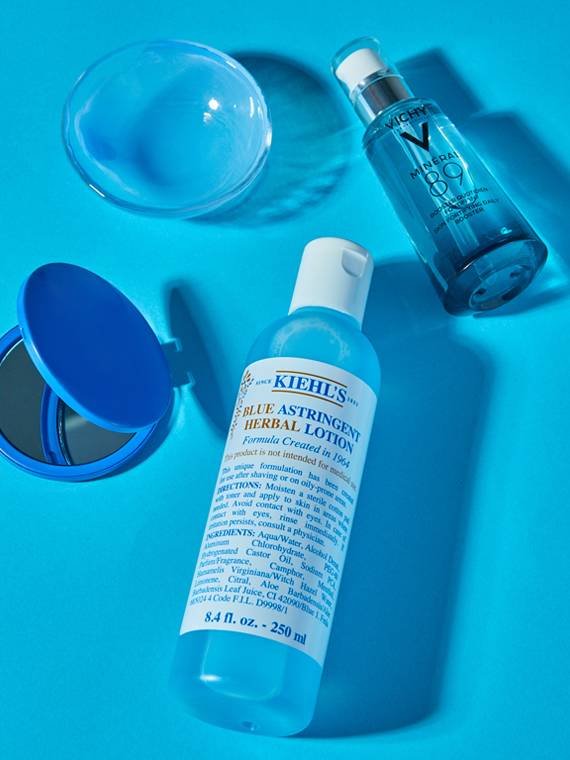 If You Have … Aging Skin
When it comes to targeting visible signs of aging, we like these skin-care products, all housed in red packaging, for reducing the appearance of those fine lines and wrinkles. 

L'Oréal Paris Revitalift Derm Intensives 10% Pure Glycolic Acid Serum
Have you heard about the benefits of glycolic acid? If not, it's an alpha-hydroxy-acid (AHA) recognized by dermatologists as an effective resurfacing agent for younger-looking skin. Use this serum in your daily routine to visibly even out your skin tone and reduce the look of dark spots and wrinkles. 

Vichy LiftActiv Peptide-C Moisturizer
This has been one of our favorite moisturizers since its launch this past summer. The velvety-soft formula combines anti-aging powerhouses like vitamin C and phyto-peptides to help correct multiple signs of aging, including wrinkles, dull skin, loss of contour definition and loss of firmness. 

Kiehl's Powerful Wrinkle Reducing Eye Cream
Because the skin is so delicate, your under-eyes are normally one of the first places you'll notice signs of aging. Incorporate Kiehl's Powerful Wrinkle Reducing Eye Cream into your regimen to help visibly reduce wrinkles, fine lines and crows' feet in the eye area.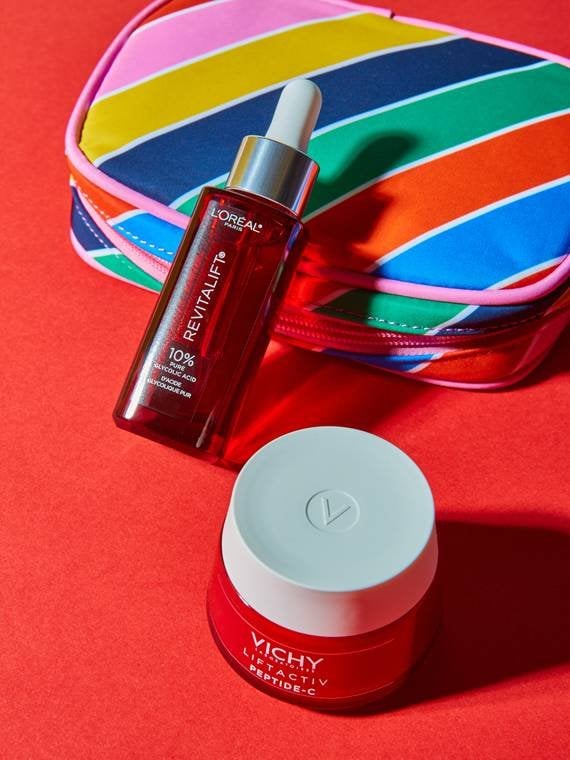 If You Have ... Dry Skin
These yellow-packaged skin-care products will help give your dry skin the boost of hydration and brightness it's looking for. 

Rodial Bee Venom Cleansing Balm
Substitute your everyday cleanser with a cleansing balm to avoid over-drying your face. This option from Rodial keeps the skin soft, supple and bright looking while gently exfoliating, unclogging pores and removing all traces of makeup. Not to mention, it's formulated with bee venom to help plump and smooth the look of fine lines and wrinkles.

Kiehl's Calendula & Aloe Soothing Hydration Mask
This five-minute mask is a must-have if you have dry skin. Made with calendula and aloe, it provides a cool burst of hydration that refreshes and revitalizes the skin like never before. After each use, you'll notice a softer, smoother and healthier-looking complexion. 

Kiehl's Daily Reviving Concentrate
Load up on the hydration by using this sunshine-colored facial oil. This antioxidant formula is blended with botanical oils that help reenergize tired-looking skin and unveil a radiant, glowing complexion.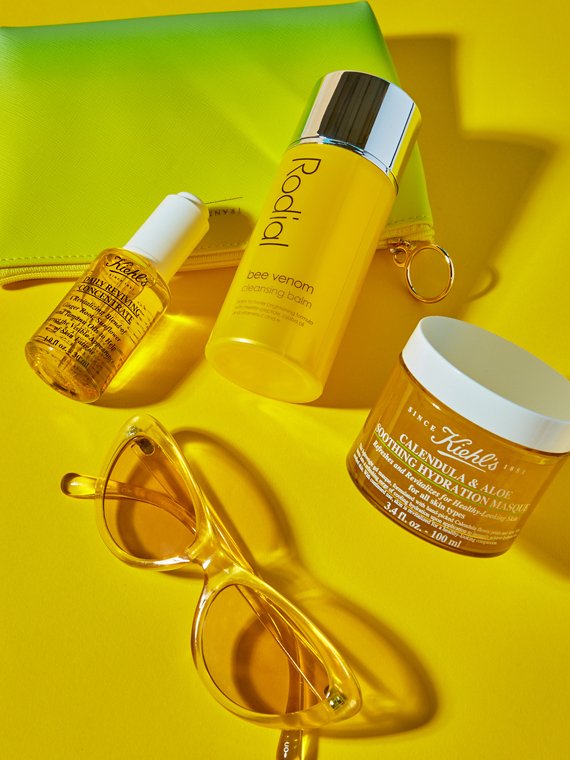 If You Have ... Combination Skin 
Keep your combination skin clean and refreshed with a shelfie that's pretty in pink. 

Lancôme Rose Milk Mist
No matter your skin type, we think we speak for most when we say there are few things more refreshing than a facial mist. This Lancôme Rose Milk Mist is a refreshing option that provides 24-hour hydration and improves your makeup wear as it instantly soothes, comforts and illuminates your skin.

Garnier SkinActive Water Rose Moisture Cream
Great for everyone with normal to dry skin, this sheer water cream is infused with rose waterand hyaluronic acid to provide long-lasting moisture without leaving behind a greasy residue. 

Garnier SkinActive Micellar Cleansing Water with Rose Water
Another great addition to the Garnier SkinActive Rose Water collection is this triple-duty micellar cleanser. Not only will it lift away dirt, oil and makeup without harsh rubbing, but it will also leave your skin deeply cleansed and hydrated. Plus, it's gentle enough for sensitive skin types.
Read More: 
Pre-Menstrual Pimples: Why You Break Out Before Your Period
A Simple Skin-Care Routine for Mature Skin Types
Why Thermal Water Spray Is the Ultimate Skin-Care Multitasker
Read more

Back to top