I Tried Derma-Rolling For 6 Weeks — Here Are The Results
February 26, 2019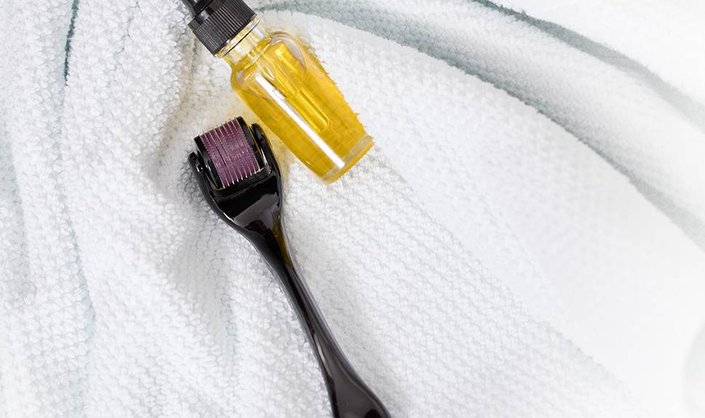 Derma-rolling is quickly becoming a popular at-home skin-care ritual that beauty editors and experts alike are embracing in their own skin care routines. We took this popular trend for a test run, and here's how it went.
At the start of a New Year, I always set two new goals for myself — because, let's be honest, I can't keep resolutions for the life of me — one is always beauty-related and the other is health-related. This year my beauty goal was decided upon before 2019 even began as I found myself spending hours watching online derma-rolling tutorials over the holiday break. So I decided to try derma-rolling for myself to see if it could become an inherent part of my skin care routine. Here's everything you need to know.
What is Derma-Rolling?
Derma-rolling — also known as micro-needling — is a skin care ritual that uses a drum-shaped roller that is studded with many microneedles (called a dermaroller) to pierce the skin's surface. After rolling, you can  follow by applying a skin cream or serum formulated to help improve the look of fine lines, wrinkles, and the overall texture of the skin.
What Is The Difference Between At-Home Derma-Rolling and In-Office Micro-Needling?
One of the biggest differences between at-home derma-rolling and in-office micro-needling is the dermaroller tool that is used. The medical-grade derma-rollers used in a dermatologist's office are usually around 0.5 to 1.5 mm in length and can only be used once, whereas the at-home rollers are 0.15 mm in length and can be used up to 100 times before needing replacement. What's more? In-office micro-needling traditionally requires topical anesthesia, as well as a minimum of six weeks between your next appointment. At-home derma-rolling does not require anesthesia can be practiced up to twice a week…though it's better to work your way up to that level of consistency.
Another major difference between at-home vs. in-office derma-rolling are the results. At-home derma-rolling can be used to help with transdermal delivery of anti-aging skin care products that are applied to the surface of the skin, whereas in-office micro-needling can help stimulate the skin's surface to help provide anti-aging results with continued in-office visits.
Why Try At-Home Derma-Rolling?
Back in December I spent countless hours watching — and reading — derma-rolling tutorials and came to the conclusion that I needed derma-rolling in my life. This decision, in part, was probably due to the fact that I am skin-care-obsessed and felt some serious FOMO about not having tried this seemingly popular trend. But, also because one of the main uses for at-home derma-rolling is to help promote absorption of your skin-care products into the surface of your skin, and after all, who doesn't want that? With my new at-home derma-roller in hand (and a hydrating facial serum in the other), I was ready to embark on my new derma-rolling journey.
Love At First Poke
To be honest, the first time I brought the derma-roller — and all 192 of its microneedles — up to my skin, I was a bit nervous. Before embarking on this journey, my only needle-to-skin experience had been at the doctor's office (so, not fun and painful). Much to my surprise, this experience was much different. The first roll felt a bit strange — more tingly than anything — and, as I continued to roll over my skin in horizontal, diagonal and vertical motions, the tingling sensation increased. I did notice that parts of my skin began to turn pinkish in color — but, I figured that was nothing to be concerned about, as I was, you know, poking my face with needles.
Once finished with my first at-home derma-rolling session, I coated my skin in a nourishing skin-care serum (cue: Skinceuticals H.A Intensifier)and took a long, hard look in the mirror. Though still pink in color, the skin on my face appeared to be glowing (I could get used to this!), and after about an hour or so, the rosiness faded completely. With my first at-home derma-rolling experience under my belt, I was already a convert.
Final Thoughts
Although you can use your at-home derma-roller up to twice a week, I decided that slow and steady wins the race and chose to dermaroll my skin every other week, instead.
Remember that glow that I was talking about earlier? Well, it stuck around for the rest of the six weeks. And after only a few sessions, my skin started to look — and feel — softer and smoother than ever before. What's more? After each session, I also noticed that the skin under my eyes didn't look as puffy — though the puffiness came back within a few days — and my skin-care products were absorbing faster, too. The only downside to my entire experience? The days after I dermarolled, I noticed that my skin felt extra sensitive, which caused it to turn more pink than usual during a sweaty workout. Going forward, I will probably take the day off from the gym on the days that follow my my derma-rolling practice.
Editor's Note: I may have seen positive results with at-home derma-rolling, but that might not be the case for everyone. Before trying this trendy skin-care ritual out for yourself, I recommend speaking to your dermatologist.
Read More
The Best Affordable Beauty Rituals
5 Things To Give Up for Better Skin
Read more

Back to top