The Ingredient You Need to Even Out Your Skin's Tone
May 30, 2018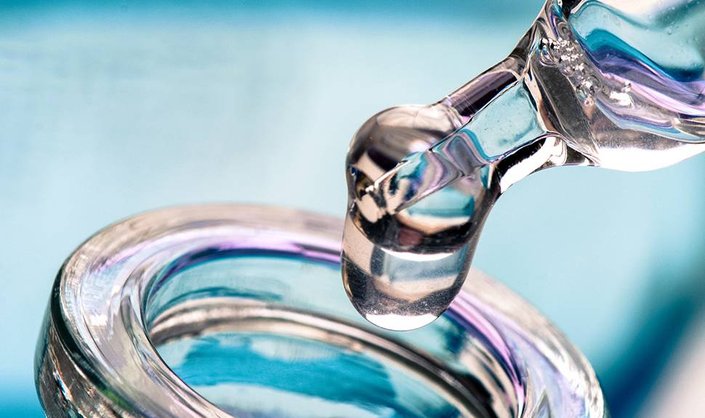 Is your skin looking lackluster and uneven? There's a buzzy ingredient that can help, and it goes by the name of glycolic acid. And no, you don't need to be concerned about letting an acid near your skin. While we may traditionally associate the word acid with something harsh, alpha hydroxy acids—like glycolic acid—are known for their varied skin care benefits. Which is to say, when used correctly, it's not necessary to fear being left with red, irritated skin. With that worry behind us, let's move on to learning all about glycolic acid. We tapped board-certified dermatologist, and Skincare.com consultant, Dr. Michael Kaminer to learn more about the benefits of glycolic acid and why exactly it's so highly sought-after in skin care routines.  
WHAT IS GLYCOLIC ACID?

 
Just because glycolic acid is popular at the moment, doesn't mean it's necessarily new. The ingredient, which is derived from sugar cane, is the most common fruit acid and has been around for more than 20 years. If you haven't been incorporating glycolic acid into your skin care routine for that long, there's no need to panic. Once you hear the benefits of glycolic acid, we're willing to bet it'll be front and center in your routine in no time. 
4 BENEFITS OF GLYCOLIC ACID

 
Now that we know what glycolic acid is derived from, let's understand the benefits that result from its use.
1. Has a brightening effect. To understand how glycolic acid can help your skin, it's important to first understand more about your skin's cellular turnover rates. In youth, skin surface cellular turnover occurs around every 28 days, but as we age, that rate of turnover slows down, typically by your early to mid-twenties. When that happens, dead cells—instead of fluffing off—can buildup on the surface and cause a dulled skin appearance. That's where glycolic acid comes in. Dr. Kaminer calls out glycolic acid's impact on skin's radiance as one of its most essential qualities, saying, "Most importantly, it's great for brightening the skin and lightening dark spots."
2. Helps smooth the look of fine lines. Improving the look of dull skin isn't glycolic acid's only anti-aging ability. It can also help with what's likely your most pressing aging-related complexion concern—fine lines and wrinkles. According to Dr. Kaminer, glycolic acid can have a smoothing effect that helps reduce the appearance of very fine lines. 
3. Eliminates rough texture. Glycolic acid is a chemical exfoliator, as opposed to a physical exfoliator—like a face scrub. As such, glycolic acid can be used to help eliminate rough texture by sloughing away dead skin cells and smoothing out the top layer of the skin.
4. Evens out pigmentation. Glycolic acid can also be used to even out pigmentation, says Dr. Kaminer. So, if you're dealing with hyperpigmentation or discoloration, glycolic acid could be worth adding to your routine.
HOW TO INCORPORATE GLYCOLIC ACID INTO YOUR ROUTINE
According to Dr. Kaminer, glycolic acid is used far too sparsely among patients and dermatologists. Now that you know what it's capable of, you can be on the lookout to add it into your routine. Luckily, your search likely won't be too difficult as glycolic acid can be found in a wide range of skin care products including serums, cleansers, and moisturizers.  
"I love glycolic acid," Dr. Kaminer says. "It is a great part of an overall strategy, and one of my personal favorites as part of a morning regimen." However, this is not to say that you should swap every last product on your shelf for formulas with glycolic acid. Keep the ingredients in your arsenal varied, as too much glycolic acid can actually irritate the skin, especially those with sensitive skin.
Keeping those expert tips—limiting how much glycolic acid is present in your routine and using glycolic acid products in the morning—in mind, consider making one or two of the following products (formulated with glycolic acid) from the L'Oreal portfolio of brands the latest addition(s) to your skin care routine:
Vichy Normaderm Gel Cleanser: It doesn't matter if your skin care routine is on the simple side or more complicated, it surely includes a facial cleanser. Which means if you aren't interested in tacking another product onto your routine, you can easily swap your current cleanser for one containing glycolic acid. This Vichy cleanser, formulated with salicylic acid and a soothing agent—in addition to glycolic acid—is a prime pick. And yes, it's even suitable for sensitive skin types. To use, work the foaming gel cleanser into a lasher and massage onto a damp face. Rinse well with water.
Skinceuticals LHA Toner: Liquid chemical exfoliators have recently risen in popularity. If you're interested in participating in the trend, try this toner formulated with glycolic acid and lipo hydroxy acid—another chemical exfoliator. The combination of exfoliating agents efficiently removes surface cells and excess residue, decongesting pores and priming skin. To use, saturate a cotton pad with the toner and smooth over your face, neck, and chest. When you're done, remember that there's no need to rinse off toner.
L'Oréal Paris RevitaLift Bright Reveal Brightening Daily Peel Pads: Glycolic acid peels are popular treatments to receive courtesy of a dermatologist (more on that later) but a derm appointment isn't always necessary if you're interested in a gentle peel. This at-home glycolic acid peel option allows you to introduce your skin to an alpha hydroxy acid without visiting a dermatologist. The multi-textured peel pads physically remove dead skin cells from the surface of skin. Immediately after using you'll see skin looks brighter and feels softer. Even more, with continued use skin tone will become more even and texture more refined. As for how to use the peel pads, after cleansing, gently move the pad over your face in a circular motion.
La Roche-Posay Effaclar Serum: Often, anti-aging products are formulated to help with dry skin, since dryness is a common sign of aging skin. Unfortunately, this can make addressing aging skin a challenge if your complexion is oily. And that's why this serum is special, it's meant for oily, aging skin with fine lines, enlarged pores, rough texture, and a dull appearance. Formulated with glycolic acid and other exfoliating acids, the serum provides micro-exfoliation to help unblock and tighten enlarged pores, reduce the look of fine lines, and improve skin's texture. To use, gently massage 2-3 drops of the serum onto your skin.
Kiehl's Clearly Corrective Brightening and Smoothing Moisture Treatment: Similar to cleansing, everyone's routine requires a source of moisturize—even if you have oily skin. That makes this moisturizing treatment another easy choice for a product formulated with glycolic acid that can be slipped right into your routine. Formulated with glycolic acid and vitamin C, it infuses skin with hydration while helping to correct the appearance of skin discoloration and rough texture. To use, massage a small amount of the treatment onto skin after cleansing and toning, avoiding the eye area.
Editor's note: If you're interested in incorporating glycolic acid into your skin care routine, follow the instructions on your product of choice—especially in regards to frequency of use—and be careful not to overdo it. When used too often, glycolic acid may be irritating to sensitive skin. Balance it out with hydrating, gentle products and always follow up with a broad-spectrum SPF sunscreen as the ingredient can make your skin more sensitive to sunlight. 
GLYCOLIC ACID IN CHEMICAL PEELS 
Interested in using glycolic acid beyond your skin care routine? In that case, you may want to consider asking your dermatologist for a professional, in-office glycolic acid peel. The ingredient is relatively mild compared to other acids commonly used in chemical peels, making it a top pick for many patients. Dr. Kaminer admits to using glycolic acid daily in peels for patients. "There are many different types of peels, depending on your skin type and concern your esthetician or provider will choose the right one for you," he says. "With different sensitivity levels, it's important to gradually increase to stronger peels in order to not damage the skin from burning or complications." Not sure if a chemical peel is right for you? We're breaking down exactly what goes into a chemical peel and what you can expect, here. 

Read more

Back to top