Hyaluronic Acid Ampoules vs. Hyaluronic Acid Serum: What's the Difference?
August 30, 2021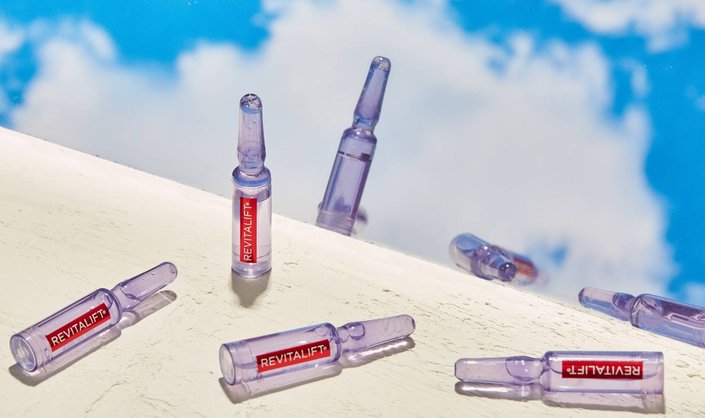 Our skincare routine is no stranger to hyaluronic acid. This hydrating ingredient is known for holding one thousand times its weight in water, which can help quench dehydrated skin no matter whether you're dry, oily or somewhere in between. Hyaluronic acid is a naturally occurring molecule that starts to decrease as we age, which can lead to the appearance of fine lines and wrinkles. Luckily, there are plenty of topical ways to replenish your hyaluronic acid levels, including applying hyaluronic acid serums. But a new hyaluronic acid format recently hit our radars: the L'Oréal Paris Revitalift Derm Intensives 1.9% Pure Hyaluronic Acid Replumping Ampoules. Because we love the ingredient so much, we knew we needed to learn more. Keep reading to find out what these ampoules are and how they compare to hyaluronic acid serums. 
Why Ampoules?
Ampoules are an easy way to apply hyaluronic acid in one shot, without having to worry about applying too much or too little product. Applying too much can actually lead to peeling and irritation, so it's good to have a premeasured dose.
The L'Oréal Paris Revitalift Derm Intensives 1.9% Pure Hyaluronic Acid Replumping Ampoules comes with seven individual ampoules, intended to be used 14 times over a full week period. To use, all you need to do is crack open the top of the ampoule, use half of the product in the morning, and save the rest for your P.M. skincare routine.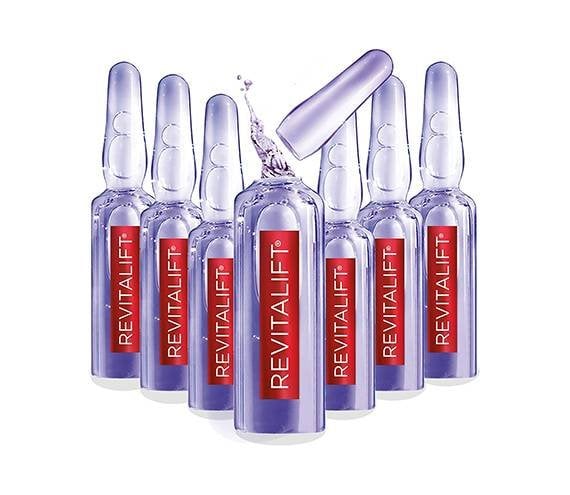 What Makes the L'Oréal Paris Hyaluronic Acid Ampoules Different From the L'Oréal Paris Hyaluronic Acid Serum?
As far as what really makes hyaluronic acid ampoules different from the serum, it all comes down to the percentage of hyaluronic acid in each one and the method of use. The ampoules contain 1.9% hyaluronic acid, while the L'Oréal Paris Revitalift Derm Intensives Hyaluronic Acid Face Serum contains 1.5% of the ingredient. According to the brand, you can use them individually, or use the serum in the morning and the ampoules at night for maximum hyaluronic acid absorption (and maximum glow!). Just don't apply the products at the same time — mixing them could be counterproductive and lead to irritation.
Whether you're just beginning to incorporate hyaluronic acid into your routine for the first time, or you're a hyaluronic acid serum junkie, the ampoules are one way to provide your skin with next-level hydration. 
Photo: Chaunte Vaughn
Read More: 
The L'Oréal Paris Hyaluronic Acid Ampoules Kept My Skin Smooth and Hydrated Through Two Flights 
Does Dry Skin Cause Wrinkles? We Asked a Derm
How to Combine Vitamin C, Retinol and Hyaluronic Acid in Your Skincare Routine
Read more

Back to top