The 18 Best Hydrating Creams and Lotions
September 11, 2019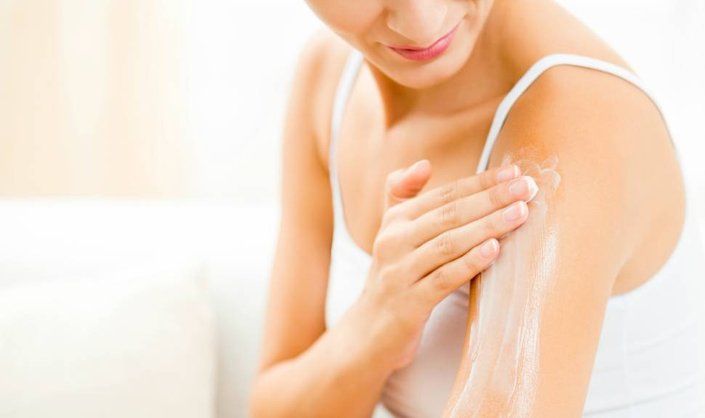 Picking the perfect moisturizer is no easy feat, especially if you're battling dry, itchy skin that's in need of some extra TLC. When it comes to lotions and creams for dry skin, there are so many products to choose from, which can make the process of finding the right one for you feel daunting. We're here to make things easier. Ahead, we've rounded up the best 19 hydrating lotions and creams for face and body to soothe your dry, uncomfortable skin from head to toe.
This rich all-purpose cream has been around for 70 years, and it's no surprise why. The beloved product can help hydrate dry patches on the face, lips, hands, and even your elbows and knees—areas of skin that can often feel rough and dehydrated. The cream helps to soothe and smooth your skin.
If you're looking for a product with long-lasting moisture, this oil-free lotion is a great choice. It's lightweight, infused with antioxidant vitamin E, and is non-comedogenic—which is great news for your pores. 
SkinCeuticals Renew Overnight Dry face moisturizer delivers rich and restorative moisture at night, and is formulated with acids including malic-, lactic-, tartaric-, citric- and glycolic acids. The formula helps to exfoliate dead skin cells in your sleep, so that you awaken with a restored, and healthier-looking complexion.
The only thing better than a hydrating cream that can lock in moisture is one that can make your skin smell delightful, like Carol's Daughter Ocean Flowers Moisturizing Body Butter Cream. The formula's refreshing scent is comparable to walking along the seashore. In addition to its relaxing aroma, the cream also hydrates and soothes dry skin, thanks to its formula enriched with marine algae. The results? Skin that feels soft and refreshed. 
To up the ante on your luxe hand cream arsenal, you'll want Lancôme's Absolue Hand Cream to be the next addition. The hand cream is specifically formulated to address the signs of aging skin on the hands and is enhanced with SPF 15 to help protect your delicate skin from the sun's harmful UV rays. 
If you're searching for a product that'll give you all-day moisture, turn to CeraVe's Moisturizing Cream. With just one application, you'll help retain your skin's natural moisture with its formula featuring three essential ceramides and hyaluronic acid.    
We all want a rich cream that can melt effortlessly into our skin, nourishing it with moisture. That's why Lancôme's Nutrix Royal Body is a top pick for dry skin types. Enriched with Royal Jelly, Nutrix Royal Body is an intense lipid repair body butter that leaves the skin feeling comfortable with all-day hydration.

Dry skin types can benefit from a hyaluronic acid serum that provides immediate and long-lasting hydration, and Vichy's Mineral 89 fits the bill. Discover hydrated skin with a combination of hyaluronic acid, and Mineralizing Thermal Water. The result? Fortified skin that's more resistant to free radicals, stress and fatigue. Read our full review, here. 
Having exceptionally dry hands is a clear indicator that your skin needs a heavy-duty, moisturizing hand cream. That's where Kiehl's Ultimate Strength Hand Salve comes in. The formula allows the skin to draw and absorb water from the air, forming a "glove-like" protective barrier to avoid moisture loss.  

La Roche-Posay's Lipikar Balm AP+—formulated with the brand's Prebiotic Thermal Water—is an intense repair moisturizing cream that provides long-lasting hydration. It works to help rebalance the skin's microbiome barrier and restore the skin's moisture levels. Its non-greasy formula can help soothe extra-dry, sensitive facial and body skin in babies, children, and adults. 
This vitamin-rich blend is one of Carol's Daughter's best sellers. The formula—infused with almond-, coconut-, sunflower seed, soybean, and achiote seed oils—comforts and hydrates the skin to a soft texture for hours. In addition to its moisturizing benefits, the sweet aromas of almond cookie are simply to die for.    

Shea butter, squalane, and jojoba oil combine in this luxuriously scented, rich moisturizer. It's decadently air-whipped to penetrate, restore and protect the skin while softening its surface. As you use, you'll notice it quickly absorbing into the skin, and lasting for hours.
Upon opening this beautiful pink container, you'll be met with a delicate fragrance and a creamy texture. This enveloping cream will provide intense hydration, and soothed, comforted skin. 
If you're a makeup lover, then this glow-inducing moisturizer is for you. This innovative and lightweight cream can be reapplied during the day to assure that makeup stays looking fresh.
As its name boasts, the product is suitable for those dealing with very dry skin. This protective cream is formulated with shea butter and glycerin, and can intensely hydrate, soothe, and improve skin's comfort.

You've heard the rapid ravings and reviews of this product, and if you somehow haven't—take notes. This quick-absorbing super cream transforms skin into a suppler, healthier, younger-looking appearance. It works for all skin types as it combines collagen and hyaluronic acid to plump the look of fine lines and wrinkles.
For those dealing with diabetes, skin can become extraordinarily dry, rough, and uncomfortable. Packed with ceramides, which help to replenish the skin's moisture barrier, this cream can provide soothing benefits along with 48-hour hydration. Check out the full CeraVe Diabetics' Dry Skin Relief range, here.
When it comes to luxurious products that are as effective as they are stunning in packaging, Lancôme is at the forefront. This day cream not only provides antioxidant and sun protection, but all-day hydration as well. Give your skin what it needs to fight environmental damage and dryness.
Read More:
Is Your Skin Purging or Breaking Out? Here's How to Tell the Difference
6 Lavender Skin-Care Products That Will Help You Reach Maximum Zen
Skin Sleuth: What Is Kakadu Plum and What Does It Do for Your Skin?

Read more

Back to top