3 Benefits of Grapeseed Oil for Your Skin
July 10, 2018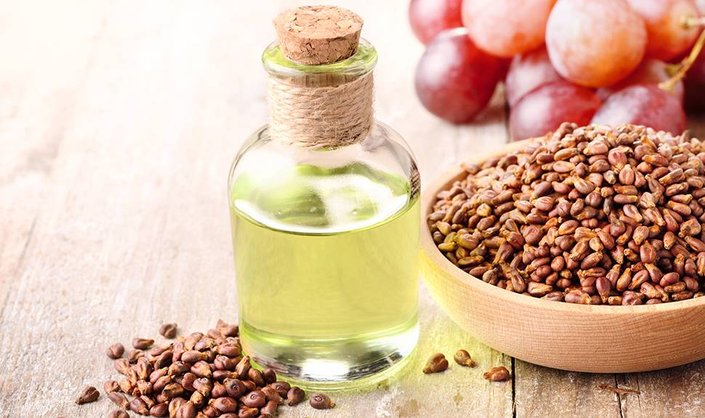 When you think about oils for your skin, there's arguably a few that immediately come to mind. Among them? Coconut oil, olive oil, rosehip oil, and almond oil. And while these popular oils have certainly made a name for themselves in the beauty sphere, there are additional oils that also boast cosmetic benefits that you may not have heard of, or even knew you needed in your beauty cabinet. One such oil is grapeseed oil. To understand the benefits of grapeseed oil, and how you can add it into your skin care routine, we tapped two Skincare.com consulting experts. Should grapeseed oil be the new oil front-runner in your skin care routine? Keep reading to find out!
WHAT IS GRAPESEED OIL?
Grapeseed oil comes from—you guessed it—grapes. More specifically, it's a by-product of the wine-making process, and is rich in phenolic compounds, fatty acids, and vitamins. According to published insights at the National Center for Biotechnology Information, grapeseed oil boasts a number of beneficial properties, making it a useful ingredient for both the health, cosmetic, and culinary industries.   
THE BENEFITS OF GRAPESEED OIL
The benefits of grapeseed oil are aplenty, but we're deep-diving into three of them, below. 
Benefit #1: Prevent Clogged Pores 
According to board-certified dermatologist, and Skincare.com consultant, Dr. Dendy Engelman, one of the most ideal candidates for grapeseed oil are those with skin that's prone to breakouts. "Grapeseed oil is great for those with acneic skin," Dr. Engelman says. More specifically, Dr. Engelman tells us that grapeseed oil contains high amounts of linoleic acid, which can help reduce clogged pores.
Benefit #2: Moisturize the Skin
As we mentioned, grapeseed oil is rich in fatty acids and vitamins, so it should come as no surprise that the ingredient can often be found in a number of moisturizers. What's more, when we asked Dr. Engelman for her recommendations on how to incorporate grapeseed oil into a skin care routine, she suggested using it as a cleansing oil or as a moisturizer.
Benefit #3: Delay the Aging Process
According to the NCBI, vitamin E contributes to the beneficial effects of grapeseed oil because of its high antioxidant activity. If you don't already know, antioxidants play a crucial role for the skin, helping to protect it against damage that can cause visible signs of aging.
HOW TO INCORPORATE GRAPESEED OIL INTO YOUR ROUTINE
Ready to take the plunge and explore the benefits of grapeseed oil first-hand? Here are three products—from the L'Oréal portfolio of brands—that are formulated with grapeseed oil.
 
L'OREAL PURE-SUGAR SMOOTH & GLOW FACE SCRUB 
Formulated with a naturally-derived blend of three pure sugars—paired with finely ground acai, and nutrient-rich grapeseed and monoi oils—this soft sugar scrub melts into the skin for gentle yet effective exfoliation. Immediately skin feels smoother and looks glowing. In one week, expect skin to feel baby-soft, smooth, and comforted. 
L'Oréal Pure-Sugar Smooth & Glow Face Scrub, $12.99 MSRP
 
SKINCEUTICALS EMOLLIENCE
This rich, restorative moisturizer—for normal or dry skin—is formulated with an exclusive combination of natural extracts and essential oils, including grapeseed oil. Easy to apply and gentle on the skin, Emollience can help restore and maintain the skin's moisture levels.
SkinCeuticals Emollience, $62 MSRP
KIEHL'S CRÈME DE CORPS NOURISHING DRY BODY OIL
You've got your facial hydrator, but don't forget one for your body skin. This luxurious, lightweight body oil—enriched with squalane and grapeseed oil—nourishes the skin with hydration to achieve a skin texture that's soft, supple and smooth. Upon application, the fine mist quickly absorbs into the skin, feeling dry to the touch. What's more, it even features decadent notes of vanilla and almond, leaving the skin superbly nourished and pampered.
Kiehl's Crème De Corps Nourishing Dry Body Oil, $34 MSRP
The skin care benefits of oils don't stop here. Check out our list of the five best facial oils to add to your summer skin care routine, stat.
Read more

Back to top