10 Men's Face Washes You Need ASAP
July 19, 2018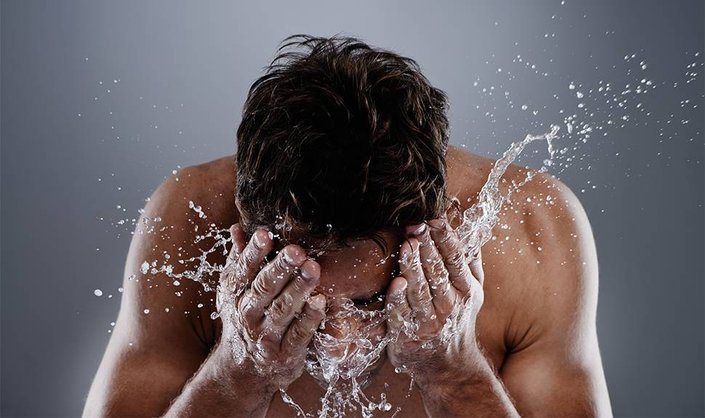 Guys, if you're still taking a bar of soap to your face, it's time to get with the times. Gone are the days where men's skin care options are few and far between. Today, there are plenty of beauty buys for fellas looking to care for their skin with quality products, ranging from cleansers to moisturizers and beyond. Not only does this put an end to stealing a splash of your girlfriend's cleanser every morning, but also brings forth the opportunity to curate your very own arsenal. Since cleansing is a must for everyone, why not start there? Ahead, we share our top picks of the best face washes for men from the L'Oreal portfolio of brands. It's the dawn of a new day so please ditch the bar soap, will ya? 
BAXTER OF CALIFORNIA SULFATE-FREE DAILY FACE WASH
Looking for a mild facial cleanser that's sulfate-free, fragrance-free, and suitable for all skin types? Look no further than Sulfate-Free Daily Face Wash, a coconut-derived cleanser that helps remove excess oil and dirt without stripping skin of its vital moisture. With Aloe Vera, caffeine, and Vitamin E & A, the skin is hydrated, soothed, and gently exfoliated. 
Baxter of California Sulfate-Free Daily Face Wash, $18 MSRP
 
KIEHL'S FACIAL FUEL ENERGIZING FACE WASH
Formulated with caffeine, menthol, vitamin E, and invigorating orange and lemon extracts, this energizing facial cleanser thoroughly removes dirt, surface oil, and impurities without an over-drying effect. It also helps refresh and waken skin, prepping it for a less irritating, more comfortable shave. But wait, there's more. The unique blend also helps skin resist the effects of environmental stress and gives even tired-looking skin a fresher, healthier appearance. What more can you ask for from a cleanser?
Kiehl's Facial Fuel Energizing Face Wash, $22 MSRP
KIEHL'S AGE DEFENDER CLEANSER
Want a cleanser that doubles as a face mask? Kiehl's Age Defender Cleanser fits the bill. As a daily cleanser, the formula—with Moroccan Lava Clay and Phytic Acid—removes excess dirt and oil for a refreshed, younger-looking skin appearance.  As a 5-minute face mask, you'll experience a deeper exfoliation, where the formula breaks down the toughest layers of dead skin cells to smooth the appearance of fine lines and wrinkles.
Kiehl's Age Defender Cleanser, $28 MSRP
BIOTHERM CLEANSING GEL
Say goodbye to dirt and impurities with this cleansing gel for normal skin. Aside from leaving the skin clean, fresh, and toned, the formula preps the surface for shaving—sans greasy residue.
Biotherm Cleansing Gel, $28 MSRP
 
CLARISONIC ALPHA FIT MEN'S CLEANSING BRUSH
The secret to a closer shave? Smooth, silky skin. The secret to a closer clean? A Clarisonic facial cleansing brush. Alpha Fit—Clarisonic's device designed specifically to clean men's thicker, oilier skin—cleanses six times better than hands alone while prepping the face and neck for a smoother, closer shave. The technology oscillates at a frequency that produces over 300 movements per second, which helps to loosen dirt and oil and remove impurities from pores.
Clarisonic Alpha Fit Men's Cleansing Brush, $219 MSRP
KIEHL'S MEN'S OIL ELIMINATOR DEEP CLEANSING EXFOLIATING FACE WASH
Looking for a deeply cleansing face wash that can also exfoliate the skin? Look no further than Kiehl's Men's Oil Eliminator Deep Cleansing Exfoliating Face Wash. The formula can remove excess oil, sweat and pollution and help reduce the appearance of excess shine and pores.
Kiehl's Men's Oil Eliminator Deep Cleansing Exfoliating Face Wash, $22 MSRP
L'OREAL PARIS HYDRA ENERGETIC EXTREME CLEANSER INFUSED WITH CHARCOAL
Whisk away dirt, oil, and other impurities from your skin's surface with this cleanser infused with charcoal. Upon application, watch how the black texture turns into a rich white foam. The formula acts as a magnet on the skin to capture and get rid of dirt and other impurities that can clog up the pores. For best results, use twice daily, concentrating mainly on the forehead, nose, and chin. 
L'Oréal Paris Hydra Energetic Extreme Cleanser Infused with Charcoal, $6.99 MSRP
 
SKINCEUTICALS LHA CLEANSING GEL
For aging skin that's prone to breakouts, reach for the SkinCeuticals LHA Cleansing Gel. The formula—with a combination of LHA, glycolic acid, and salicylic acid—offers a unique cell-by-cell exfoliation while washing away impurities and revealing brighter-, even-looking skin.
SkinCeuticals LHA Cleansing Gel, $40 MSRP
GARNIER SKINACTIVE CLEAN+ BLACKHEAD ELIMINATING SCRUB
Show blackheads who's boss with this cleansing and exfoliating duo formulated with salicylic acid and infused with charcoal. The scrub can deeply cleanse the skin—drawing out dirt and impurities like a magnet—while tightening pores and smoothing the skin.
Garnier SkinActive Clean+ Blackhead Eliminating Scrub, $7.99 MSRP
GARNIER SKINACTIVE CLEARLY BRIGHTER ARGAN NUT GENTLE EXFOLIATING CLEANSER
This effective exfoliating cleanser works double-duty to brighten and deeply cleanse the skin. The formula boasts argan nut shell, vitamin C, and a fruit acid blend, and helps to refine pores, even the skin's tone, and wash away impurities in one fell swoop.
Garnier SkinActive Clearly Brighter Argan Nut Gentle Exfoliating Cleanser, $7.99 MSRP
Read more

Back to top