The Benefits of Microdermabrasion
August 06, 2018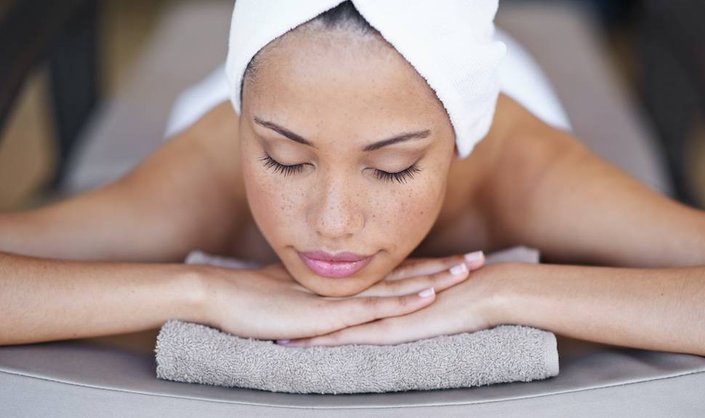 For healthy-looking skin, many dermatologists recommend at-home skin care routines coupled with regular in-office treatments. One of the most popular of which is microdermabrasion, a non-invasive treatment that, when performed by a licensed technician, can be an effective gentle exfoliation for most skin types. Considering booking an appointment for yourself? Check out some of the beauty benefits of microdermabrasion, below.
WHAT IS MICRODERMABRASION? 
Some of you may be scratching your heads at this lengthy term, but microdermabrasion is a pretty simple treatment. As defined by The American Society for Aesthetic Plastic Surgery, microdermabrasion works to gently exfoliate the top layer of the skin in order to remove dead skin cells. According to Skincare.com consultant and plastic surgeon, Dr. Peter Schmid, "Microdermabrasion is a non-invasive skin surface treatment, by which the epidermal upper layers of the epidermis of the skin are gently exfoliated. The treatment is administered by a closed vacuum system by which a hand-piece administers, suctions and resurfaces the skin with micro-fine crystals."
THE BENEFITS OF MICRODERMABRASION
MORE EFFECTIVE PRODUCTS
According to the American Academy of Dermatology (AAD), dermatologists look to microdermabrasion to help enhance the results of other skin care products.
AN IMPROVED COMPLEXION
Is your skin looking a little dull? Microdermabrasion may be right for you. Dr. Schmid explains that exfoliation by microdermabrasion can help refine the look of your skin. "Microdermabrasion by its exfoliative nature cleans and removes the top layers of the epidermis of the skin evening skin surface roughness, and has been clinically proven to stimulate collagen synthesis, improve the look of fine lines, and the overall quality of photo-aged skin," he says.
The AAD also notes that by exfoliating the skin and removing built-up dead skin cells on the surface of your skin, microdermabrasion can help skin appear smoother, brighter, and more even in tone.
REDUCED APPEARANCE OF WRINKLES
In addition to boosting visible smoothness, microdermabrasion can help reduce the appearance of damage related to aging and sun exposure, according to a JAMA Dermatology study. Translation? Less noticeable wrinkles and sunspots.
LESS VISIBLE ACNE SCARRING
If you have scarring from acne, microdermabrasion may be a good option for reducing its appearance. Dr. Schmid notes that microdermabrasion has been shown to reduce the appearance of acne scars. The improved look of scars is one of the many benefits of this skin resurfacing service. 
SMALLER-LOOKING PORES
We know how frustrating large pores can be, which is why microdermabrasion may be a good option to help with their appearance. According to the American Society of Plastic Surgeons (ASPS), microdermabrasion can assist in reducing the appearance of enlarged pores.
ZERO-TO-LITTLE DOWNTIME
Unlike many other resurfacing options, microdermabrasion doesn't require a prolonged recovery period. Following the treatment, your technician will typically recommend an at-home moisturizer and sun protection. 
WORKS FOR MOST SKIN TYPES
According to Dr. Schmid, even if your skin is dry, oil, or combination, microdermabrasion is safe for most skin types. "With proper technique and controlled level of application, this non-invasive service can be administered to most skin types," he says. That being said, some sensitive skin types may have a negative reaction to microdermabrasion, so make sure you consult with your dermatologist beforehand.
WHERE TO GET A MICRODERMABRASION 
Wondering where you can give microdermabrasion a try? No need to dig far and wide, most dermatologist's offer this service  as well at skin care professional's office. Just remember to head to a licensed professional. Always do your research before booking an appointment.
Another thing to keep in mind is that microdermabrasion needs to be done multiple times in order to see the best results. "The treatment protocol should consist of six to ten sessions, administered weekly or biweekly as it requires the new skin surface to recover over three to five days," Dr. Schmid says. "A maintenance program is recommended every four to six weeks to optimize the appearance of the skin and results."
WORDS OF CAUTION
Microdermabrasion isn't for everyone and you should always check with your dermatologist to see if microdermabrasion is the right service for you. According to the ASPS, some of the risks associated with microdermabrasion include bruising which can last several days, mild redness or swelling which is typically short-lived, and dry or flaky skin that can last several days. Since microdermabrasion can make your skin more sensitive to sunlight, be sure to wear sunscreen (and reapply at least every two hours) liberally immediately following a session. For added caution, put on a hat or visor prior to heading outdoors.
Read more

Back to top