Mattify Your Skin With These 5 Easy Tricks
January 02, 2017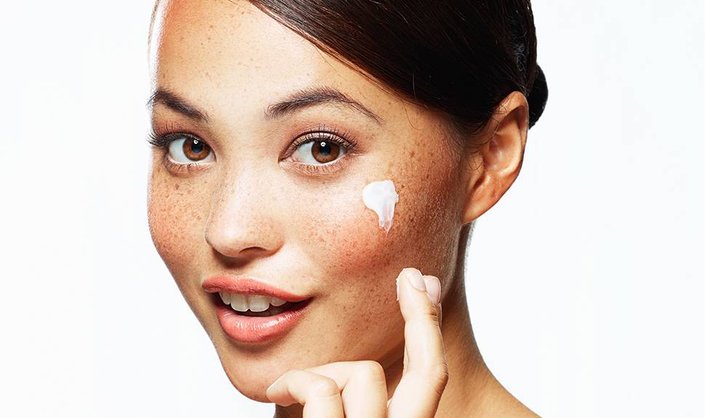 1. USE A CLEANSER FORMULATED WITH SALICYLIC ACID
Not only is cleansing a non-negotiable part of a skin care routine, it can also help mattify the appearance of your skin—if you choose the right formula, that is. Reach for a cleanser that is oil-free (duh) and formulated with skin-clarifying ingredients like salicylic acid to help reduce the appearance of excess oil in addition to ridding the skin of dirt and impurities. Try SkinCeuticals Clarifying Cleanser.
A word of caution: While it's good to cleanse up to twice per day, any more than that can actually cause more harm than good. Excessive washing—believe it or not—can strip away our skin's natural oils, tricking it into producing even MORE oil to compensate for the loss. More oil, more problems. Catch my drift?
2. LOOK FOR NON-GREASY HYDRATION
While it may seem counter-intuitive to add moisture to skin that's battling excess sheen, it's important to hydrate every skin type—be it oily, acne-prone, or sensitive. For oily skin, the key is to find a formula that dries matte without a lingering greasy feel or residue. You didn't think we'd leave you hanging, did you? We recommend La Roche-Posay Effaclar Mat. The oil-free moisturizer boasts sebulyse technology and absorbing powders to help mattify the look of skin and visibly refine the appearance of large pores. 
3. APPLY A MATTIFYING PRIMER
We know, we know. Oily skin and makeup aren't always the best of friends. If you feel like your makeup is running down your jaw by noon, apply a mattifying primer as a first step. Not only can primer help prep your canvas with a smooth-looking texture, some formulas can even help keep unwanted shine at bay for longer. The result? Longer-lasting makeup hold, sans 2 p.m. T-Zone oil mess. Lancôme La Base Pro Pore Eraser helps camouflage the look of pores and excess oil for a sleek, mattified complexion.
4. USE MAKEUP WITH A MATTE FINISH
In addition to an oil-free primer, consider using cosmetics that are free of oils as well. Look for makeup that's customized for oily skin, boasts a "matte" look rather than dewy, and is advertised as long wear. Also, it's not a bad idea to keep powder on hand to sop up excess oil in a pinch. Try Maybelline Shine-Free Oil-Control Loose Powder.
5. BLOT OIL AWAY
Chances are, if you have oily skin, you always have blotting papers on hand. Blotting papers like NYX Professional Makeup Blotting Papers work in a pinch to absorb excess oils without disrupting makeup. They're easy to use, extremely portable, and highly effective. Plus, it's super satisfying to see all that grease transfer off your skin and onto the disposable paper. So really, what's not to love?
Want more oily skin care tips and advice? We bust six common oily skin myths here!
Read more

Back to top