This Dynamic (Exfoliating) Duo Can Brighten Skin in No Time
January 09, 2019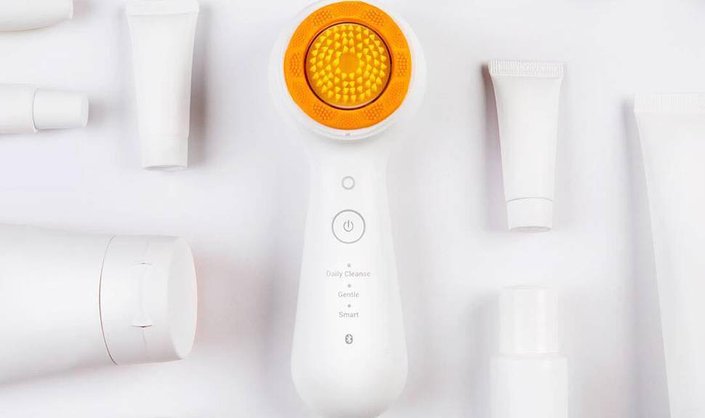 If there's a hierarchy of bothersome skin concerns, dullness may not rank at the very top. It's unsightly, yes, but not exactly painful or uncomfortable, which others certainly can be (we're looking at you, cystic acne). Still, if you're dealing with dull-looking skin chances are you'd like to regain your radiance. To do so, many dermatologists will recommend exfoliating. That's because exfoliation helps to slough away dead skin cell buildup on the surface, allowing new cells to come through and catch the light. As a result, your skin looks brighter and feels smoother. 
To exfoliate better than what your hands could do, reach for a Clarisonic Mia Smart paired with the new Sonic Exfoliator Brush Head. The brand's first-ever exfoliating brush head can help take your exfoliation routine to the next level. To up the ante, the Brand recommends pairing your Sonic Exfoliator with their new Skin Renewing Peel Treatment. Read on to find out how this dynamic exfoliating duo can deliver radiant-looking skin.
WHAT IS THE CLARISONIC SONIC EXFOLIATOR AND SKIN RENEWING PEEL TREATMENT?
There are plenty of causes behind dull looking skin. One of them is a build-up of dead skin cells. The more buildup on your skin's surface, the duller your complexion could appear. This is where the Clarisonic Sonic Exfoliator Brush Head and Skin Renewing Peel Treatment come in. Harnessing both physical and chemical exfoliation, pairing these two products together can quickly and efficiently slough away dead cells from skin's surface. The Sonic Exfoliator's triangularly-shaped elastomers have the ability to gently draw dead skin cells off skin without irritation. The Skin Renewing Peel Treatment then promotes surface cell renewal with the help of LHA as well as salicylic and glycolic acids. The result? Visibly improved skin tone, a smoother complexion, and radiance. 
HOW TO USE THE CLARISONIC SONIC EXFOLIATOR AND THE CLARISONIC SKIN RENEWING PEEL TREATMENT TOGETHER
You can use the Clarisonic Skin Renewing Peel Treatment with the Sonic Exfoliator once daily. First, gently massage the gel on to wet skin for about one minute avoiding your eye area. Then, dampen the brush head and move it around your skin in a circular motion for about one minute. Rinse thoroughly.
Editor's Note: Keep in mind that the Clarisonic Skin Renewing Peel Treatment contains alpha-hydroxy acids which may cause light sensitivity. Be sure to apply a broad-spectrum sunscreen and the proper protective clothing prior to any sun exposure.
Clarisonic Skin Renewing Peel Treatment, $39 MSRP
Clarisonic Sonic Exfoliator, $39 MSRP
To find out which Clarisonic brush head may be right for you, click here!
Read more

Back to top