The Ultimate Treat for Dry, Sensitive Skin Is Here!
February 10, 2017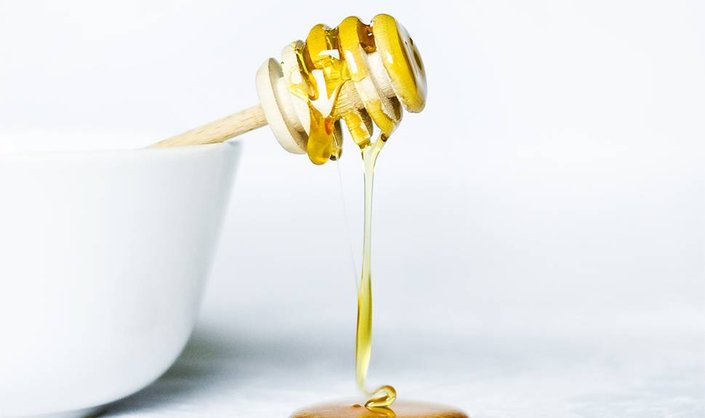 Sick of fighting an uphill battle with your dry, sensitive skin? We hear you. And so does The Body Shop, as they've just launched a brand spanking new body care range that's been lovingly tailor-made for dry, sensitive skin. Dubbed Almond Milk & Honey (side note: doesn't that sound yummy?), the collection combines restoring ingredients with light, nourishing textures and a subtle hypoallergenic fragrance for a skin care experience that does good and feels good. We got the scoop on exactly what the collection includes, individual product benefits, ingredients, and more. Ready to meet The Body Shop's Almond Milk & Honey range? Keep reading! 
THE BODY SHOP ALMOND MILK & HONEY COLLECTION
As its name suggests, the entire range is enriched with ingredients from the brand's Community Trade program, namely almond oil and honey. According to The Body Shop, the almond oil comes from almond nuts grown by expert farmers in the Alicante region of Spain and is a new ingredient within the Community Trade program. The honey is sourced from the Sheka rainforest biosphere reserve in Ethiopia. What you won't find inside the formulas? Colorants, a potential irritant. Now, without further ado, here are the seven, budget-friendly products in the Almond Milk & Honey collection. 
SOOTHING & RESTORING BODY LOTION 200ML, $13 MSRP
Bid farewell to uncomfortable, tight, and itchy skin with this fast-absorbing, lightweight body lotion. The skin-loving formula helps comfort, restore, and hydrate dry, sensitive skin for 48 hours.
GENTLY EXFOLIATING CREAM BODY SCRUB 250ML, $24 MSRP
Exfoliating dry, sensitive skin can be tricky, but this delicate formula makes it profoundly easy. Infused with real crushed almond shells, this exfoliating cream body scrub helps gently buff away dead skin cells for infinitely soft and smooth skin.
SOOTHING & CARING CLEANSING BAR 100G, $5 MSRP
This gentle cleansing bar gives plain ol' bar soap a run for its money. Not only does it leave skin with a clean feel, it works in harmony with skin's natural moisture levels to ease uncomfortable tightness.
CALMING & PROTECTING HAND CREAM 30ML, $8 MSRP
Dry paws? No problem. Soothe them with this must-have hand cream. Toss the tube into your purse or store it in your desk for easy access anywhere, anytime!
SOOTHING & RESTORING BODY BUTTER 200ML, $21 MSRP
Smooth on this rich, heavenly body butter after your shower while your skin is still slightly damp. The formula—enriched with natural oils—helps provide 48 hours of intense moisture. Bye-bye tight, itchy skin!
SOOTHING & CARING BATH MILK 400ML, $15 MSRP
For an at-home spa day like no other, draw up a bath with this decadent bath milk formulated with a delicate blend of natural oils. A few spoonfuls is all you'll need to help gently cleanse skin and soothe discomfort.
SOOTHING & CARING SHOWER CREAM 250ML, $10 MSRP
Looking for a gentle, soap-free shower gel that won't strip your skin of moisture? Look no further than Soothing & Caring Shower Cream. It's specially formulated to respect your skin's natural moisture barrier and pH levels, which can make a world of difference for your dry, sensitive skin. 
Read more

Back to top