Quick Question: Can You Still Get Tan Wearing SPF?
April 28, 2022
Always wear sunscreen — it's the cardinal rule of skincare. But when summer (or a tropical vacation) rolls around, you may consider skipping the sunscreen in favor of achieving a deep tan. For the sake of your health, however, we recommend opting for self-tanner instead. Regular applications of SPF will keep your skin protected from UVA and UVB rays, which in turn helps prevent skin cancer and signs of aging. To find out more about why you should wear sunscreen and some of our favorite formulas, keep reading.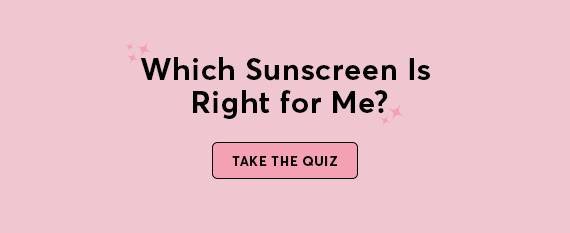 Can You Get Tan While Wearing Sunscreen?
"Of course you can still get a tan while wearing sunscreen," says Vanda Serrador, facialist and founder of Urban Skin."It all depends on the strength of the SPF." Simply put, the SPF number is a measure of how long your skin can be in direct sunlight without beginning to get red or sunburn. Keep in mind that SPF only measures protection from UVB rays, the type that causes the skin to burn, and not UVA rays, the type that age the skin with over-exposure. That's why it's important to reach for a sunscreen with broad-spectrum UVA and UVB protection.
How to Protect Your Skin From Sun Damage
There's no such thing as a safe tan — so your goal should be to protect your skin from sun damage. "Sun exposure causes changes at the DNA level of the skin cells, triggering the cells that produce pigment to increase their output of melanin," says Dr. Ted Lain, a board-certified dermatologist and Skincare.com consultant. "Therefore, if you consider that a tan represents damage to your DNA, how could any tan be safe?"
That's not to say that you should stay locked up indoors all the time but rather take adequate sun protection measures when you do step outside. According to the Skin Cancer Foundation, an SPF 15 sunscreen blocks 93 percent of UVB radiation, while an SPF 30 sunscreen blocks nearly 97 percent. There is no sunscreen that will block 100 percent of UV rays, so your skin, especially if it burns easily, may still get some color even with it on — just at a slower rate. The Skin Cancer Foundation recommends reaching for a broad-spectrum UVA and UVB sunscreen (it has to be labeled as such) that includes some combination of the following UVA-blocking ingredients: zinc oxide, titanium dioxide, avobenzone, ecamsule or oxybenzone.
Whichever sunscreen you choose, make sure to apply it directly onto your skin at least 15 minutes prior to sun exposure. Don't forget to reapply the formula every two hours at minimum, and if you're swimming or excessively sweating, reapply sunscreen immediately afterwards.
For a better line of protection, pair your sunscreen use with additional sun protection measures, such as wearing protective clothing, seeking shade and avoiding peak sun hours between 10 a.m. and 4 p.m. If you want to get the safest tan, opt for self-tanners or spray tans instead. Ahead, we rounded up five broad-spectrum sunscreens we love.
Designed to help prevent sun damage and correct existing signs of it, this sunscreen offers broad-spectrum protection and a powerful anti-aging antioxidant complex. Niacinamide helps fade the look of discoloration and soothes sensitive skin. The formula is also oil-free and non-comedogenic, making it less prone to clog your pores.
This broad-spectrum mineral sunscreen contains three essential ceramides to help replenish your skin's moisture barrier plus niacinamide and hyaluronic acid to plump and hydrate the skin. It also has a Seal of Acceptance from the National Eczema Association, making it ideal for even the most sensitive skin types.
This weightless tinted sunscreen is formulated with transparent zinc oxide, artemia salina and translucent color spheres to adapt seamlessly to various skin tones. The formula features a breakthrough technology where iron oxide spheres evenly disperse within the fluid to provide a sheer veil of coverage, UV protection and a subtle glow. What's more: it's paraben-free and non-comedogenic, making it an ideal choice for all skin types.
This weightless, invisible primer offers SPF 40 with makeup-gripping abilities. It's formulated with antioxidants and blocks broad-spectrum UVA and UVB rays as well as the blue light emitted from phones and computers.
The cream-to-powder formula goes on silky-smooth and feels comfortable on the skin. It protects your skin with a mineral matte formula that's packed with antioxidant-rich raspberry, grape and carrot seed oils to fight free radiants and promote healthy skin.
Read more

Back to top