Does Sunscreen Prevent You From Tanning?
August 17, 2023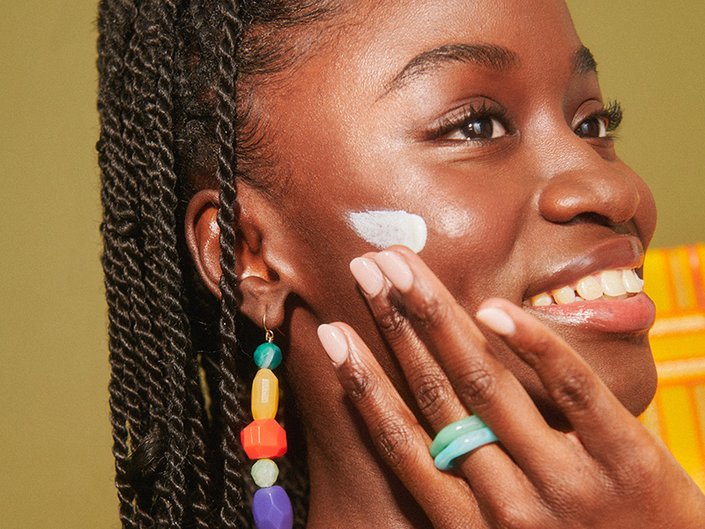 While wearing SPF to help protect your skin from the sun's harmful UVA and UVB rays is essential, it's not uncommon to want a sun-kissed glow in the summer months. To find out if sunscreen prevents your skin from tanning, we tapped board-certified dermatologists Dr. Elizabeth Bahar Houshmand and Dr. Kristina Collins. Plus, we're sharing a refresher on how sunscreen works to protect your skin, as well as some of our favorite sunscreens to shop this summer.
What Happens to Your Skin When You Tan?
You already know what it means to get tan, but have you ever stopped to think about what is actually happening to your skin when you get that bronzed look post-sun-exposure? According to Dr. Collins, it all starts with the production of enzymes when UV light (especially UVA rays) penetrate the skin. An enzyme called tyrosinase leads to an increase in the production of melanin, which is the pigment in our skin.
"Melanin is made by a type of cells called melanocytes, and darkened pigment in the skin due to a higher concentration of melanin gives the deeper dermis some protection against further damage from UV rays," says Dr. Collins. "So basically, the tanning of the skin is an outward sign that the skin cells and melanocytes are reacting to the UV damage occurring and attempting to reduce the deeper damage."
Does Sunscreen Prevent You From Tanning?
It goes without saying that you should always be wearing sunscreen, period. And, though this may come as a disappointment to some, according to Dr. Houshmand, you shouldn't be tanning in the first place. Your skin getting tan is actually a sign of cellular damage, so it should be avoided altogether.
"There is really no such thing as a safe tan, as the tanning itself is a defensive reaction that the skin has against UV damage that is already occurring," adds Dr. Collins. "The DNA damage that UV light causes leads to premature aging with hyperpigmentation, wrinkles and of course, also causes skin cancer."
But to answer the question at hand, if you're laying out or spending time in direct sunlight, you can still get a tan (read: sun damage) while wearing sunscreen. "It all depends on the strength of the sun protection factor, or SPF," says Dr. Houshmand. "The SPF number is simply a measure of how long your skin can be in the sun without getting burnt." It's important to note that SPF is tested in a laboratory setting and does not take into account the sweat, sand and friction from towels that might rub off our sunscreen in a real-life situation, making reapplication crucial.
That being said, "sunscreen will definitely prevent tanning if applied in adequate amounts and reapplied frequently enough," says Dr. Collins.
According to Dr. Houshmand, a safer way to get a perfect tan is by getting a spray tan or using self-tanner. We love the L'Oréal Paris Sublime Bronze Self Tan Drops for Face to build a natural-looking tan sans sun damage. If you want a head-to-toe sun-kissed glow, try the L'Oréal Paris Sublime Bronze Self-Tanning Water Mousse.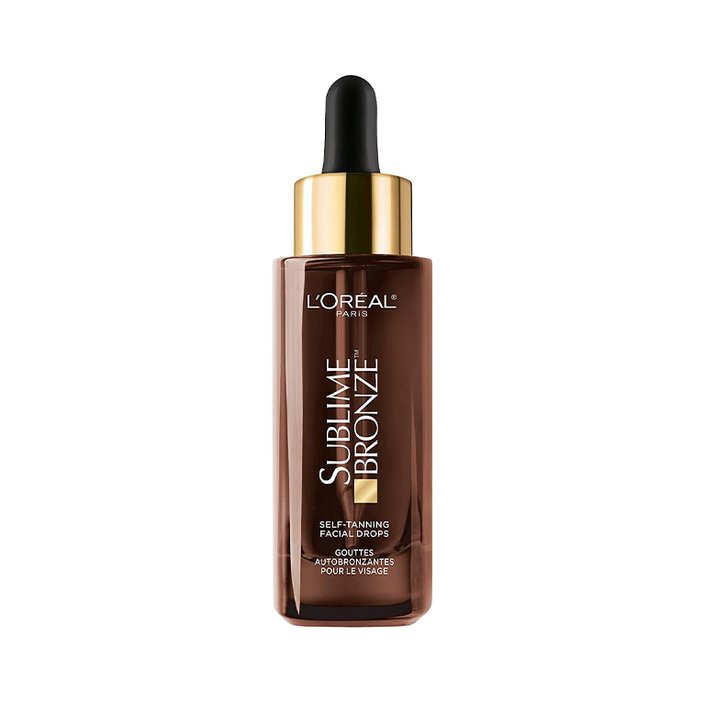 Is Sunscreen Important?
By now you should know that protecting your skin with broad-spectrum sunscreen whenever you spend time outside is of the utmost importance. SPF is your skin's best defense against signs of premature aging caused by sun damage and, above all, it helps protect against skin cancer. If you will be out in the sun, Dr. Houshmand recommends using a broad-spectrum SPF with a minimum of 30 or above and taking other sun protection measures to help protect your skin from both UVA and UVB rays.
How Does Sunscreen Work?
To understand how sunscreen works, you must first understand that there are two different types — physical or mineral sunscreen and chemical sunscreen. "Physical blockers include mineral ingredients such as zinc oxide and titanium dioxide," Dr. Collins explains. "These act as a protective shield over the skin that reflects the UV away and prevents it from entering the skin." Chemical sunscreens work a bit differently. "Chemical sunscreens, on the other hand, are absorbed into the skin and then they absorb the UV rays, convert them to heat and release them from the skin," she says. "Either type effectively reduces the chance of a sunburn and also works to help prevent DNA damage by UV light."
What Is SPF?
"SPF stands for sun protective factor and it is a measurement of the relative amount of protection against UVB rays that the skin has with versus without sunscreen," says Dr. Collins. Generally, you should opt for a sunscreen with an SPF of at least 30.
How to Properly Apply Sunscreen
While you should pay attention to SPF, your sunscreen will only be effective if you apply it properly. "Just as important or even more important than the SPF number is that enough sunscreen is used with application and reapplication is frequent enough," says Dr. Collins.
"To get the protection of the SPF number on the label, you need to apply one ounce of sunscreen," says Dr. Houshmand. This is about the size of a shot glass and is the amount you will use for one application to your entire body. Be sure to reapply at least every two hours if you are spending an extended amount of time outdoors, with more frequent reapplications if you're swimming. "For a typical day without outdoor activities, you can just apply SPF 30 to the face, neck and hands before you leave the house," says Dr. Collins. She also recommends sun protective clothing as a lower-maintenance option.
Our Favorite Editor-Approved Sunscreens
The CeraVe Hydrating Mineral Sunscreen SPF 30 Face Sheer Tint reflects UVA and UVB rays while leaving behind a sheer tint (that works for all skin tones) for a healthy-looking glow. The tint also offsets the white cast typically associated with mineral formulations. Like CeraVe's other skincare products, this sunscreen is enriched with ceramides to keep your skin moisturized and help support its protective barrier.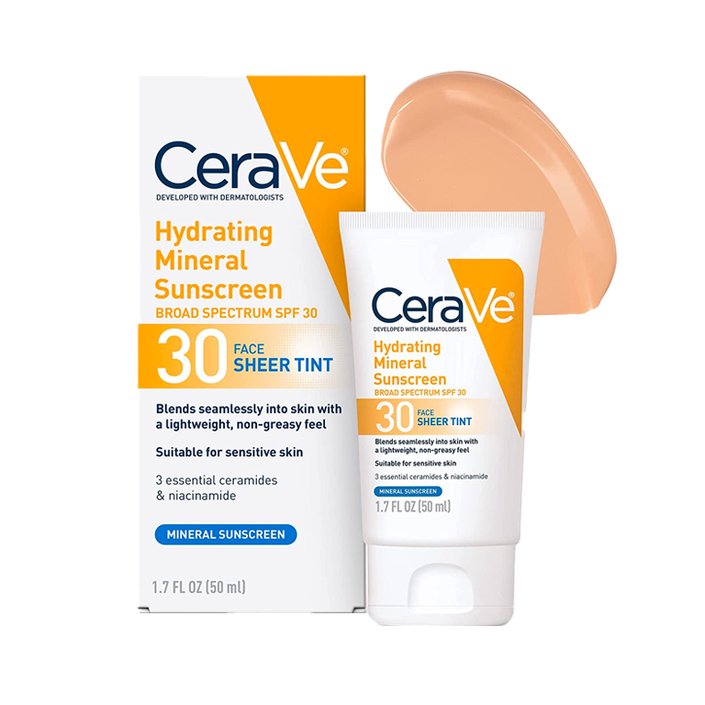 Formulated with mineral-rich volcanic water, the Vichy Capital Soleil Body & Face Sunscreen SPF 60 is a daily anti-aging face and body sunscreen lotion that offers broad-spectrum protection in a formula that dries down transparently. Bonus: It's non-greasy and non-sticky. It's also water-resistant for up to 80 minutes.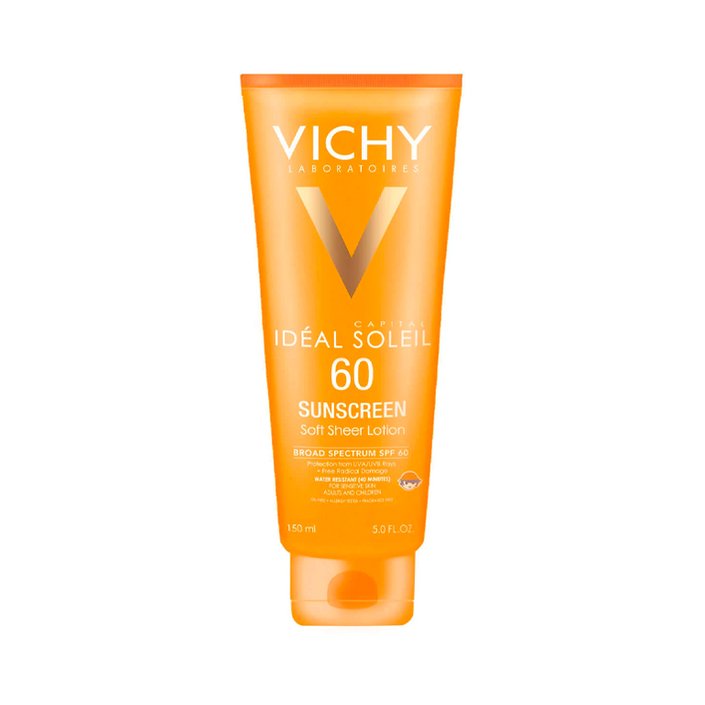 Another tinted option, the La Roche-Posay Anthelios Mineral Tinted Sunscreen for Face SPF 50 was developed specifically for sensitive skin. The lightweight formula offers broad-spectrum sun protection, quickly absorbs into your skin without leaving behind greasy residue and has a tinted matte finish.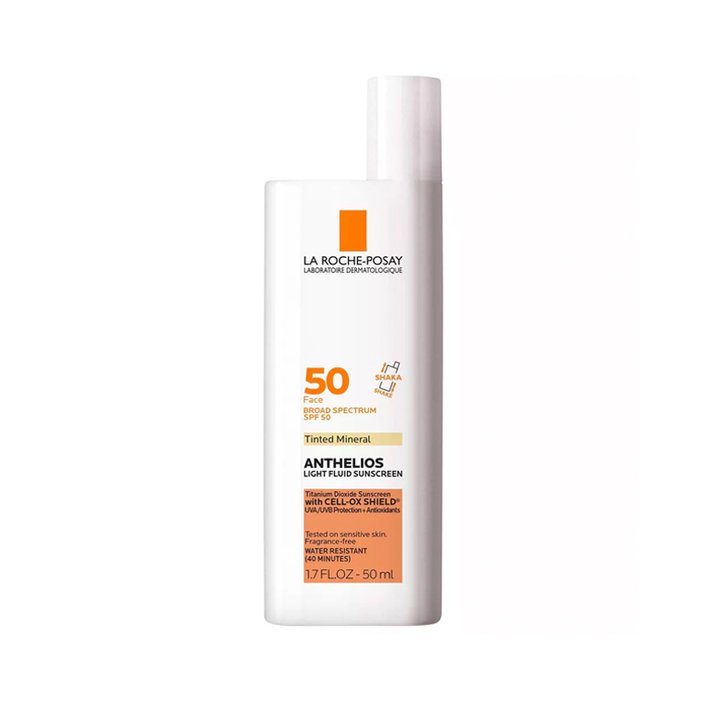 Do you struggle with dark spots? You'll love the L'Oréal Paris Bright Reveal SPF 50 Daily UV Lotion, an anti-aging sunscreen that helps visibly reduce the appearance of dark spots while protecting your skin from damaging sun rays. Infused with vitamin E and vitamin C, the formula is lightweight and transparent, making it perfect for everyday use. Don't be surprised if your skin starts to look brighter and more even with continued use over time.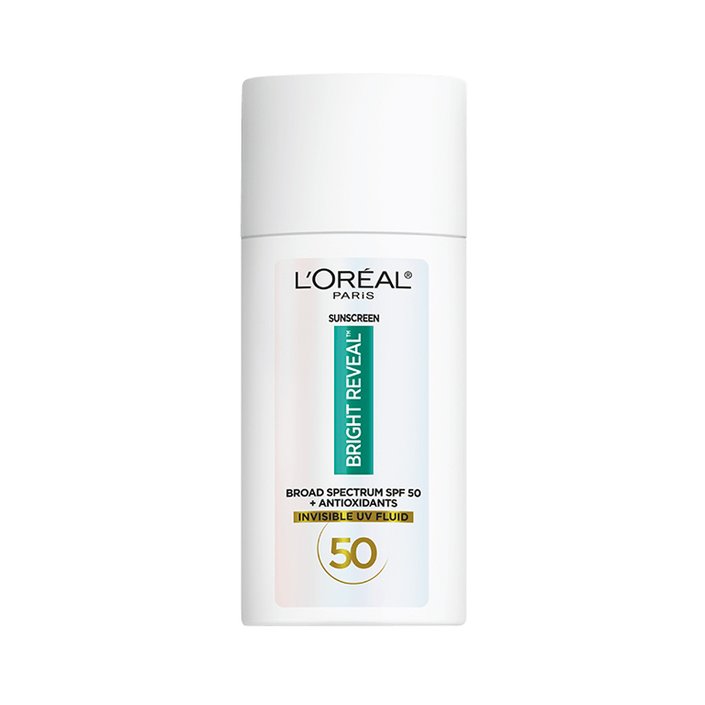 If you're looking for a sunscreen to wear with your makeup (or even to replace your makeup), look no further than the skinbetter science TONE SMART SPF 75 Sunscreen Lotion. This tone-adapting formula gives your complexion a subtle boost of color, so it makes a great primer for makeup or replacement for a light-coverage foundation on your no-makeup-makeup days. The creamy formula seamlessly blends into your skin and is water-resistant for up to 80 minutes.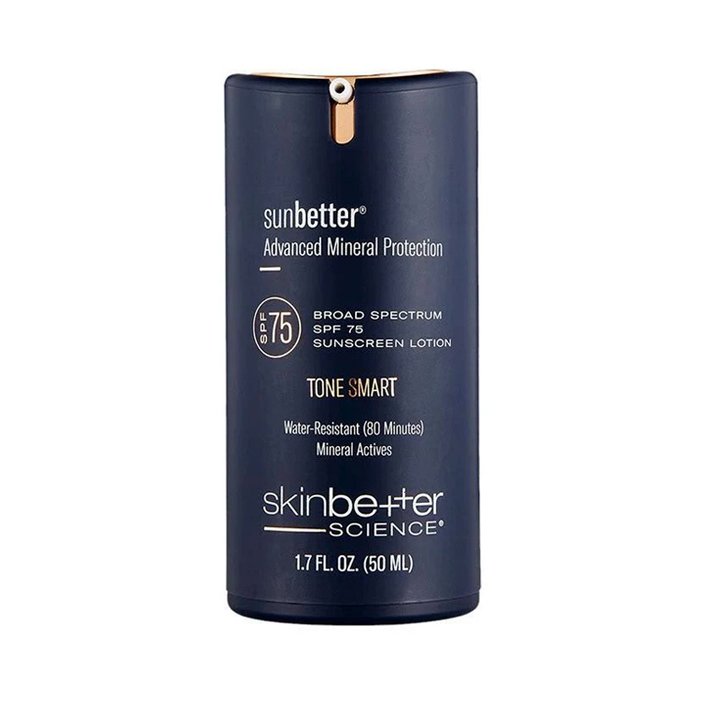 A tinted mineral sunscreen that instantly boosts the radiance of your skin? Sign us up! The SkinCeuticals Physical Fusion UV Defense SPF 50 is lightweight, fluid sunscreen formula enriched with translucent color spheres to give you a more even, luminous complexion. It protects against UVA and UVB rays, and it's water-resistant for up to 40 minutes.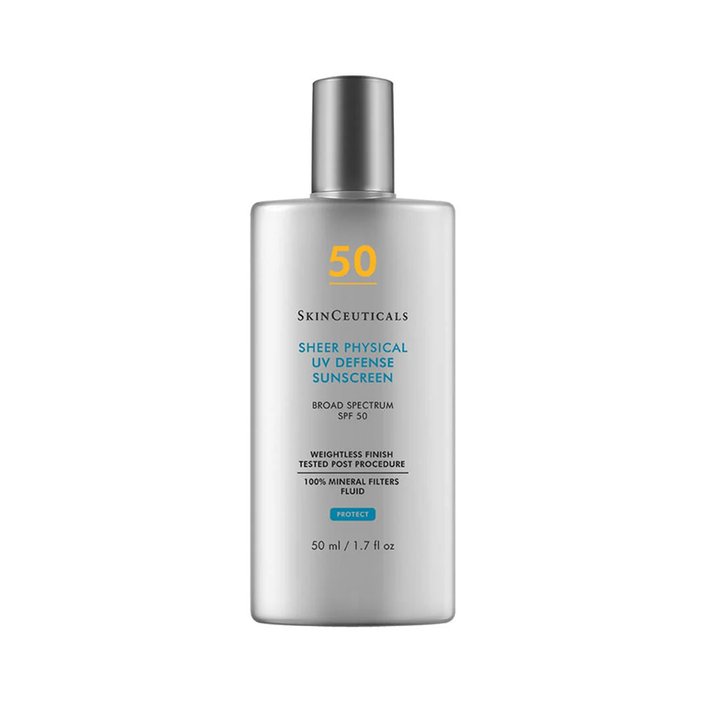 Believe the hype about the Supergoop! Unseen Sunscreen SPF 40. This customer-favorite formula is truly invisible, weightless and unscented, eliminating all of the classic sunscreen pet peeves. Once you apply it, you'll practically forget you even have anything on your face. We also love using this SPF as a makeup-gripping primer.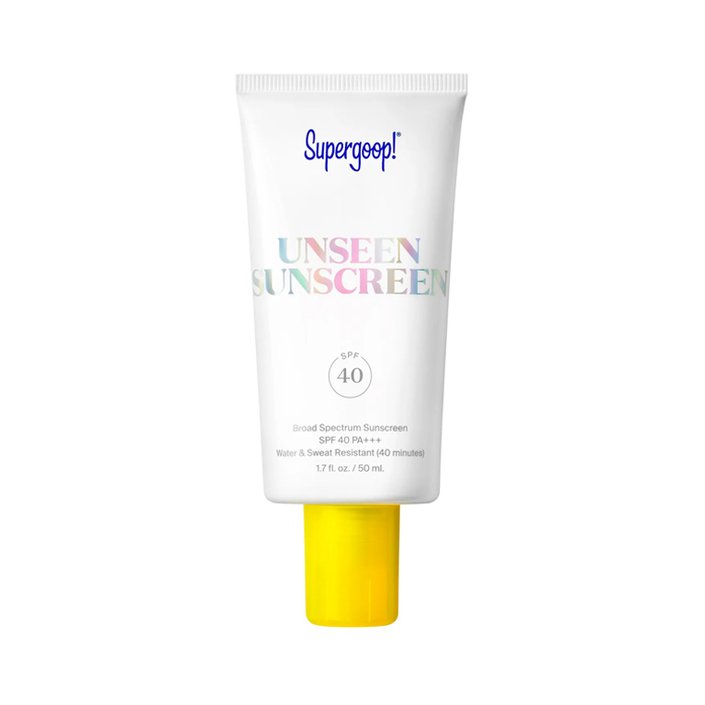 Read more

Back to top