Derm DMs: What Does Ferulic Acid Do for Your Skin?
August 28, 2023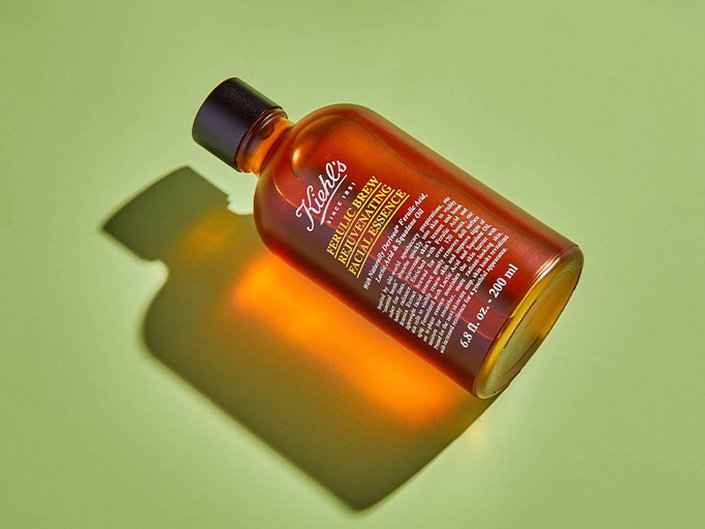 If you're starting to feel like every day you learn about a new skincare ingredient you should be using, you're not alone. The constantly evolving rotation of trending skincare ingredients can definitely start to get overwhelming, even for us as beauty editors. But we're here to help you understand what buzzy ingredients should be on your radar and how they can benefit your skin. Case in point: Ferulic acid.
Ferulic acid is a plant-based antioxidant used in skincare products for its anti-aging benefits, and you may have already heard of it. With a wide range of anti-aging properties, it's no wonder that the ingredient has been popping up in potent serums and essences that promise to make skin glow and reduce the appearance of fine lines. To find out whether ferulic acid is worth incorporating into your skincare routine, we consulted Dr. Peter Schmid, a board-certified plastic surgeon based in Colorado, and Dr. Kim Nichols, a board-certified dermatologist based in Connecticut.
What Is Ferulic Acid?
Despite its name, ferulic acid isn't an exfoliating alpha- or beta-hydroxy-acid. "Ferulic acid is an antioxidant that acts as a strong scavenger of free radicals, which are byproducts of ultraviolet radiation from the sun and pollutants," says Dr. Schmid. "Over time, free radicals can lead to skin deterioration, fine lines and wrinkles." It is a natural plant compound that is often found in topical skincare products.
Research suggests that when ferulic acid is paired with vitamins C and E, the potency and efficacy of the antioxidant are even further enhanced. As Dr. Nichols explains, "ferulic acid is known for its potent antioxidant properties and its ability to enhance the stability and efficacy of other antioxidants, like vitamins C and E."
What Skin Types Should Use Ferulic Acid?
Ferulic acid can benefit all skin types, but according to Dr. Schmid, "ferulic acid is extremely beneficial to skin types that are sensitive to the sun and easily burn (Fitzpatrick Skin Types 1-2)."
Skincare Benefits of Using Ferulic Acid
As mentioned above, ferulic acid is known predominantly for its anti-aging skincare benefits, but it can offer a range of potential perks, from helping increase the efficacy of other antioxidants to helping repair visible sun damage.
Defense Against Free Radicals
"Ferulic acid is a potent antioxidant that helps neutralize harmful free radicals generated by factors like UV radiation and pollution," says Dr. Nichols. "This protection helps prevent premature [skin] aging and damage to the skin cells."
Anti-Aging
According to Dr. Nichols, "ferulic acid can contribute to a reduction in fine lines and wrinkles and promote an overall improvement in skin texture." Ferulic acid helps neutralize free radicals, which are one culprit of visible signs of aging.
Enhanced Antioxidant Stability
"When combined with vitamins like vitamin C and E, ferulic acid can increase their stability and effectiveness, leading to improved results in terms of brightening and skin tone," notes Dr. Nichols.
Repair Signs of Sun Damage
"Ferulic acid may assist in repairing existing sun damage and reducing the appearance of photodamage, such as age spots and uneven skin tone," says Dr. Nichols. Of course, that doesn't mean you should skimp on SPF when using ferulic acid. You should always remember to apply a broad-spectrum sunscreen as the last step in your morning skincare routine every day (and reapply as recommended).
How Often Should You Use Ferulic Acid?
As with most skincare ingredients and products, the frequency with which you should use ferulic acid will be based on the specific product and your individual skin type. "Generally, it's recommended to start by using it every other day or a few times a week, especially if you're new to incorporating antioxidants into your routine," says Dr. Nichols. "Over time, you can gradually increase the frequency if your skin tolerates it well." Be sure to follow the instructions outlined on the packaging of the product, and always consult with a board-certified dermatologist to determine if a product or ingredient is right for you.
How to Use Ferulic Acid in Your Skincare Routine
Now that you know about the multitude of skincare benefits ferulic acid can provide, you may be wondering how you can incorporate it into your skincare routine. The good news is that the ingredient is used in tons of different products, so you should have no problem finding one that suits your skincare needs and concerns.
"Ferulic acid is commonly found in serums, particularly those formulated with vitamin C or vitamin E," explains Dr. Nichols. Though a serum will probably be your best bet, ferulic acid can also be found in other types of skincare products. Keep scrolling for some of our favorite products featuring the ingredient.
The Best Skincare Products With Ferulic Acid
The Kiehl's Ferulic Brew Antioxidant Facial Treatment With Lactic Acid works to smooth fine lines and make skin appear glowier in just one week. It also contains lactic acid, an AHA, that gently exfoliates the skin to even out the skin's texture and tone. Use this exfoliating treatment after cleansing and before a serum to prime your skin to get the most out of the other products in your skincare routine. Bonus: It contains hydrating squalane to help keep your skin soft and moisturized.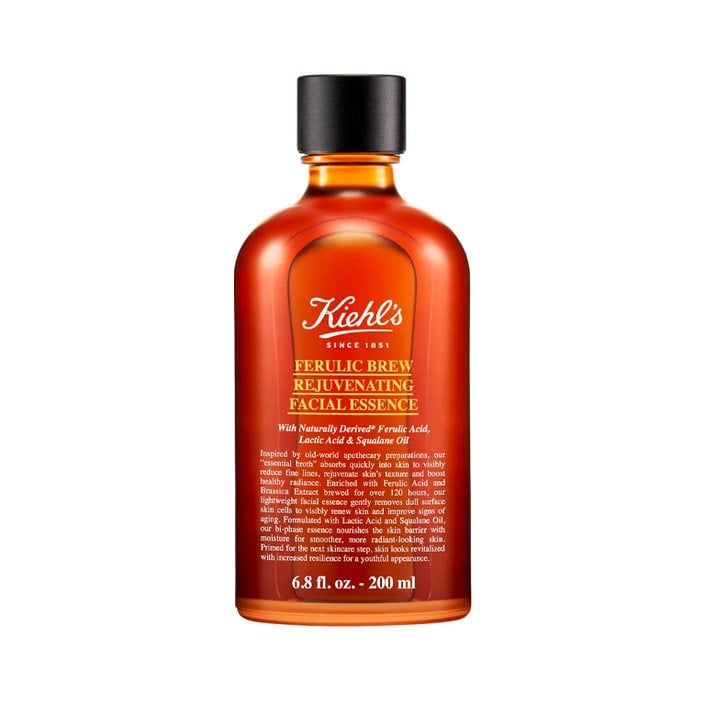 If you have oily or blemish-prone skin, the SkinCeuticals Silymarin CF serum is a great way for you to incorporate ferulic acid into your skincare routine. It also contains salicylic acid to fight breakouts and reduce the oiliness of your skin. Plus, vitamin C, ferulic acid and silymarin help to defend against free radicals, which cause visible signs of aging. Basically, this multi-tasking serum helps to address a wide variety of skincare concerns, including enlarged pores, skin texture, fine lines and skin clarity.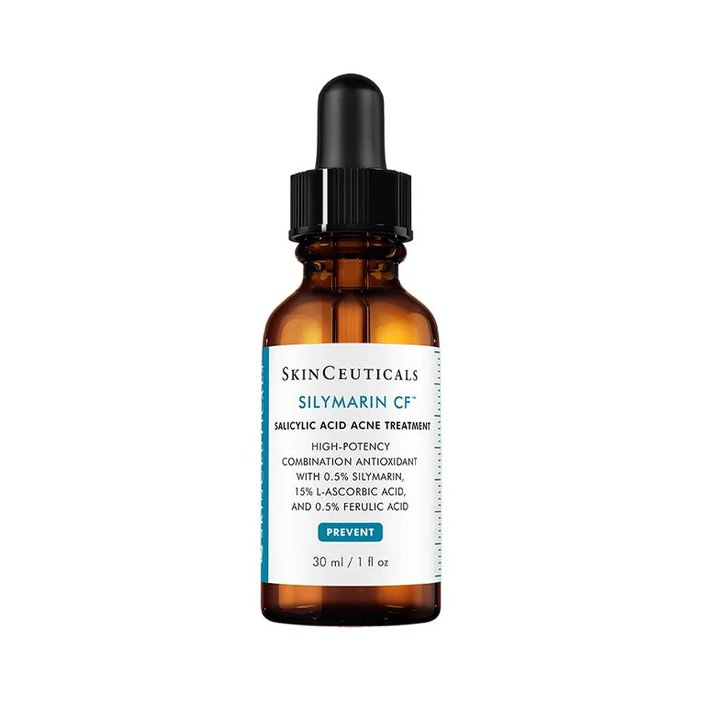 Dark spots are no match for the L'Oréal Paris Bright Reveal 12% Niacinamide + Amino Sulfonic + Ferulic Acid Dark Spot Serum. Not only does this niacinamide-infused serum visibly reduce the appearance of dark spots, it also gently exfoliates skin surface cells and leaves your complexion looking more radiant than ever. It effectively fades a variety of different kinds of dark spots, including age spots, sunspots and post-acne marks.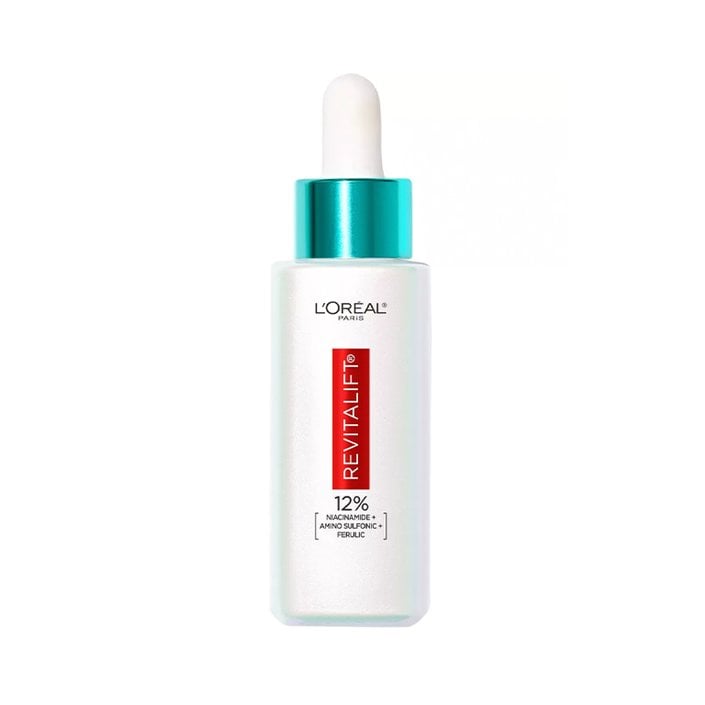 If you've been thinking about starting to use an anti-aging serum, check out the Lancôme Régenerie H.C.F. Triple Serum. Formulated with hyaluronic acid, vitamin C, niacinamide and ferulic acid, this serum is packed with powerhouse skincare ingredients. It works to target several visible signs of aging, including volume loss, wrinkles and dark spots. For plumper, younger-looking skin, you'll want to add this serum to your skincare routine ASAP.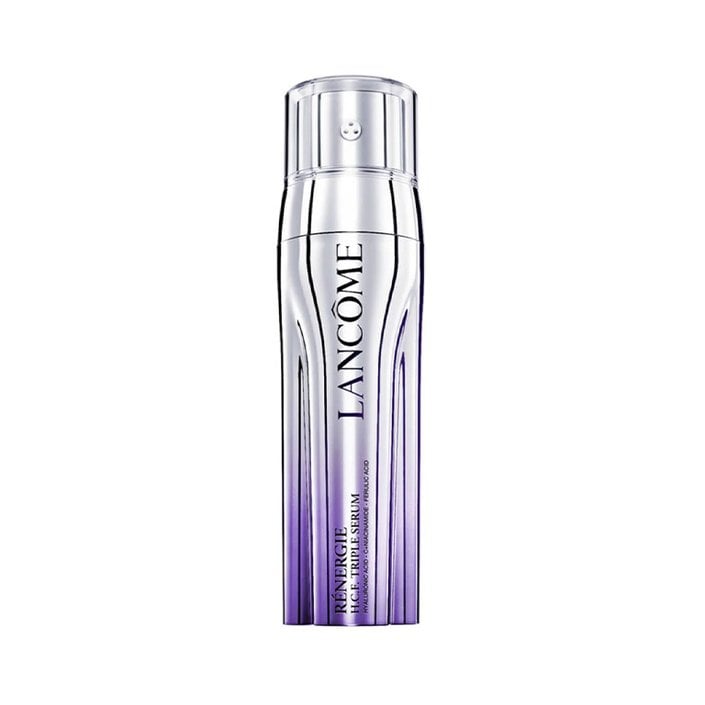 For those with dry, normal, combination or sensitive skin, stick to the SkinCeuticals C E Ferulic With 15% L-Ascorbic Acid. "Containing 15% pure L-ascorbic acid and 1% alpha tocopherol, the addition of ferulic acid doubles the already synergistic benefits of the original high-potency formula, C+E, transforming it into an unrivaled super-antioxidant combination," Dr. Nichols explains. This daytime serum helps combat loss of firmness while brightening your complexion and minimizing the look of fine lines and wrinkles. For the best results, apply four to five drops to your face, neck and chest after cleansing and toning. And don't forget to slather on a broad-spectrum sunscreen as the final step in your morning skincare routine!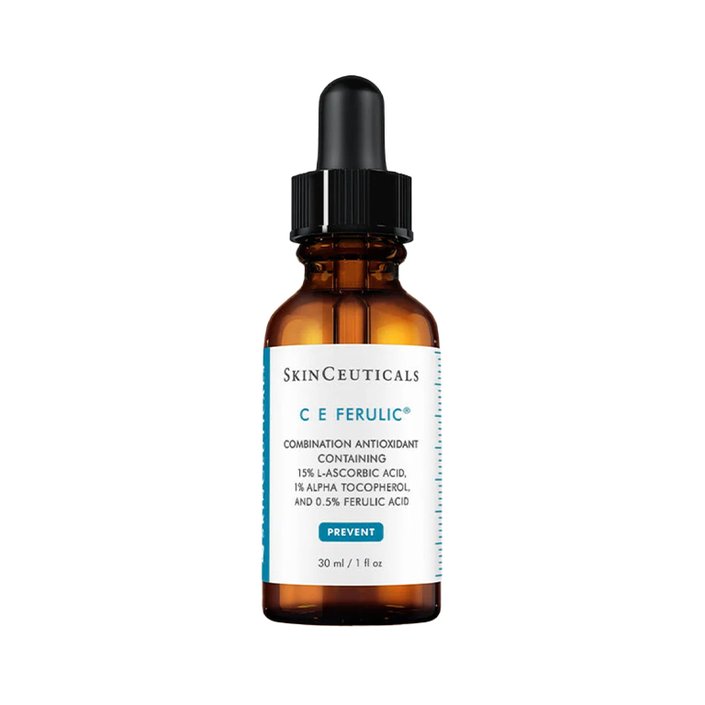 As fall (and cold weather) approaches, you may be starting to think about how to tackle dull, dry skin. The belif Aqua Bomb Hydrating Hyalucid 11% Serum is a two-in-one daily antioxidant serum that contains a complex of five types of hyaluronic acid to deliver maximum moisture and help defend the skin barrier. It has a lightweight, fluid texture that makes it a refreshing addition to your daily skincare routine that you can use in the morning or the evening.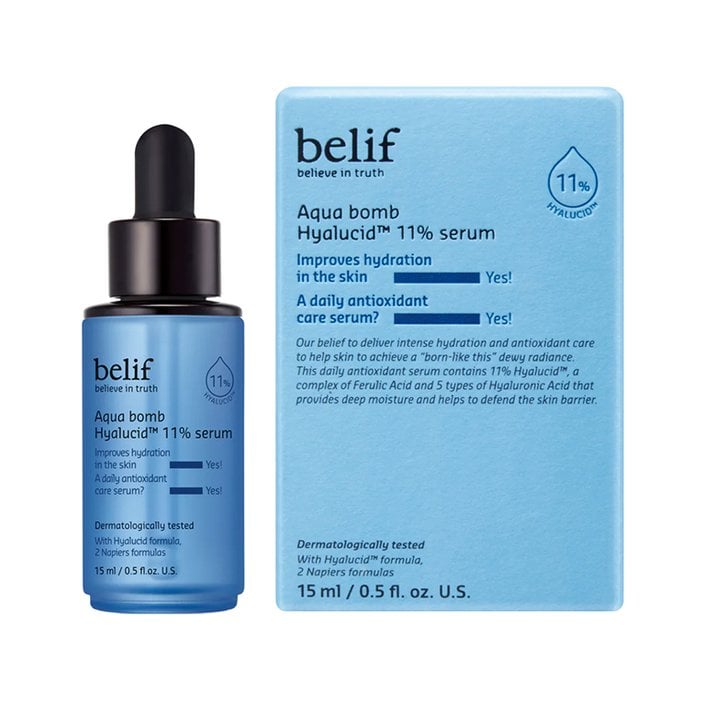 Haven't found a face sunscreen you love? Try the Vacation Super Spritz SPF 50, a ferulic-acid-infused broad-spectrum sunscreen specifically formulated for convenient and comfortable everyday use. The mist format
layers seamlessly over makeup
and allows for easy reapplications throughout the day. (ICYMI: You should be reapplying your SPF every two hours.) The travel-friendly bottle is also a perfect size for stashing in your bag for on-the-go use. The best part? Like all of Vacation's sun care products, the Super Spritz has adorable retro-inspired packaging.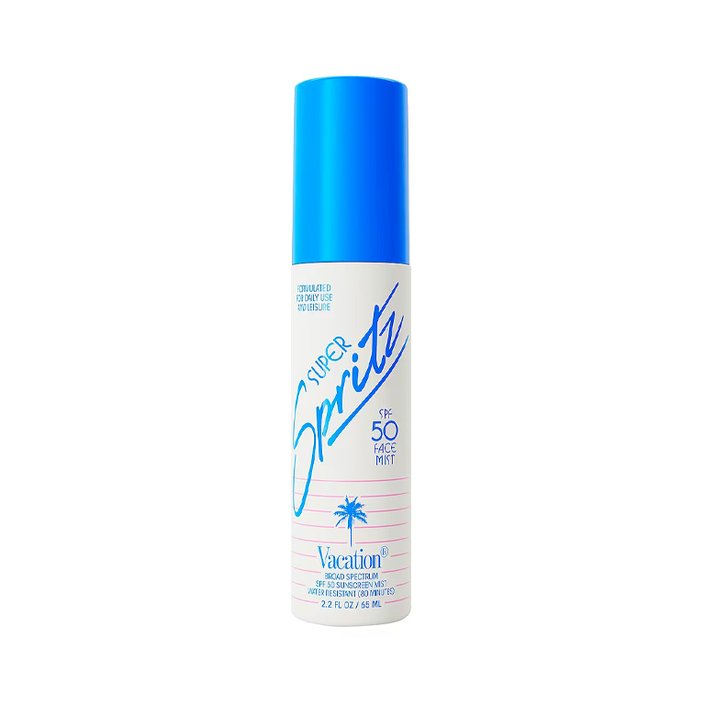 Read more

Back to top