Derm DMs: When Should You Start Using Neck Cream?
July 18, 2019
Thanks to brands like IT Cosmetics and Strivectin, neck cream doesn't have to be boring. It's just as luxurious and enjoyable as applying your nightly moisturizer or face mask and it looks damn good in a shelfie, too. But what is the ideal age to start using a neck cream? Is it reserved for more mature skin-care users, or should anyone and everyone start investing in a quality cream? We DMed an expert to find out.
The DM: When should you start using neck cream?
The Answer: We should start using neck cream in our 30s," explains Shasa Hu, MD, FAAD, and co-founder of BIA Life. Our neck skin ages just as fast if not faster than our facial skin given the chronic mechanical forces from neck movements. Additionally the skin of our neck is thinner, with lower density of oil glands compared to the skin of our face, which means more susceptibility to sun damage, natural aging and decreased collagen production. By the time we reach our 30s, our body's synthesis of collagen slows down, and visible signs of aging of our neck will start to show, such as crepey texture from loss of elasticity, uneven tone from sun damage and so called "tech neck" with horizontal lines from chronic neck use.

That's not to say that you can't start using a neck cream if you're under 30. There's never any harm in taking preventative measures, especially when that means you can covet the latest top-rated formula. Right now, a few of our favorite neck creams are IT Cosmetics Confidence In a Neck Cream Moisturizer (which smells like an orange creamsicle), Strivectin TL Advanced Tightening Neck Cream, and SkinCeuticals A.G.E. Interrupter.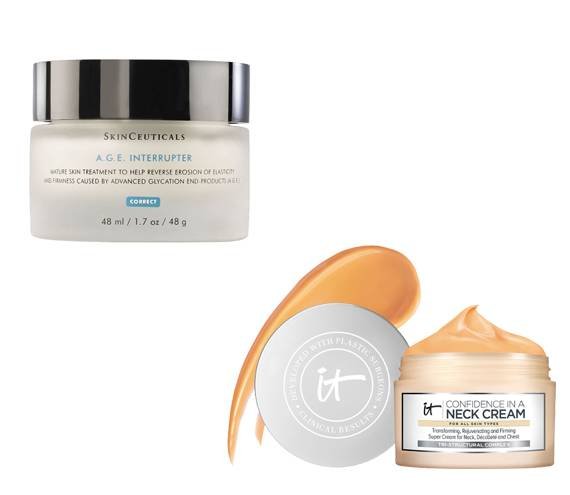 Read More:
How to Address Smile Lines at Home (If You Want To!)
Bad Tan Lines Are No Match for These Self-Tanning Hacks
Ask the Expert: What's the Difference Between Fine Lines and Wrinkles?
Read more

Back to top