Here's What Our Editors Are Throwing in Their Beach Bags for Summer 2022
May 24, 2022
Summer is approaching — and so is our desire to head to the beach and enjoy the warm weather. In addition to finding the perfect swimsuit and packing plenty of snacks, ensuring that we have the right skincare on hand is essential. If you, too, are looking for the best beach-friendly skincare, you've come to the right place. Our editors are unpacking — well, not literally — their beach bags and sharing what's inside. From refreshing skincare products to the best face sunscreens, we've got you covered.
Alyssa
I'm not too picky when it comes to what SPF I use on my body, but what I use for my face is a different story. I love this one because, in addition to protecting my skin from the damaging effects of the sun, it helps to aid in hydration and even my skin tone. Once applied, it doesn't leave a thick or uncomfortable residue behind.
Packing a deodorant in my beach bag is a must, and what better way to enhance the beach vibes than choosing one that smells like a piña colada? In addition to smelling like a tropical cocktail, this aluminum-free deodorant protects against odor while keeping the area smooth thanks to coconut oil and shea butter.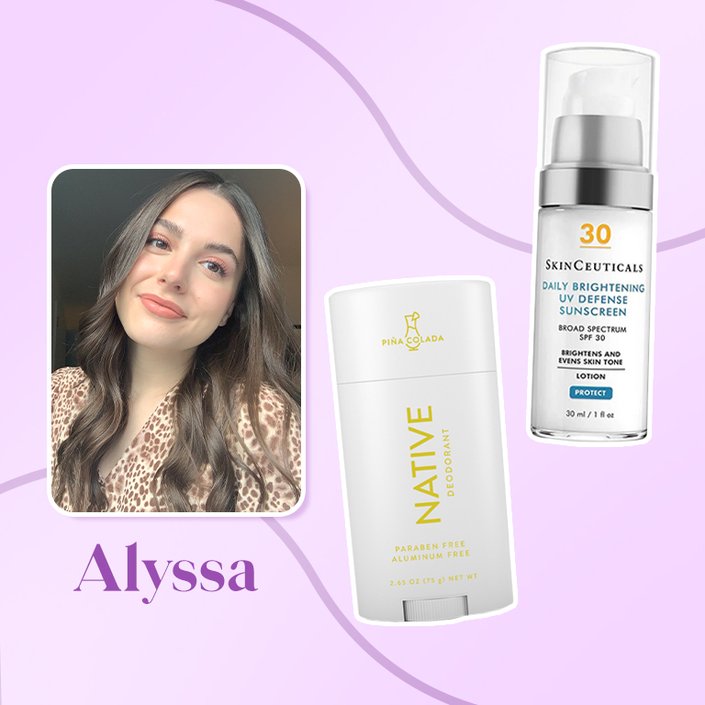 Kat
As I've gotten older, I've begun to understand how important it is to incorporate sunscreen into my daily routine. For that reason, I'm never leaving home without my favorite La Roche-Posay sunscreen. While protecting my skin with SPF 70, this product is great for giving me some added anti-aging benefits with ingredients like niacinamide and vitamin E. The best part about it is that it leaves me with glowing skin without the white cast!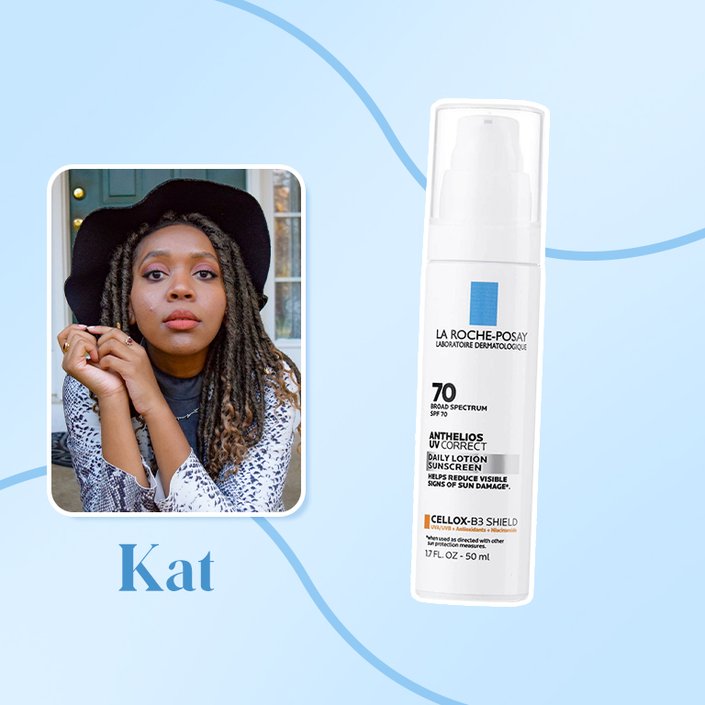 Victoria
My super sensitive skin veers dry all year round, so I'm always on the hunt for mineral sunscreens that provide a little extra moisture. I can't wait to give this product a try this summer. I'm already a huge fan of La Roche Posay sunscreens, and this one acts as a moisturizer by providing 12-hour hydration.
Sunburnt lips are SO uncomfortable. Trust me — I know from unfortunate experience. To avoid that situation this summer, I will be stocking up on plenty of SPF-infused lip balms, like this SPF 30 pick from Kiehl's. The clear formula is infused with coconut oil to deeply hydrate and soothe the lips once it's swiped on. It's also available in a pretty pink tint!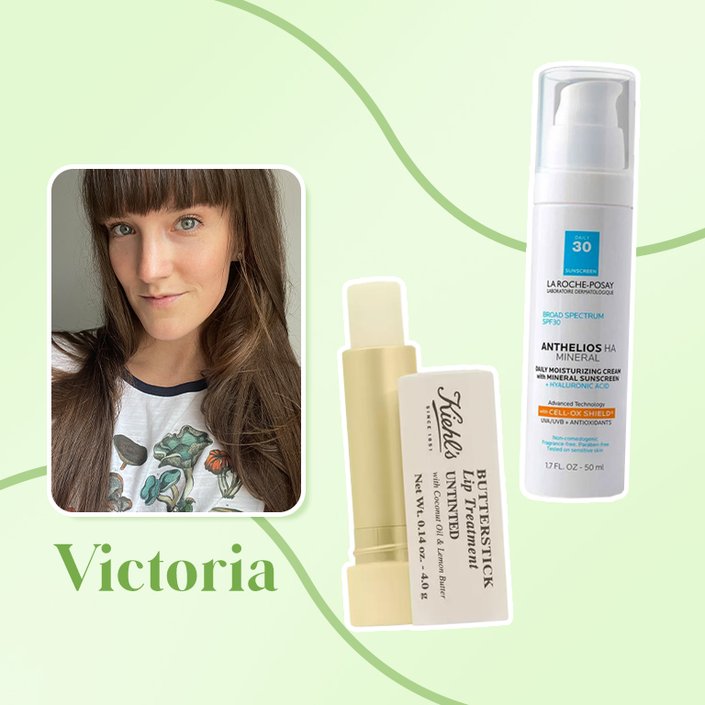 Alanna
Hi, yes, hello, I *am* that person who wears makeup to the beach. Hear me out:a little waterproof mascara, SPF-tinted CC cream and some flushed blush/bronzer never hurt anyone — even on a super hot day! To keep my makeup in place and refreshed, this vitamin C setting spray is a must. It keeps my skin hydrated, my complexion bright and instantly wakes me up after sitting out in the sun on a long day.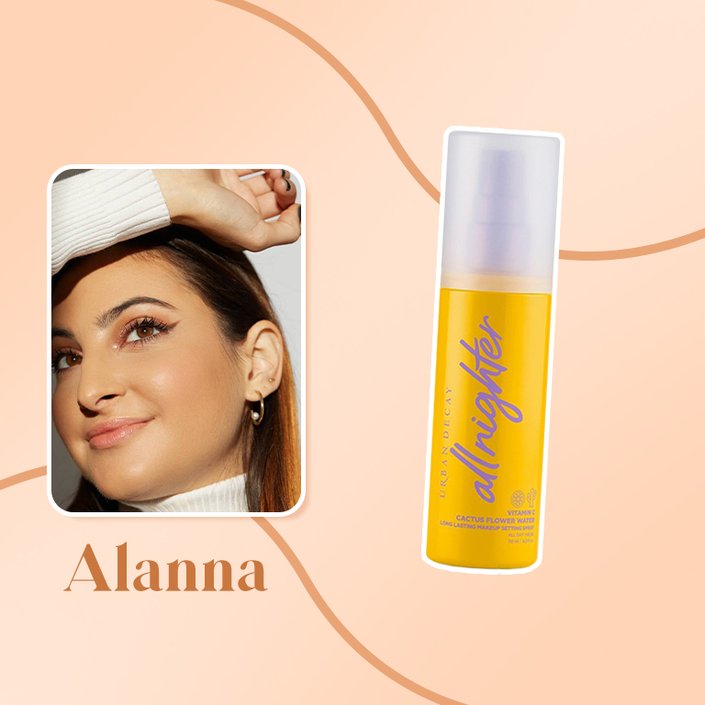 Ariel
Sunscreen is a must for everyone, but because my skin is very fair and also very sensitive, I've started taking extra precautions when it comes to shielding it from UV rays. In addition to wearing a hat and sunglasses, I always reapply this sunscreen. It's oil-free, fragrance-free and non-comedogenic, so it doesn't irritate my skin at all. The formula contains soothing niacinamide, ceramides and hyaluronic acid as well as titanium dioxide and zinc oxide for optimal sun protection. It's also accepted by the National Eczema Association, another win for those with sensitive skin.
The skin on my body is less sensitive than the skin on my face, so I can get away with scented products. I swear by this sunscreen oil, which smells delicious and coconutty and imparts the most gorgeous gleaming glow. I apply it everywhere from the neck down and am always in shock at how luminous it makes my skin look. It's gotten me tons of compliments, and I'm never one to gatekeep when I find a product this good.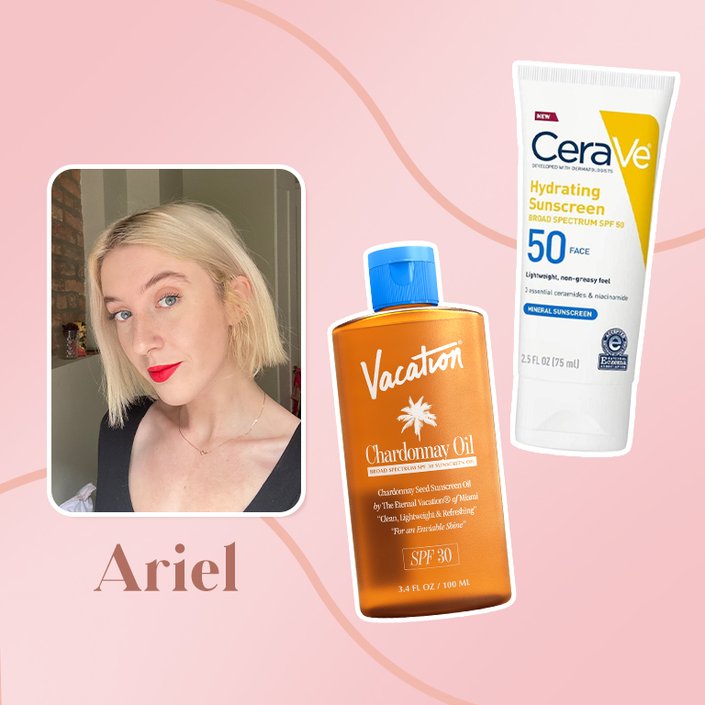 Photo: Chaunte Vaughn, Design: Juliana Campisi
Read more

Back to top