For Celebrity Hairstylist Kristin Ess, Self Care Is More Than Just Masking
May 31, 2019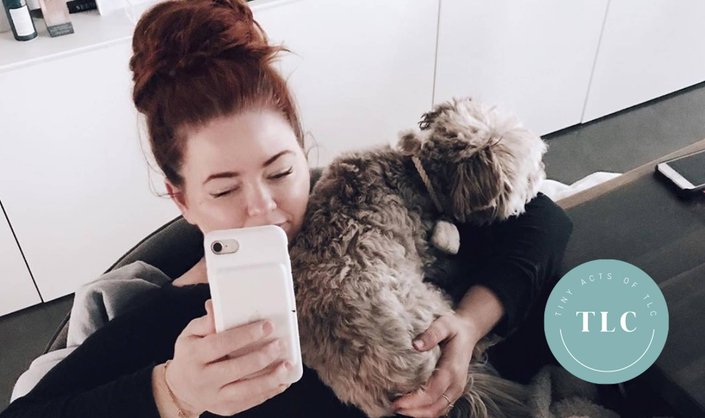 Self care is one of those things that, while essential, can often get pushed to the wayside when your schedule gets busy. And no, we don't just mean skipping your weekly mask or forgetting to moisturize (although that may be a sign that something is amiss). Self care can take on many forms, but most importantly it means taking some time to relax, reset and check in with yourself. To help you navigate building out a custom self-care routine, busy schedule or not, we tapped celebrity hairstylist Kristin Ess — who styles some of your favorite celebs while also running her eponymous hair-care brand and being a dog mom to three adorable rescue pups. Ahead, she shares how she makes time for self care and finding balance in her busy life.
How do you take time for self care with such a busy schedule?
I think it's really hard, but you have to make time. You can't dedicate your life to helping make other people feel better and more confident and not do the same for yourself. I think it is important to really  "walk the walk."
What is your favorite day to take time for yourself?
I'll take self care anywhere I can get it. No two days the same for me, so I don't have the luxury of scheduling those self-care moments.
What are some of your favorite ways to practice self care?
Self care isn't just about beauty treatments. It can be taking a nap, taking my dogs for a walk, floating around in a pool or just doing nothing and catching up with my friends. I'm not very good at meditating, but I can do it for about 5 to 10 minutes and that helps me find calm in a chaotic day.
What products that are a must for your self-care routine?
Some of my favorite things are Kiehl's Creme d'Elegance Repairateur, which I use all over my face, chest and hands. I have an amazing foot massager that I got on Amazon; I need that to survive because I'm on my feet all day. And of course I'm obsessed with scalp treatments and glossing my hair in the shower when I have time.
What's your advice for someone who wants to build a self-care routine for themselves but also has a busy schedule?
I love doing things like under-eye masks when I am driving — I just put them under my sunglasses. If you travel a lot, I recommend getting multipurpose products like the Summer Fridays Jet Lag Mask. I also suggest getting sample-size products that you can take in your bag to try on-the-go before committing to a larger size that you can only use at home.
Read More
Why We Need to Redefine What Self Care Means
8 Clay Masks for Your Next Self-Care Sunday
The Connection Between Skin Care and Self Care
Read more

Back to top