Vichy Just Launched a New Water-Gel Mask and It's the Perfect Summer Treat
June 26, 2019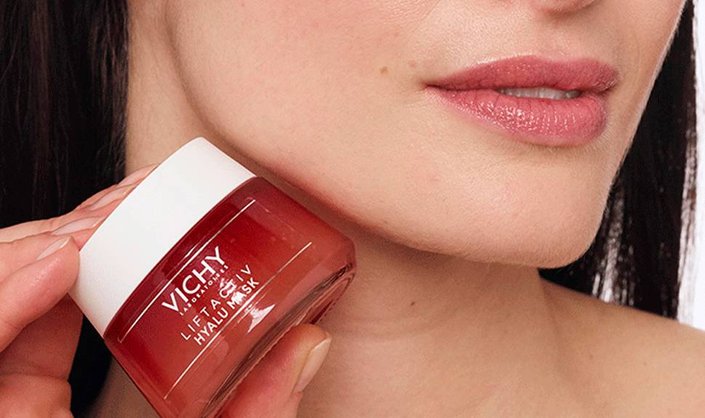 Now that it's officially summer, we can't get enough of lightweight skin-care products like the new Kiehl's Calendula Serum-Infused Water Cream or IT Cosmetics Confidence in a Cream Gel Lotion Moisturizer. They give our skin exactly what it needs after a long day in the heat — a refreshing, cooling sensation that still gives our complexion room to breathe. Another formula we're adding to our vanity this summer is the new Vichy Liftactiv Hyalu Mask, a water-gel formula designed to refresh your complexion. 
This formula works for all skin types and can take the place of your entire skin-care regimen when you're in need of an extra pick-me-up. The paraben and fragrance-free mask will work to firm and hydrate your face and neck with 1% natural origin hyaluronic acid, agave yeast extract and the always-present Vichy Mineralizing Thermal Water. The best part? Once you put it on, there's no need to take it off or rinse. Simply wipe off any excess product with a damp cotton pad and then let the mask do the work to make your skin look supple and smooth. 
According to the brand, you can use the mask up to three times per week — a.k.a. for those crucial moments of the week when you need to treat yourself. The Vichy Liftactiv Hyalu Mask is available for purchase on www.VichyUSA.com. Get ready to add it to your curation of summer skin-care essentials. 
Read More:
Vitamin C Serums Our Editors Love
Helpful Tips for Managing an Oily T-Zone
4 Ways to Make Your Self Tanner Last
Read more

Back to top