Kiehl's New Calendula Serum-Infused Water Cream Is Destined to Be a Best-Seller
October 18, 2019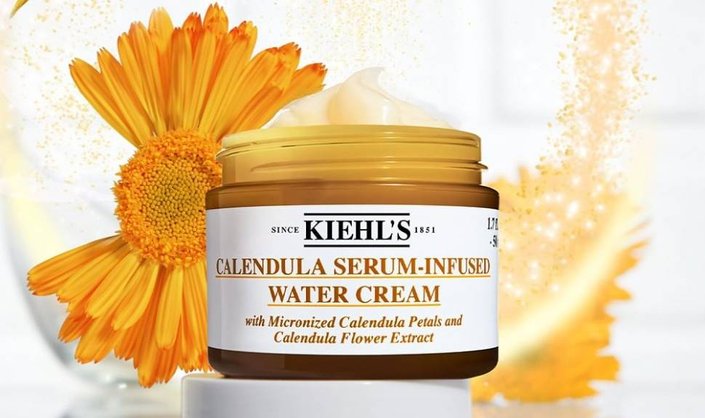 Kiehl's just welcomed a new addition to its Calendula family — the new Calendula Serum-Infused Water Cream — which joins the brand's two other skus, Calendula Herbal Extract Toner and Calendula Deep Cleansing Foaming Face Wash. Ever since Kiehl's launched it's Calendula Herbal Extract Toner back in the 1960s, it's been number one in our hearts and a best-seller globally. The product's success is mostly attributed to the Calendula Flower Petal's unique and effective abilities. Native to the Mediterranean, Calendula has been used in Traditional Chinese Medicine to soothe the skin for centuries. With this much buzz around the ingredient family, we embraced Kiehl's newest addition with open arms and we implore you to, as well.
Kiehl's Calendula Serum-Infused Water Cream is a serum and cream hybrid product. Each Calendula petal has five discomfort-reducing compounds that are steeped at a high temperature before being mixed into the soothing water cream for maximum benefits. Upon application, the weightless formula releases a burst of hydration to leave skin feeling soft and dewy. The unique ingredient, combine with the cream's cooling effect, instantly relieves skin irritation and aids in strengthening its barrier. Not only does it help correct early signs of aging, but it visibly reduces skin redness, as well.
"We know our customers love Calendula, so Kiehl's chemists formulated a water cream feature that iconic Kiehl's ingredient and took it to the next level by infusing it with a Calendula serum," said Roberta Weiss, Head of Product Innovation for Kiehl's. "The water cream utilizes our highest concentration of Calendula Flower Extract in a formula that helps to soothe and refresh skin while also providing a visible glow."
You can now shop the Calendula Serum-Infused Water Cream, plus the rest of the Calendula line on Kiehls.com.
Read More:
Derm DMs: Does Shaving Really Make Hair Grow Thicker?
I Gave Myself an At-Home Facial Massage With the Clarisonic Firming Head Every Day for Two Weeks
5 Eye Creams With Retinol to Add to Your Arsenal
Read more

Back to top