Can Grooming Your Brows Cause Eyebrow Acne?
August 31, 2021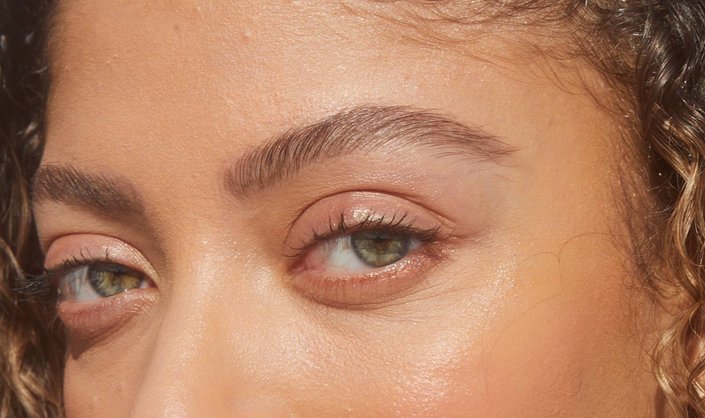 Whether you choose to tweeze, wax or thread, acne around your eyebrows is a real thing that can occur as a result. We consulted with Dr. Dhaval Bhanusali, a board-certified dermatologist based in New York City, to help us get to the bottom of why eyebrow acne happens after hair removal and what to do about it.
Why Do Eyebrow Breakouts Occur Post Hair-Removal?
Before we dive into the steps to take to keep blemishes near the eyebrows at bay, it's important to understand why this reaction is so common to begin with. "Similar to shaving and razor burn, trauma to any area can cause your skin to react," Dr. Bhanusali says. "Combined with the possibility of a stray hair becoming ingrown, popular eyebrow hair removal techniques can lead some to experience unpleasant breakouts." 
What Are Other Factors That Can Lead to Acne on the Eyebrows?
Even if you never remove hairs in this area, you may still experience pimples, which is likely due to using comedogenic makeup that can easily clog your pores. Between gels, powders and pencils you use to shape your brows, it's important to always check that they say non-comedogenic on the label. It's also key to cleanse your brows each night the way you would your skin, which will help to remove the product and any excess oils that may linger on skin and lead to clogged pores. We recommend a gentle face wash such as the CeraVe Hydrating Facial Cleanser.
How to Prevent Eyebrow Acne
Before removing any brow hairs, exfoliate your face, paying close attention to the brow area, or wherever treatment is taking place. This can help ensure that bacteria and dirt won't get pushed into your pores and cause a clog during the removal process. We advise using a chemical exfoliant, such as the L'Oréal Paris Glycolic Acid Toner, as it is gentler on the skin than physical exfoliants. 
It's important to resist the urge to touch your eyebrows with your fingers after hair removal. If your hands are dirty, bacteria can transfer onto your face and clog pores, which can lead to a breakout. If you do see any pimples post-grooming, reach for a spot treatment formulated with acne-fighting ingredients like salicylic acid, benzoyl peroxide or sulfur. The Vichy Normaderm S.O.S Acne Rescue Spot Corrector dries out pimples with sulfur and provides a mild exfoliating effect using glycolic acid. 
Photo: Chaunte Vaughn
Read More: 
Is Salicylic Acid Good for Your Skin?
The Life Cycle and Stages of a Pimple, as Told by Skincare Experts
How to Make a Pimple Look Smaller
Read more

Back to top