How to De-Puff Your Eyes and Face in the Morning
May 10, 2023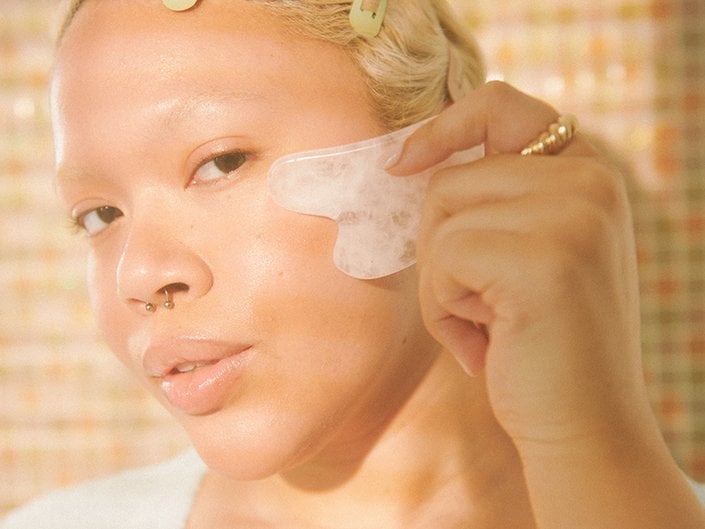 With a chronic problem of morning puffiness, I've become an expert in de-puffing techniques (read: gua sha, icing and
facial massage
). Although the tools in my arsenal reduce my swollen appearance in the AM, I still want to know why my face puffs up in the first place. To find out what's going on once my head hits the pillow and how to
prevent the puffiness
from happening, I turned to
Dr. Hadley King
, board-certified dermatologist, and Patricia Giles, licensed esthetician and beauty director at
Skinney Medspa
.
What Causes Your Face to Get Puffy and Swell?
Your Sleeping Position
When you lay down to sleep, fluid gets redistributed and settles in your face, causing a puffy appearance. This type of puffiness usually starts to subside throughout the morning, but if you're set on preventing it, consider sleeping with your head propped up on an extra pillow.
Fluid Retention
According to the American Academy of Ophthalmology (AAO), water retention is another common cause for noticeable under-eye bags. Water retention can be most noticeable in the morning, especially if you ate a lot of salty foods the night before.
Seasonal Allergies
Another downside of seasonal allergies, aside from red, itchy eyes is the swelling and puffiness that can accompany them. "Chronic rubbing" of the under-eye area due to seasonal allergies can cause or worsen puffiness around the eyes, board-certified dermatologist Dr. Marisa Garshick previously told Skincare.com. Talk to your doctor about a way to address your seasonal allergies — they may recommend topical creams, eye drops or oral antihistamines to help stifle your symptoms.
Genetics
If one of your parents or relatives has baggy or puffy under-eyes, there's a chance you may inherit the condition too, according to the AAO. These types of puffy eyes are typically harder to address with topical eye creams or serums, but as Dr. Garshick previously told Makeup.com, there are a variety of procedures "such as lasers, microneedling or radiofrequency devices…as well as surgical treatments" that can make under-eye bags appear less noticeable.
Lack of Sleep
While your sleeping position can affect how puffy your face looks in the morning, a lack of sleep can take its toll as well, according to the AAO.
Smoking
Smoking can be a cause of more rapid collagen loss, which according to the AAO can leave the skin under your eyes thinner and make the blood vessels appear more visible in the delicate area.
Why Is My Face Puffy in the Morning?
Bad news incoming for side sleepers — it turns out that this position may be the culprit for your puffy face and eyes in the morning. "Being horizontal while we sleep allows fluid to redistribute and settle in dependent areas due to gravitational force and pressure," says Dr. King. "For example, if you sleep on one side, then it's likely that the side of your face on your pillow will be puffier than the other."
As for why my eyes are typically the area on my face to swell the most? Giles explains it's due to the area's delicate nature. "The physiology of the eye contour area is unique from the rest of the face — it shows the most signs of fatigue because it's the most strained and fragile area," she says. "We blink approximately 10,000 times a day to maintain eye hydration and proper function, but overnight the lymph, which is in charge of transporting waste products from the blood, can build up." This fluid retention then presents as swelling in the lower eyelid. And while it typically subsides throughout the morning, the puffiness can persist depending on circulation.
How to Reduce Face Puffiness and Swelling
Sleep With Your Head Propped Up
As mentioned above, sleeping with your head propped up on an extra pillow can help curb excess fluid from pooling in and around your face and causing a swollen appearance. This sleeping position may take some getting used to, but if you opt for a firm pillow, you may find yourself well-rested and a little less puffy in the morning.
Get Enough Sleep
Again, sleep is key when it comes to cutting down on a puffy appearance. Per the AAO, most experts recommend clocking in a good seven to nine hours of sleep each night.
Tackle Seasonal Allergies
If seasonal allergies are the culprit behind your puffy eyes, schedule an appointment with your doctor to talk about different options you can take. Whether you go with eye drops or start taking oral antihistamines, your doctor can work with you to come up with a plan to help alleviate your allergy symptoms.
Try a Depuffing Eye Cream or Serum
An eye cream with caffeine can be a game-changer when it comes to minimizing the appearance of puffiness. Dr. King recommends The Ordinary Caffeine Solution. We also love the Youth to the People Peptides + C Energy Eye Concentrate, a lightweight serum that's supercharged with caffeine, brightening vitamin C, peptides and antioxidant-rich extracts. In addition to puffiness, it also helps to reduce the look of dark circles, eye bags, fine lines and wrinkles.
Another option to try is the L'Oréal Paris Revitalift Derm Intensives 1.5% Hyaluronic Acid + 1% Caffeine Eye Serum, which has a triple rollerball applicator to gently massage your under-eye area and provides a cooling, soothing sensation as you apply it.
Opt For a Lifting Eye Treatment
Some eye treatments give your under-eye bags a temporarily tighter, smoother, more lifted effect, including the IT Cosmetics Bye Bye Under Eye Bags Daytime Treatment. To use, apply a pea-size drop of the treatment to bare skin or on top of makeup and allow the product to absorb into your skin for three to five minutes. Once the time is up, your under-eye area will appear smoother with less noticeable bags, wrinkles and puffiness. At the end of the day, be sure to cleanse your skin and remove the product using an oil-based cleanser, such as the IT Cosmetics Bye Bye Makeup Cleansing Balm Makeup Remover.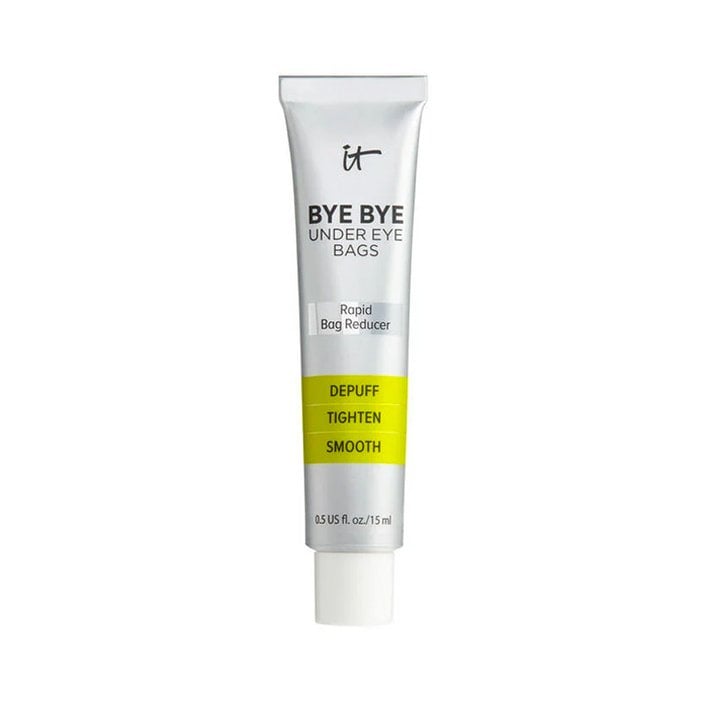 Incorporate a Gua Sha in Your Routine
The gua sha has been a valuable tool in traditional Chinese medicine for centuries, but more recently, it's entered the beauty mainstream and has been hailed as a way to massage and sculpt the face. According to Dr. Sheila Farhang, a board-certified dermatologist, gua sha can help minimize inflammation and improve the circulation of your blood and lymphatic system, thereby decreasing a puffy appearance. You can use a gua sha to massage in your favorite serums, creams and face oils.
We love the Mount Lai The Jade Gua Sha Facial Lifting Tool for massaging the face all over, and a mini eye roller for the under-eye area.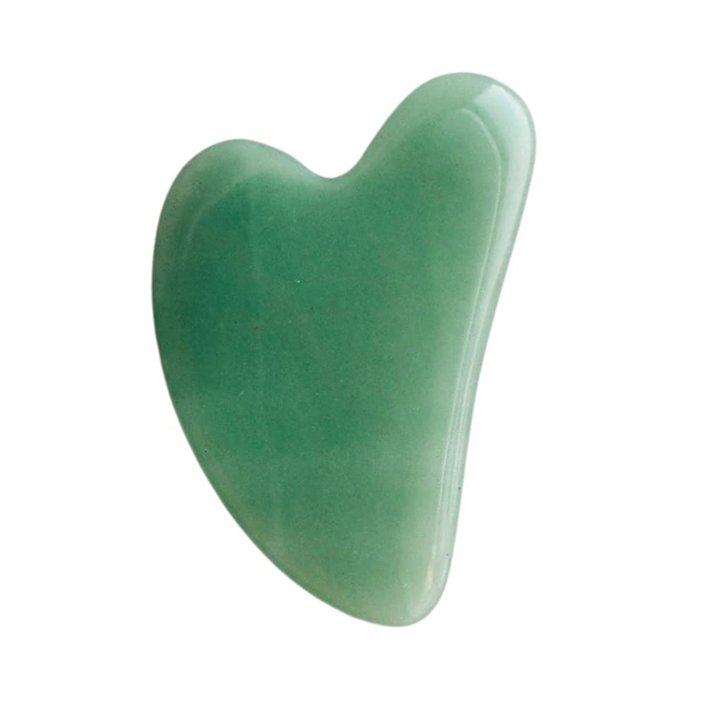 Add an Eye Roller
For an extra chilly, de-puffing feel, store your eye roller in the fridge — it's a great morning pick-me-up. Try an eye roller with a cooling metal rollerball, like the Glow Recipe Depuffing Mini Eye Roller.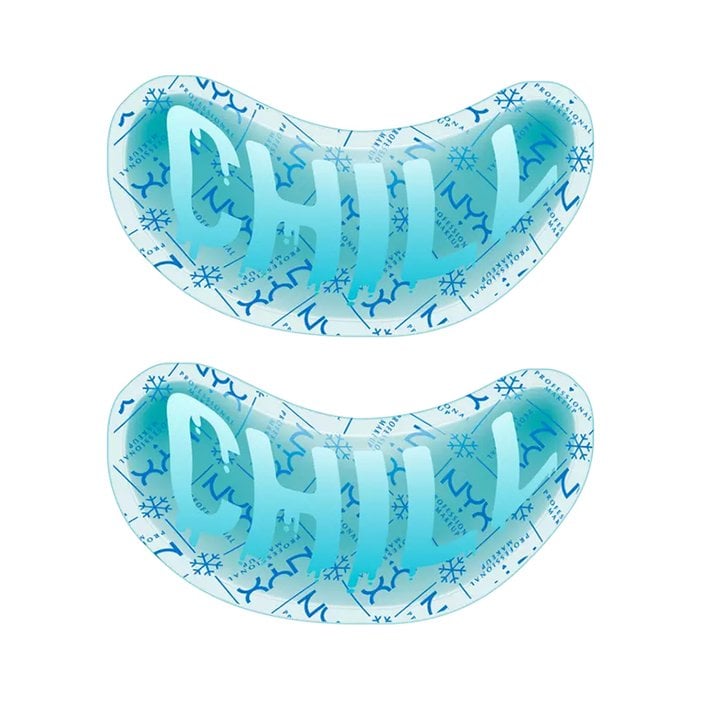 Cancel Out Dark Circles With a Color Corrector
Minimizing shadows under your eyes can also make puffiness appear less noticeable. To cancel out dark purple or blue tones on dark and olive skin tones, opt for a light layer of a reddish-orange color corrector, such as the Lancôme Teint Idole Ultra Wear Camouflage Color Corrector in Orange/Red. Those with fair and medium skin tones should choose a lighter shade — we recommend the same color corrector in the shade Peach.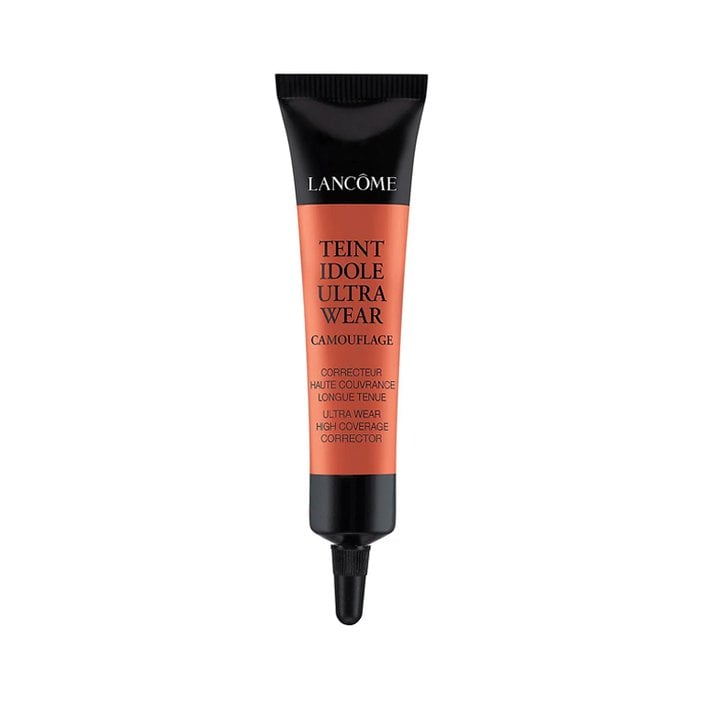 Brighten the Under-Eyes With Concealer
A brightening concealer will help further erase the look of puffiness and dark circles. For added skincare benefits in addition to coverage, we recommend the L'Oréal Paris True Match Eye Cream in a Concealer. The ophthalmologist-tested formula contains hyaluronic acid and glycerin for a hydrated under-eye.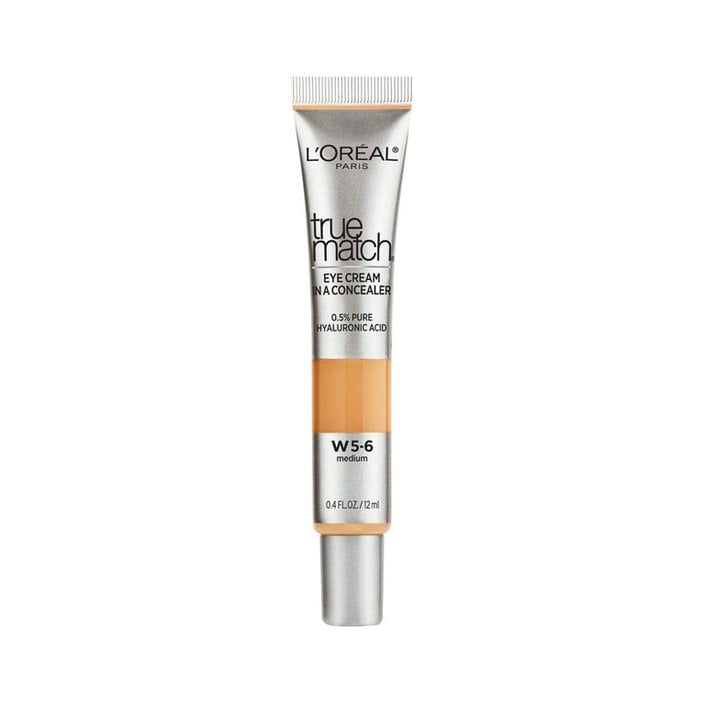 How to Prevent Your Face From Getting Puffy
The easiest way to manage facial swelling is to adjust the way you sleep, in both position and the environment. "To avoid puffiness, it's best to sleep on your back with an extra pillow, so the face stays elevated and can get better fluid circulation," says Giles. "I also recommend hypoallergenic pillows, regularly changing sheets to steer clear of dust and avoiding a central heater in the winter because it can dry and sensitize the eyes, which leads to puffiness."
Dr. King adds that making changes to your diet and skincare routine can also help reduce the likelihood of overnight swelling. She suggests drinking more water and eating less salt to prevent water retention. If you suspect your puffiness may be related to hormones or allergies, though, consult with your doctor.
Read more

Back to top