Editor's Pick: L'Oréal Paris Pure-Clay Clear & Comfort Mask Review
October 25, 2019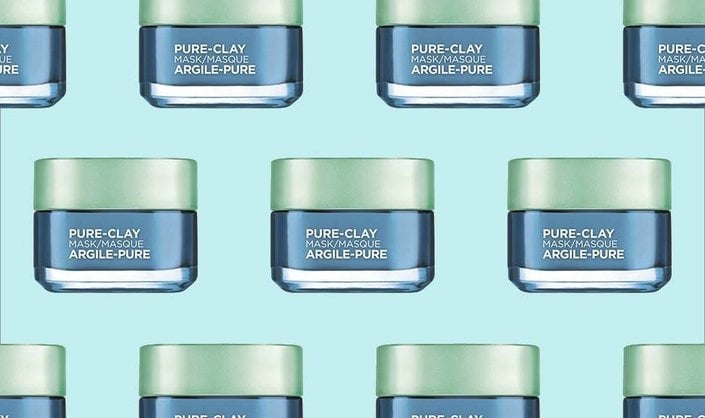 It's no secret that we at Skincare.com are big fans of L'Oreal Paris' Pure-Clay masks. Up until recently, the range included three masks total, Detox & Brighten Mask, Exfoliate & Refine Mask, and Purify & Mattify Mask. But now there's a new mask on the block— formulated with three pure clays and seaweed— that helps to gently draw out built-up impurities, dirt, and oils, cleansing stressed areas to help visibly reduce imperfections. Ahead, we share our review of Pure-Clay Clear & Comfort Mask, its benefits, how to use it, and more!
WHAT'S THE DEAL WITH CLAY, ANYWAY?
Clay masks are a must-have in any skin care arsenal, whether you're multi-masking or treating yourself to an at-home spa day. L'Oreal Paris' Pure-Clay range is formulated with a powerful blend of three clays— Kaolin, Montmorillonite, and Moroccan Lava clays—to help address several skin care concerns. A clay mask can help lift excess oils and draw out built up impurities from skin's surface. Is your skin looking a little lackluster? Smooth on a clay mask to leave skin feeling refreshed and comfortable. Better yet? Use two formulas to target specific concerns on different areas of your face for a complete multi-masking experience.
L'OREAL PARIS PURE-CLAY CLEAR & COMFORT MASK
Packaged like the rest of its Pure-Clay Mask siblings, Clear & Comfort is housed in a small tub with a twist-off lid. What sets it apart from the others is its formulation and benefits. Formulated with the line's signature three clays—and this iteration also contains seaweed (yes, seaweed!)—this mask helps visibly reduce imperfections on the surface of the skin for skin that looks clearer with pores that appear decongested. For more information on the benefits of seaweed in skin care, read this!
Immediately, we were drawn to the formula's vivid blue color (who can resist a blue face mask!?) and creamy texture; this mask can turn an average spa night into a multi-sensorial experience.
HOW TO USE CLEAR & COMFORT MASK
Using your fingers or a facial spatula, apply an even layer of product to clean dry skin, avoiding the eye and lip area. Leave on the face for 10 to 15 minutes, then remove with water. The product rinses off easily, which is always a plus when it comes to clay masks. For best results, use twice per week.
L'OREAL PARIS PURE-CLAY CLEAR & COMFORT MASK REVIEW
Every girl has a preference for mask-type, and mine just so happens to be clay. So you could just imagine my excitement at trying a brand new clay formula! I've tried endless amounts of clay masks on my combination skin and I've seen it all— both the good and the bad. After giving L'Oreal's Pure-Clay Clear & Comfort Mask a try, I have to say I am impressed. Application is very simple— the product glides on and rinses off easily. Immediately after my first use, my skin felt refreshed and comfortable. I could tell that my skin looked clean, smooth and rebalanced. I continued using the mask for four weeks to see its full potential, and eventually my pores looked decongested and my skin tone looked more even and luminous.
L'Oreal Paris Pure-Clay Clear & Comfort Mask, $12.99 MSRP
Read More:
The Fall Skin-Care Products 5 Beauty Editors Would Buy at Dermstore
Skin-Care Products to Save On vs. Splurge On
Why You Should Add Hand Cream to Your Beauty Routine, ASAP
Read more

Back to top