Adapalene: The Acne-Fighting Ingredient You're Seeing Everywhere
June 24, 2020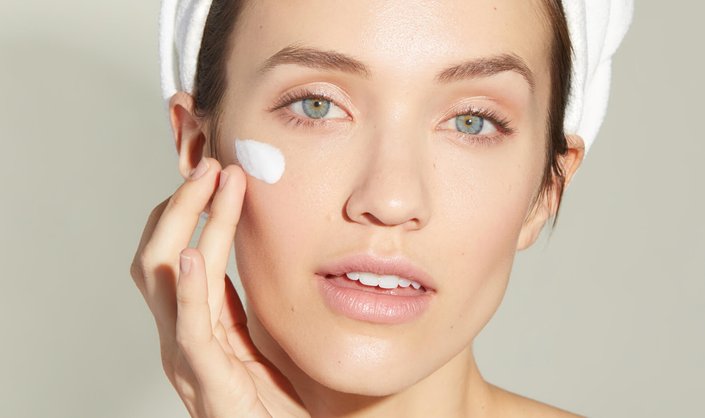 When it comes to treating acne at home and with over-the-counter, affordable products, we've relied on skin-care ingredients like salicylic acid and benzoyl peroxide for years. While those are great options for targeting blackheads, whiteheads or cystic pimples, there's another, newer ingredient that should be on your radar, too. Adapalene, which is a form of a retinoid, recently made its way to the drugstore aisle. The prescription-strength gel boasts both acne-fighting and anti-aging properties. We chatted with board-certified dermatologist Hadley King, MD, about what exactly adapalene is, how to use it and what makes it different from other acne treatments on the market. Here's what you need to know.
What Is Adapalene?
Adapalene is a super-potent retinoid that has been proven to treat acne. "This ingredient has been studied in numerous clinical trials that have demonstrated high efficacy and lower risk of skin irritation," says Dr. King. But until recently, it was only available by prescription. In 2016, however, the FDA approved adapalene 0.1% gel as an OTC treatment for acne. "This is a big deal because adapalene 0.1% gel is the first in the class of drugs known as retinoids to be made available OTC for the treatment of acne!" Want to try out the ingredient for yourself? We recommend the La Roche-Posay Effaclar Adapalene Gel 0.1% Acne Treatment.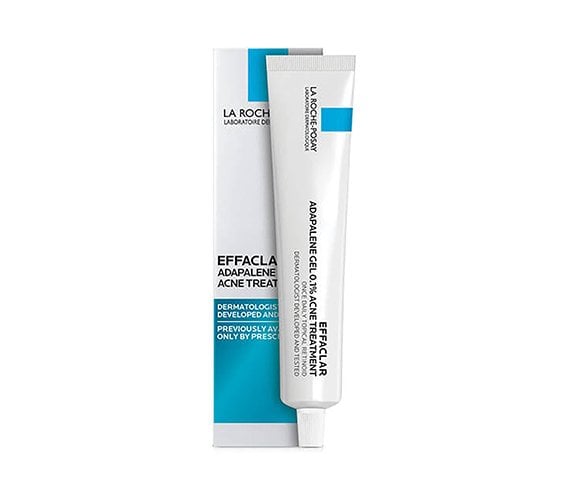 OK, So How Is It Different From Other Acne Treatments?
Unlike acne-fighting ingredients like salicylic acid and benzoyl peroxide, being in the retinoid class makes adapalene behave differently. "Retinoids work by binding to retinoic acid receptors," explains Dr. King. "This helps with the cell turnover of your skin." In other words, retinoids increase the turnover of skin cells and reduce the tendency of cells and debris to clump together and clog pores.
Anti-Aging and Anti-Inflammatory Properties
In addition to the retinoid benefits of adapalene, Dr. King says that it can help "suppress the inflammatory response stimulated by the presence of propionibacterium acnes, a bacterium that contributes to inflammatory acne." It's also been found to inhibit lipoxygenase activity, which means that adapalene generally causes very little irritation when it's applied onto the skin. What's more, adapalene works to stimulate cell turnover and, as a result, decrease discoloration. 
How to Incorporate Adapalene Into Your Routine
Including adapalene into your routine starts with testing the product like you would any other new skin-care ingredient. "I recommend applying it every other night to see how well the skin tolerates it," says Dr. King. "If you're not experiencing irritation, try increasing the frequency to every night." Retinoids can become unstable when they're exposed to the sun, which is why applying them at night is going to be your best bet in order to achieve maximum results. And when it comes to how much to apply, always remember that less is more. "Apply a small amount to clean skin at bedtime, and follow up with a moisturizer." (Editor's note: You also want to be especially vigilant about applying sunscreen during the day whenever you're using a retinoid, including adapalene, because your skin may be more prone to sun sensitivity.)
Pay Attention to What Your Mixing With Adapalene
Although Dr. King says it's OK to use products like benzoyl peroxide or hydroxy-acids with adapalene, she advises applying them at different times. "If your skin can tolerate the combination of ingredients, I recommend using the acids in the morning and adapalene at night." If you apply them together, it could make the adapalene less effective. It's important to note that retinoids tend to make your skin more sensitive, so you might find the combination increasingly irritating. That said, due to its decreased risk of irritation, adapalene is generally considered a good option for people with sensitive skin. If you have concerns, make sure to consult with your dermatologist. 
How Fast Does Adapalene Work?
You'll see the results of adapalene quicker than you may think. Dr. King says that you may see an improvement in acne in as few as two weeks.
Read More:
6 Hydrating Toners for Dry Skin Types
Bar Soaps Are Back: Here Are 6 to Try 
Astringent vs. Toner — What's the Difference? 
Read more

Back to top