4 Skin Care Tips for African American Skin, According to an Ethnic Skin Expert
October 01, 2018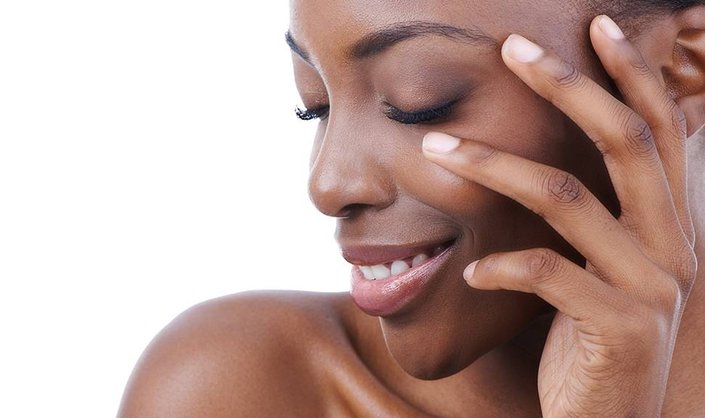 When it comes to caring for your skin with the essentials—think: cleansers, moisturizers, and broad-spectrum sunscreen—the process is universal across all skin types and tones. With the exception of product tweaks and ingredients to look out for, most skin types can benefit from daily cleansing, moisturizing, and protection with a broad-spectrum SPF 15 or higher. In other words, the groundwork for every skin care routine is pretty much the same, regardless of your skin type or tone.
When you start to factor in specific skin concerns, that's where things can start to differ. That's because there are certain skin tones and ethnic groups that have a higher likelihood of experiencing specific skin concerns, which require a very targeted skin care routine. For African American skin, said concerns can often include inflammatory papules, pustules, nodules, and cysts, which can lead to post-inflammatory hyperpigmentation and scarring. Finding the right skincare plan can be tricky to figure out, but that's where we can help you out. We tapped board-certified dermatologist, ethnic skin expert, and Skincare.com consultant Dr. William Kwan for his top tips on how to care for African American skin. Keep scrolling to find out what they are!
Tip #1: Use a Daily Skin Brightener to Help Even Skin Tone
Hyperpigmentation is a common skin concern amongst people of color. According to the American Academy of Dermatology hyperpigmentation is characterized by the darkening of skin due to increased melanin—the natural substance that gives skin its color. Hyperpigmentation can be caused by a variety of factors such as sun exposure, genetics, or hormonal changes.
Thankfully, there are ways to help address hyperpigmentation on skin of color. "Usually, darker skin types suffer from irregular skin pigmentation, so I usually recommend a daily skin brightener in their regimen," says Dr. Kwan. These products may be formulated with retinol, vitamin C, or kojic acid. Talk to your skin care provider about which product may be right for you.
Tip #2: Never Forget to Apply Broad-Spectrum Sunscreen
There's a terrible misconception out there that skin cancer only affects those with fair skin types. Skin cancer can affect anyone, regardless of skin type or tone. One would argue that sun protection education is even more important for darker skin tones who may not know they need it. So allow us to bust this myth once and for all—sunscreen is a non-negotiable step in any and all skin care routines. Reach for a formula that boasts an SPF of 15 or higher, broad-spectrum protection, and is water-resistant.
"Many of my African American patients don't think of using daily sunscreen, but it is important to do so, explains Dr. Kwan. "Especially to make sure skin color stays even." As Dr. Kwan mentions, applying daily sunscreen—and reapplying at least every two hours while taking additional sun protection measures into account—is an important way to help prevent irregular pigmentation. Beyond pigmentation issues and skin cancer, the sun's harmful UV rays can also cause premature skin aging such as fine lines and wrinkles. Even if you don't burn easily, be diligent with your daily sunscreen use.
Tip #3: Opt for a Chemical Sunscreen
Sunscreen can be categorized into two different buckets—physical and chemical. If you're on the hunt for the best sunscreen for dark skin tones, Dr. Kwan recommends reaching for a chemical sunscreen versus a physical sunscreen. "I would recommend a chemical sunscreen, since they are lighter and won't make the skin look white, unlike a physical sunscreen," he says. Chemical sunscreens can protect your skin from UV rays while also being versatile in form, including sprays and sticks.
To learn more about the difference between chemical and physical sunscreens, click here!
Tip #4: Vitamin C Is Your Friend
To help keep hyper-pigmentation at bay, it's important to protect your skin from UV rays with sunscreen, protective clothing and more, but antioxidants can be especially useful as well.Reaching for a vitamin C skin care product, such as a serum, can help. Plus, antioxidants and sunscreen are an anti-aging force to be reckoned with, so why not pair them in your routine for additional protection against free radicals and environmental aggressors?
Read more

Back to top