Clarisonic's New App Is Nothing Short of Revolutionary
August 15, 2018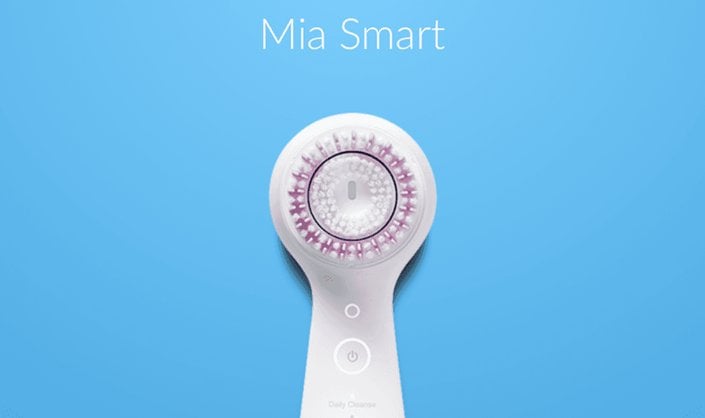 With every passing year, the beauty industry gets more and more technologically advanced. These days, there's little you can't do on your smartphone to enhance your skin care routine and makeup look. With the help of certain beauty apps, you can track your level of UV exposure, chat in real-time with skin experts, personalize your routine to fit your skin care goals, try on lipsticks and hair dyes to test the shades, and more. Speaking directly to this trend, Clarisonic debuted a next-level skin care device aptly named Mia Smart alongside a brand new mobile app that syncs up with it directly. 
THE CLARISONIC APP: EVERYTHING YOU NEED TO KNOW
Clarisonic has mastered the art of cleansing your skin better than your hands alone, that we know to be true. But there's more to caring for your skin than just cleansing, and Clarisonic has really delivered on the versatility front with their latest launch: Mia Smart. With this one device, you can cleanse your skin, lift and firm your facial contours, blend foundation and cream-based makeup, and help reduce the appearance of fine lines and wrinkles. The "smartest" of the brand's portfolio of devices, Mia Smart features Bluetooth compatibility (no plugs and cords here) to sync exclusively with the brand-new mobile app and create a truly personalized experience.
After receiving a complimentary Mia Smart device from our friends at Clarisonic to review, we didn't hesitate to download the mobile app and test it out. The experience starts off with a quick and easy skin quiz. Once you finish taking the quiz, the app will recommend a cleansing routine to fit your needs and concerns. If you want to switch it up—our skins' needs are ever-changing, after all—you can easily customize your own routine within the app. You can play around with the duration, strength, and intensity of your Clarisonic Mia Smart's oscillation. As a bonus, you can even set timed daily reminders, so you don't forget to use your device and get the most out of it.
To track the progress of your skin, the app also offers a usage tracker. From day one, the app will record how many times you've used your brush heads, along with your last sync-up to your brush and the devices' battery life. And if you want to see the results for yourself, you can take photos of your skin daily to visually record your skin's improvement over time.
Don't think your good skin care habits won't go unnoticed; you can earn different rewards for different skin care achievements as well. If you needed some more incentive to keep your skin looking its best, then there's this one: from your first cleansing session to trying new routines, you'll unlock an award for your commitment to skin care.
Need a little Clarisonic 101 before you dive in? The app can help with that, too, thanks to the vast log of video tutorials. If you want to learn how to be a pro double-cleanser, or you just need help with using the Mia Smart, there's a video available to lend a hand.
Although the app can recognize any brush head in the Clarisonic portfolio, it only syncs to the newly-launched Mia Smart. If you haven't ordered your Mia Smart yet, now's the time to do so. Clarisonic has a limited-time trade-in deal going on that you don't want to miss. Click here to find out how you can save $25 on your Mia Smart purchase through September 4!*
*For a limited time, get a $25 coupon to be applied to a Mia Smart purchase when you submit an older Clarisonic model or that of a qualifying competitor to Clarisonic to be recycled. The first 500 trade-in orders receive a complimentary Sonic Eye Massager. Offer valid in the U.S. only. To learn more, head to clarisonic.com.
Read more

Back to top