QQ: At What Age Does Acne Go Away?
January 11, 2021
Acne is most often associated with the teenage years, but pimples don't necessarily disappear once you reach your 20s. In fact, according to the American Academy of Dermatology (AAD), people can experience everything from whiteheads and blackheads to cystic acne well into adulthood. To find out exactly what causes adult acne  and how to get rid of pimples and scars,  keep reading. We're sharing our top tips and favorite acne-fighting products, below. 
Why You Have Adult Acne 
According to the AAD, even those who had little to moderate acne as a teen can develop severe acne as an adult. Here are a few reasons you could be experiencing acne flares.
Gender
According to the AAD, women tend to get adult acne more often than men. They note that fluctuating hormone levels, which many women go through during pregnancy, periods and when switching or getting off of  birth control pills, is a major cause of adult acne. It's also possible for the skin to break out when women are going through menopause. 
Stress 
Stress is a known acne-instigator, so when stress levels increase, it's not uncommon for acne to become more severe. The AAD also notes that increases in stress cause a heightened production of androgen hormones, which can stimulate oil glands and lead to acne. 
Genetics
If many of your family members suffer from adult acne, there's a greater chance you'll develop it. The AAD explains that there are multiple studies that suggest that some people have a genetic predisposition to get acne over others.
Skin-Care Products
If  you're using skin-care products that include ingredients like hydroxy-acids or retinol, your skin might be purging. Purging can occur when you use skin-care products that bring clogged pores to the surface of your skin at a faster rate, causing temporary breakouts. These breakouts are temporary and will go down once your skin gets used to the ingredient. 
How to Address Adult Acne 
STEP 1: Wash With a Gentle Cleanser 
Harsh products aren't always required for treating acne — the best thing you can do for your skin is to be gentle. One of our favorite gentle cleansers is the Vichy Normaderm PhytoAction Daily Deep Cleansing Gel. It's a salicylic acid-based cleanser that works to gently cleanse the skin of pore-clogging impurities without over-drying it. It's also a great product to have in your lineup if you're trying to treat maskne.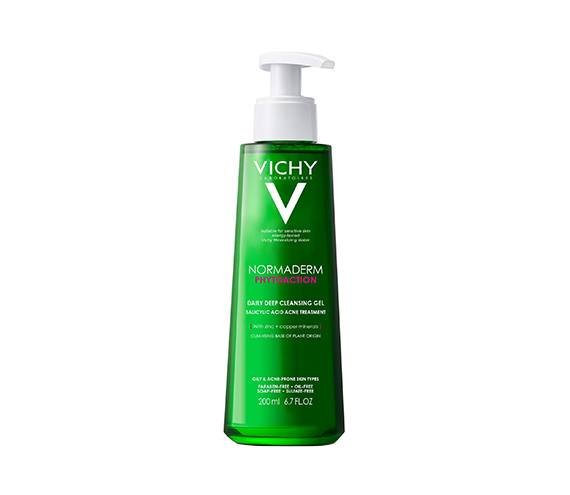 STEP 2: Check Your Shampoo
Shampoo can cause acne, especially if you struggle with pimples around your hairline. Some hair-care products contain pore-clogging oils. If you suspect this is the cause of your acne, try the SEEN Shampoo, which is formulated with your skin in mind. 
STEP 3: Keep Your Hands Away from Your Face
It may seem like a quick fix, but picking and squeezing blemishes can cause infections and scarring. Instead, we recommend applying pimple patches during the day, like the Peace Out Salicylic Acid Healing Dots. These will help keep bacteria — and your fingers — away from the spot so it can heal faster.
STEP 4: Create an Acne-Fighting Skin-Care Routine
If you're trying to treat adult acne, make sure your skin-care routine is stocked with non-comedogenic, acne-fighting products. After cleansing, apply a retinol, like the La Roche-Posay Effaclar Adapalene Gel, and an oil-free moisturizer, like the CeraVe Moisturizing Lotion.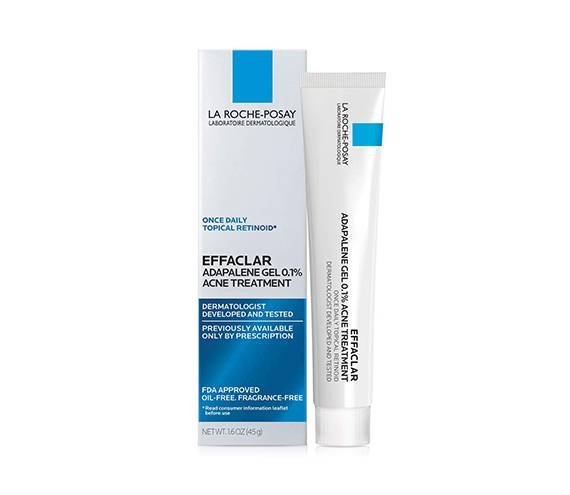 STEP 5: Consult a Dermatologist
If the above steps don't help your acne, it's probably time to seek out the advice of a board-certified dermatologist. They may recommend prescription topicals or oral antibiotics to get your acne under control once and for all. 
Photo: Chaunte Vaughn
Read More:
A Complete Drugstore Routine for Dry Skin Types 
5 Soothing Skin-Care Products for Inflamed Skin 
Derm DMs: What Are Facial Extractions?
Read more

Back to top