How to Use a Derma Roller (Without Damaging Your Skin)
January 21, 2019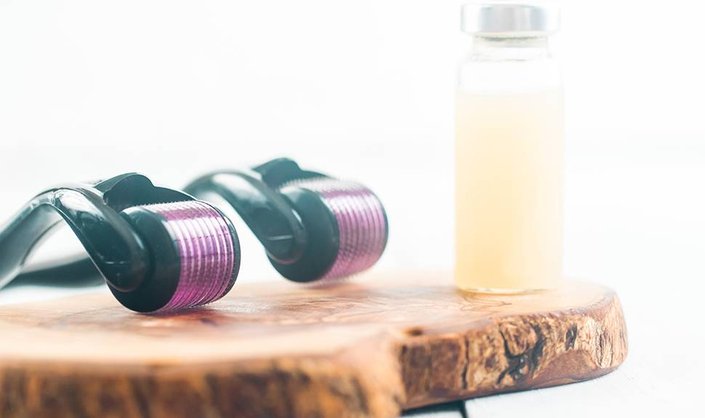 Performing certain treatments at home without having to book an appointment (months in advance, mind you) has become increasingly more common—even when it comes to dermarolling. Also known as microneedling, dermarolling is the process in which tiny punctures prompt the skin to naturally regenerate. This particular form of microneedling uses a drum-shaped tool lined with tiny needles which lightly prick the skin's surface. The skin's natural healing process promotes the production of collagen, thus creating a fresh layer of skin that helps abate the visible signs of aging as well as acne scarring. Should you be interested in trying a derma roller for yourself, here are five easy steps for you to follow that can help you along.  
STEP #1: INVEST IN THE RIGHT DEVICE
According to board-certified dermatologist, and Skincare.com consultant, Dr. Dendy Engelman, "at-home derma rollers don't go into the skin as deeply," but they're still effective and safe to use. Pick an at-home derma roller that is at least 0.15 mm in length. They are typically only for use up to twice per week or up to.  At-home derma rollers may not deliver the same level of benefits as the in-office procedure, but over time you should be able to see an improvement in skin (especially in terms of brightness).
STEP #2: KEEP IT CLEAN
Since using a derma roller actually punctures your skin, ensuring all surfaces are clean before the process is pivotal. This means cleansing both your skin and the derma roller itself beforehand. To get your skin spotless, try using the Kiehl's "Made for All" Gentle Body Cleanser. Gentle enough to use across any skin type (as well as on anyone ages three and up), this cleanser is formulated with 95%* naturally-derived ingredients and can leave skin completely cleaned and fresh. For your derma roller, simply run the instrument under hot tap water after use and allow it to dry.
*Kiehl's considers ingredients to be naturally-derived if they retain more than 50% of their molecular structure after being processed from a natural source.
STEP #3: BE CONSISTENT IN YOUR MOTIONS
In the same way that shaving in the right direction helps to prevent razor bumps, make sure your dermarolling motions mimic those done at your dermatologist's office. This means rolling about 15 to 20 times in horizontal and vertical motions. Although the in-office treatment lasts for about 15 to 20 minutes, an at-home dermarolling session could only last up to two (depending on which type of roller you buy).
STEP #4: HYDRATE YOUR SKIN AFTER
To top off derma-rolling, be sure to moisturize your skin. This can be done with your choice of hydrating moisturizers or facial serums, whichever can help aid in the healing of skin after the process has been completed. For this you can turn to the CeraVe Hyaluronic Acid Serum. The combination of both the vitamin B5 and the hyaluronic aicd found in the spray's formula can help bind moisture to skin. The spray also reinforces and repairs the skin's natural barrier, conjointly fortifying and protecting it from external aggressors.  
STEP #5: PROTECT YOUR SKIN AFTERWARDS
Don't worry too much if your complexion appears red for up to a week after your at-home dermarolling session. This is completely normal; just be sure to take the proper protective measures to help guard your skin from harmful UV rays and environmental aggressors. This means applying (and reapplying) sunscreen prior to heading outdoors and wearing protective clothing.  
Editor's Note: Prior to moving forward with an at-home derma roller, be sure to consult in a dermatologist or medical professional to confirm whether or not microneedling is right for you.
To see what happened when one of our editors tried derma-rolling for six weeks, click here!
Read more

Back to top