Skin Care Tips If You're Spending 4th of July Outdoors
July 04, 2018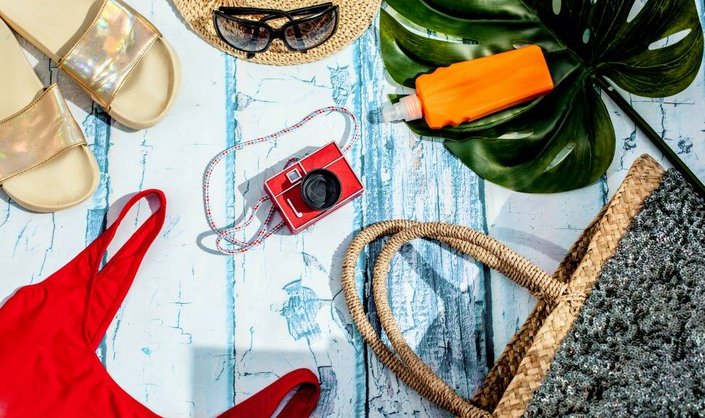 Are you spending the majority of the Fourth of July weekend outdoors? While we're in full support of some holiday R&R, we want to make sure you (and your skin!) are protected against harm. Whether you're going hiking or laying out on the sand, here are some helpful tips to keep in mind before leaving home! 
Tip #1: Keep Cleansing Towelettes in Tow
If you're planning on being outdoors for the majority of the time (think: camping), you have to be prepared to take care of your skin—even without access to a sink. Instead of skipping cleansing altogether (a huge skin care no-no), pack cleansing towelettes in your bag to help sweep away dirt and impurities while on the go. La Roche-Posay Effaclar Cleansing Towelettes are a great option thanks to their convenient and portable size and ability to refresh the skin while cleansing away unwanted oil and pore-clogging impurities. The result? Smooth skin that looks and feels clean…all without a sink!
Editor's note: If cleansing wipes aren't your thing, you could also reach for a travel-sized micellar water to cleanse your skin anywhere and everywhere. The liquid formula is perfect for travel since it requires no rinsing or harsh rubbing to gently remove impurities. Just don't forget to pack cotton rounds! 
Tip #2: Deodorant Is Your Friend
If the weather is hotter than hot and you're outdoors without shade, it's likely that you'll break a sweat. Keeping deodorant on hand is an easy way to freshen up mid-adventure when you don't have access to a shower. You'll be happy to have it with you—and your friends will thank you.   
Try: Kiehl's Superbly Efficient Anti-Perspirant and Deodorant. The unscented formula offers long-lasting protection against sweat and odor—perfect for a hot summer day.
Tip #3: Bring a Hat
Did you know that sun damage is one of the main contributors to premature signs of aging? You better believe it! The sun's rays are powerful and can be extremely harmful to the skin when the proper sun-protection measures have not been taken. We recommend grabbing a hat before heading outside to protect your face and eyes, and seeking shade when possible. If you're heading to the beach, grab a large umbrella to create a shady space.
Editor's note: Seeking shade, lounging under an umbrella, and wearing a hat and protective clothing are all good sun-safe measures to take, but they shouldn't replace daily Broad Spectrum sunscreen use. For best results, pair Broad Spectrum sunscreen with all other sun protection measures…which brings us to our next point.
Tip #4: Apply and Reapply Broad Spectrum Sunscreen
As soon as you hear the word "outdoors," sunscreen should come to mind. Apply Broad Spectrum sunscreen at least 15 minutes before you head outdoors and reapply as directed. Reach for a formula that offers an SPF of 15 or higher and is water-resistant. One we love? Vichy Capital Soleil SPF 60. The sheer formula offers Broad-Spectrum protection against UVA and UVB rays and can be used by all skin types—sensitive skin included. Keep this tube on hand or in your beach bag, depending on what your weekend plans may be!
To discover a handful of our favorite sunscreens to use year-round, click here!
Tip #5: Freshen Up with a Face Mist
Looking for a product that will give you an instant refresh when you're on-the-go? Look no further than a cooling face mist, like La Roche-Posay's Thermal Spring Water for the face and body. This antioxidant-rich mist can help hydrate and refresh the skin in a pinch. All you have to do is spray Thermal Spring Water all over your face, neck, and chest, and leave on for 2-3 minutes. Pat away any excess product without rubbing. Voila!
Tip #6: Stay Hydrated
Drinking the recommended amount of water per day is important, especially when the weather gets warmer. When heading outdoors, don't forget to grab a water bottle (or two, or three for that matter) to help keep dehydration at bay. If plain H2O isn't your favorite thing to drink, try making your own spa water with fruit! We're sharing a few of our favorite spa water recipes, here!
Read more

Back to top