Get Ready With Us: 6 Beauty Editors Share Their Morning Skin-Care Routines
November 29, 2019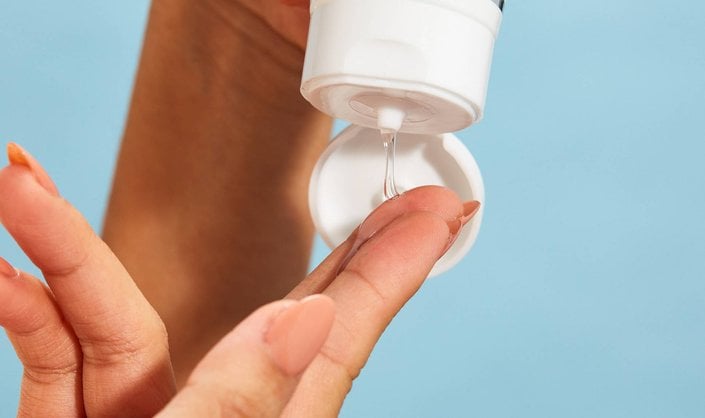 As beauty editors, we take our skin-care very seriously. From facial oils and night creams to chemical and physical exfoliators and the best eye creams for faking a good night's sleep — we've tested and tried it all. Therefore, you can say the products that make it into our daily routines are truly the best of the best around. If you've ever wondered what six of our editors use without fail everyday in their morning skin-care routine, keep reading to find out (and maybe even discover your new favorite beauty essential). 
Lindsey, Content Director
My skin is chronically dry and gets downright flaky as soon as the temperatures drop, which is why my A.M. skin-care routine is all about hydration. First I use the Alpyn Beauty PlantGenius Creamy Bubbling Cleanser in the shower. I love that it foams like a gel cleanser but hydrates like a cream one. After patting my skin dry post-shower, I immediately dispense four drops of the SkinCeuticals C E Ferulic in the palms of my hands. I pat and press it into my skin and basically say a prayer that over time it'll help fade the look of my dark spots and keep my skin's surface protected when it comes in contact with free radicals. If I have the time, I'll wait at least 20 minutes to then apply the L'Oréal Revitalift 1.5% Hyaluronic Acid Serum. If I don't wait for the C E Ferulic to fully absorb, I notice that whatever I layer on top of it pills. Next comes the Embryolisse Smooth Radiant Complexion Daily Face Anti-Fatigue Gel for another dose of moisture. I love the cooling feeling it gives as soon as I apply it, and it makes a great base for makeup, too. Oh, and I never leave the house without sunscreen. Lately, I've been loving the SuperGoop UnSeen Sunscreen because it feels hydrating (are you seeing a theme here?) and it's not hard to rub in.
Jessica, Associate Editor
My morning skin-care routine starts by cleansing with the Tula Gentle Milk Cleanser, followed by the Mario Badescu Witch Hazel & Lavender Toner to balance and refresh my skin. Then, I apply the Kiehl's Creamy Eye Treatment With Avocado to hydrate and awaken the appearance of my under-eye area. I'm constantly striving to brighten my complexion, so I apply a generous amount of the L'Oréal Paris 10% Pure Vitamin C Serum to my face, followed by a moisturizer that layers well under makeup. My favorite right now is the EVE Lom Moisture Cream because it leaves my skin velvety-smooth and absorbs quickly. As a last step before I begin my makeup routine, I apply the CoTZ Face Moisture Sunscreen which has a barely-there tint to its formula.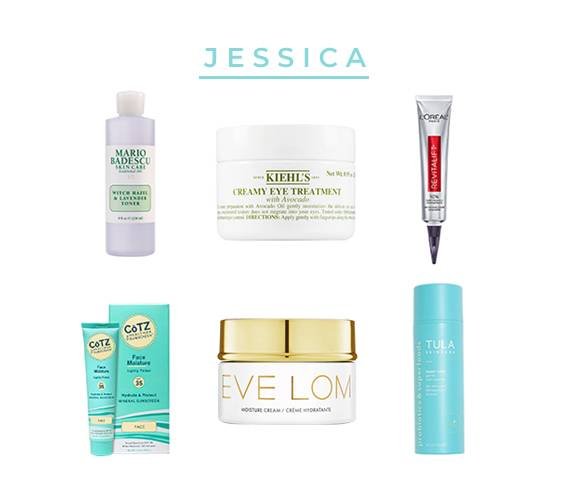 Alanna, Associate Editor
Every morning when the seasons change, my skin feels like it needs a deep clean, so my morning skin-care routine always starts off with the Kiehl's Calendula Foaming Face Wash. I love this formula because it feels super refreshing but doesn't strip my skin, making it oily-combination skin-friendly. I've finally found a toning routine that works for me, so next I apply a small amount of the Then I Met You Birch Milk Refining Toner and the Then I Met You The Giving Essence all over the face with my fingers to reduce the look of redness and minimize the look of pores. For extra hydration and brightness, I pat on two to three drops of the L'Oréal Paris Revitalift Derm Intensives Hyaluronic Acid and apply the Rodial Vitamin C Eye Soufflé on my usually very dark circles. Before makeup, it's super important that I apply an oily-skin friendly moisturizer to keep my skin looking matte during the day, so the La Roche-Posay Effaclar Mat Moisturizer is my go-to. Once I'm prepped and primed, it's time for my full face beat!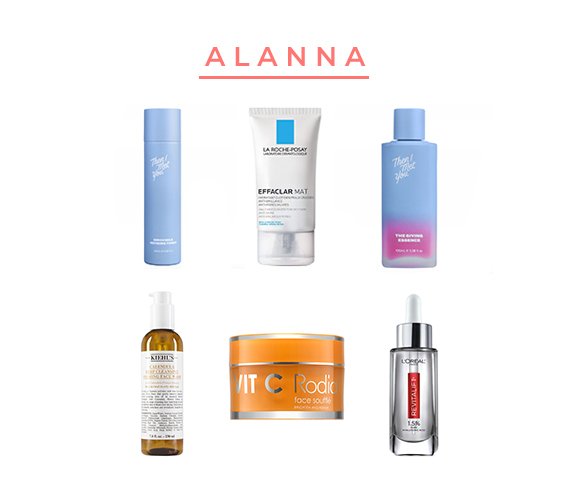 Genesis, Assistant Editor
I start my morning routine with the Tula Keep It Clear Acne Foam Cleanser to help keep my oily-to-combination skin in check. Even though I don't have acne, I find that it helps mattify my complexion while still leaving it soft. Then, I follow up with the AcneFree Witch Hazel Mattifying Toner to refresh my skin and, of course, keep unwanted shininess away. While the first two steps in my routine are all about keeping the look of excess oil controlled, I don't want to completely strip my skin of its moisture and healthy-looking glow, which is why I then reach for the Lumene Glow Boost Essence. As a moisturizer, I've been loving the Kiehl's Calendula Serum-Infused Water Cream because it's hydrating and helps to even out my skin tone. Finally and most importantly, I use the CeraVe Hydrating Face Sunscreen.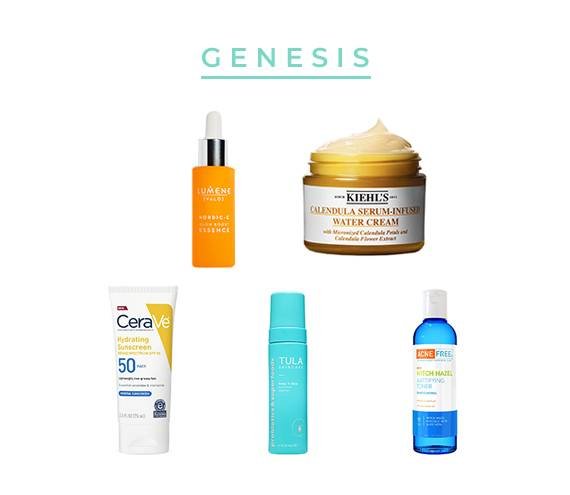 Samantha, Assistant Editor
Some people like to start their day with coffee, but me on the other hand? I like an indulgent skin-care routine to wake me up in the AM. First, I wash my face with Réive Foaming Cleanser — it's amazing. Micro vitamin E spherical beads help smooth out my skin but dissolve after the wash foams up. After cleansing, I use La Roche-Posay Effaclar Astringent Toner to remove any excess oil, followed by the IT Bye Bye Under Eye Brightening Eye Cream to de-puff my visible under-eye circles. Now onto serums — my weakness. I have too many to count, so I like to rotate in new ones pretty regularly depending on what my skin needs. That being said, there are two that will always be a part of my regime: SkinCeuticals H.A. Intensifier (for a boost of hydration) and Caudalíe VineActive Glow-Activating Anti-Wrinkle Serum (for mega-glow). After those have had a minute to seep in, I grab Summer Fridays Jet Lag Mask. I treat it more like a moisturizer-meets-primer than a mask; it gives me insanely dewy skin and works perfectly under makeup. As a final step, I apply a light layer of La Roche-Posay Anthelios SPF 50 Mineral Sunscreen.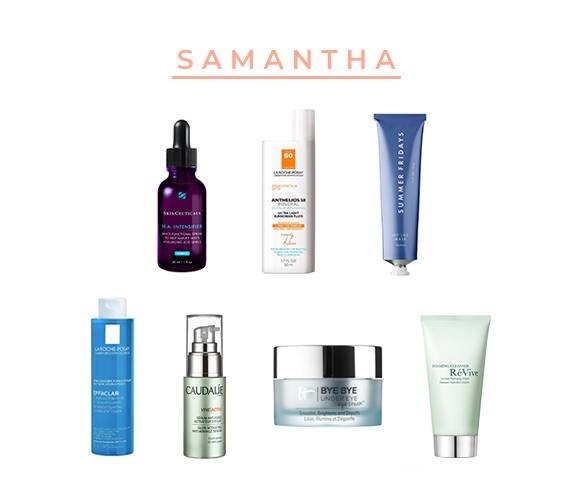 Jillian, Social Media Editor
I'm a chronic oversleeper, so I make sure to keep my skin-care routine pretty light in the morning, so I have time to do everything else before leaving for work. Plus, I go super hard on my night routine, so keeping it minimal in the morning is a good balance. Rather than full-on cleansing, I do a quick once-over with Garnier SkinActive Water Rose Micellar Cleansing Water to get any residue off my skin that may have built up overnight, while simultaneously waking myself up (did I mention I'm not a morning person?). Moisture is key for me, no matter the time of day, so I pack on Vichy Minéral 89 to get my daily fix of hyaluronic acid. Face oil is essential, especially in the winter when my skin is extra dry, and Herbivore Emerald Deep Moisture Glow Oil gives me a subtle glow that lasts through the day. Bonus, it's also an amazing primer for makeup. To top things off, I use Image Skincare Prevention+ Daily Ultimate Protection Moisturizer SPF 50, because you should always be wearing SPF, of course. It also doubles as a moisturizer, so I can sneak in an extra step but still get out the door on time.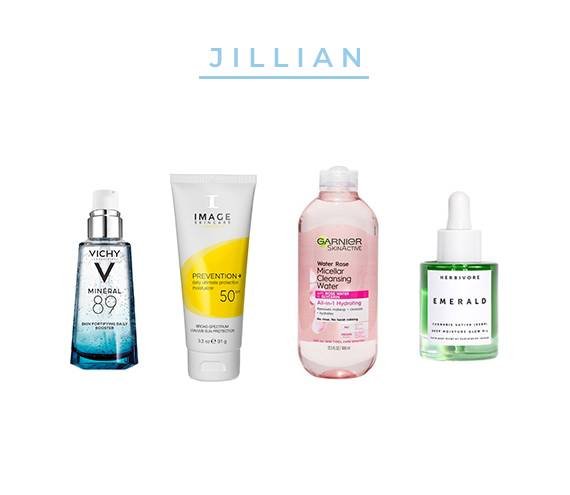 Read More:
Get Unready With Us: 5 Beauty Editors Share Their Nighttime Skin-Care Routines
These Best-Selling Facial Cleansers on Amazon Are Less Than $20
I Followed a Dermatologist's Exact Skin-Care Routine — Here's What Happened
Read more

Back to top