Our Editors Share Their Absolute Favorite Kiehl's Skincare Products
September 01, 2022
There are some skincare brands that are just totally iconic and have a plethora of cult-favorite products. One of these brands is Kiehl's — best known for its apothecary aesthetic and science-backed products since 1851. To celebrate all things Kiehl's, including the brand's current Family and Friends sale, we asked our editors to share their very favorite skincare products. Ahead, the products that always make their carts.
Victoria, Content Director
I'm obsessed with the packaging and technology of this retinol night serum. It comes with a separate compartment that houses pure retinol powder, which is meant to be freshly mixed into the serum bottle (and therefore activated) when you're ready to use it. The process is extremely simple and helps to ensure that the product provides the highest level of efficacy upon use. But the most alluring part of this product? It has shown to provide an improvement in the appearance of fine lines in as little as five days. I don't know about you, but results in less than a week is the way to my skincare-loving heart.
I've been a fan of this creamy eye treatment for years. Not only does it effectively hydrate the sensitive (and frequently dry) area under my eyes, but the formula also has a de-puffing and brightening effect. I love that it quenches my skin's thirst but doesn't feel heavy or thick upon application. It's also amazing for layering under concealer.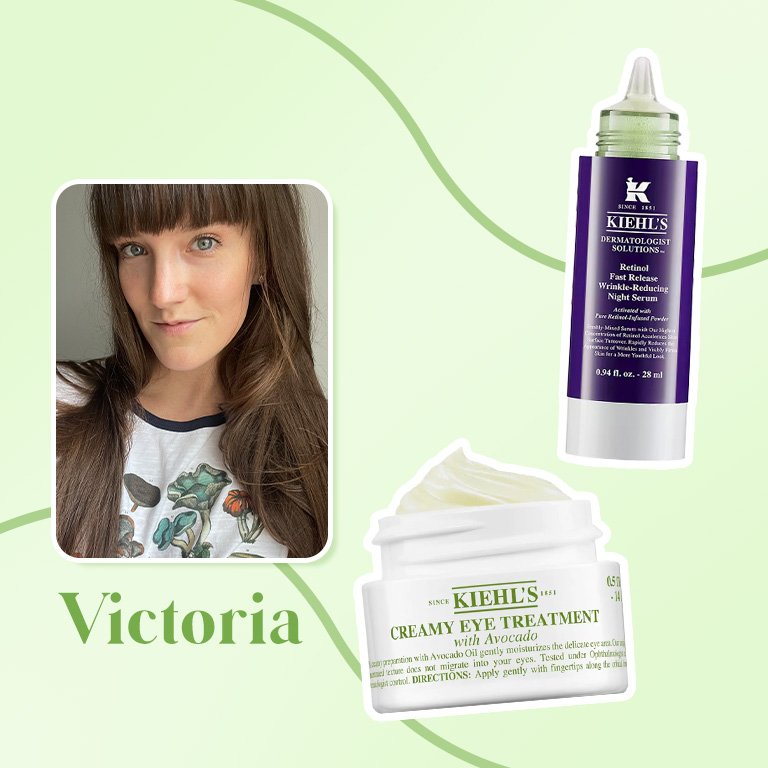 Alanna, Assistant Managing Editor
I've struggled with dark circles for years, which is why I heavily rely on a vitamin C eye cream to brighten my dull under-eye area. This pick from Kiehl's is my absolute favorite because it's quite potent in ingredients yet gentle in consistency — making it the perfect combination to visibly reduce dark circles and keep the area looking soft and refreshed. My dark circles absolutely drink this formula up, and since I've been using it, I've seen a noticeable difference (read: improvement!) in their tone.
Another one of my favorites from this legendary skincare brand has to be this dry scalp treatment. It smells amazing and is made with a triple amino acid blend plus coconut oil to hydrate, soothe and rebalance a dry scalp. It doesn't weigh your hair down, but instead gives you silky smooth and refreshed roots. It's so good that you'll want to use it every single wash day.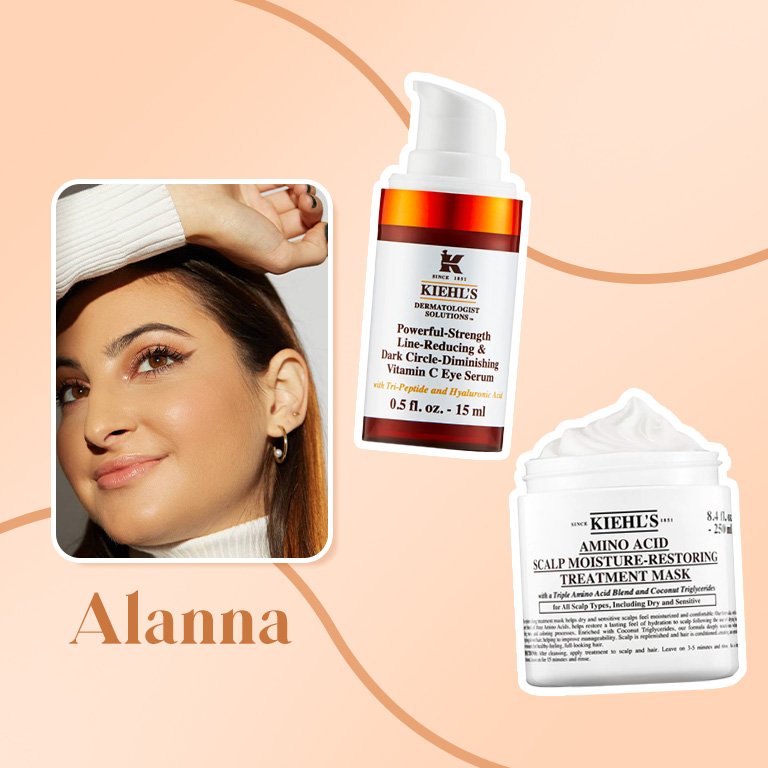 Ariel, Editor
I've written about why I love this mask before, and now that I've almost emptied the tub, I'm even more convinced this product is a skincare staple for me. It has a rich, balm-y consistency that can be used as an overnight mask, a quick 15-minute treatment or as a cleansing balm, which is my favorite way to use it. I apply the balm to dry skin, then use a cotton pad to wipe away all traces of SPF and makeup before I go in with water and a liquid cleanser. It leaves my skin soft, clean and hydrated, thanks to a combination of squalane and glacial glycoprotein.
This moisturizer is another go-to in my skincare routine. It contains a deeply hydrating combo of squalane and glycerin, but it sinks in quickly and doesn't feel heavy. It's also fragrance-free, which makes it work for my dry and very sensitive skin. On days when my skin is feeling particularly reactive, I'll just cleanse and use this cream with nothing else for a gentle boost of moisture.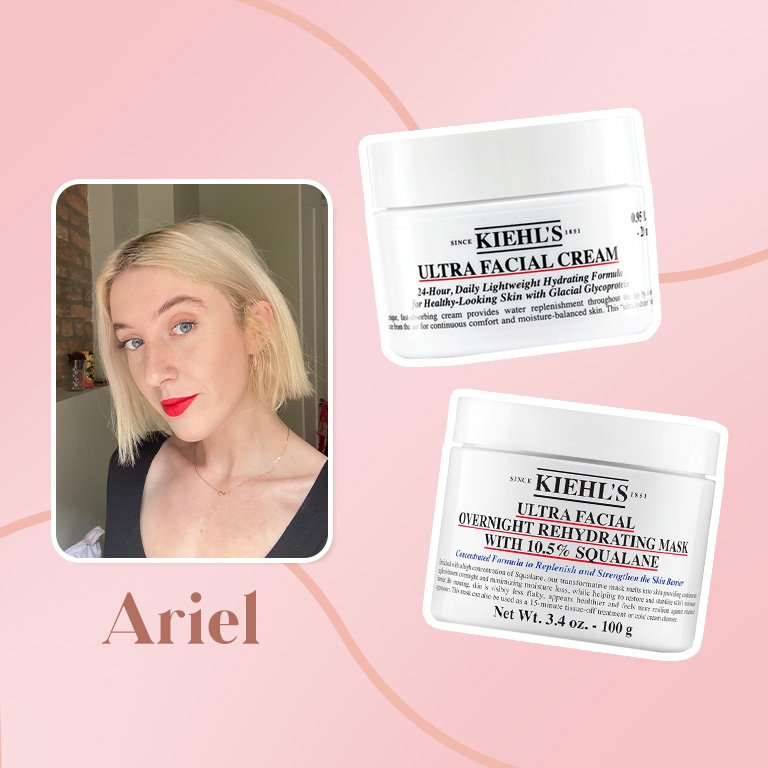 Trishna, Assistant Editor
Tthis clay mask is everything for my oily skin. It visibly reduces my pores and blackheads, and with just a few uses per week, I've found that it also controls my oil production. It's been super noticeable during these hot summer months. My skin is visibly clearer after using it, but what I love best about this mask is how non-drying it is; I get a deep, thorough cleanse, minus the horrible feeling of too-tight skin after washing it off.
I'm a sucker for a delicious-smelling body lotion (who isn't?), so the Kiehl's Creme de Corps Body Lotion with Cocoa Butter was an instant hit for me. But aside from the sweet, long-lasting scent of this lotion, its formula is one of the best I've ever used in a body lotion; it's non-greasy and doesn't leave any residue on my skin, instead seeping right in and providing a nourishing, hydrating effect. My skin smells good and feels soft, so it's a win in my book.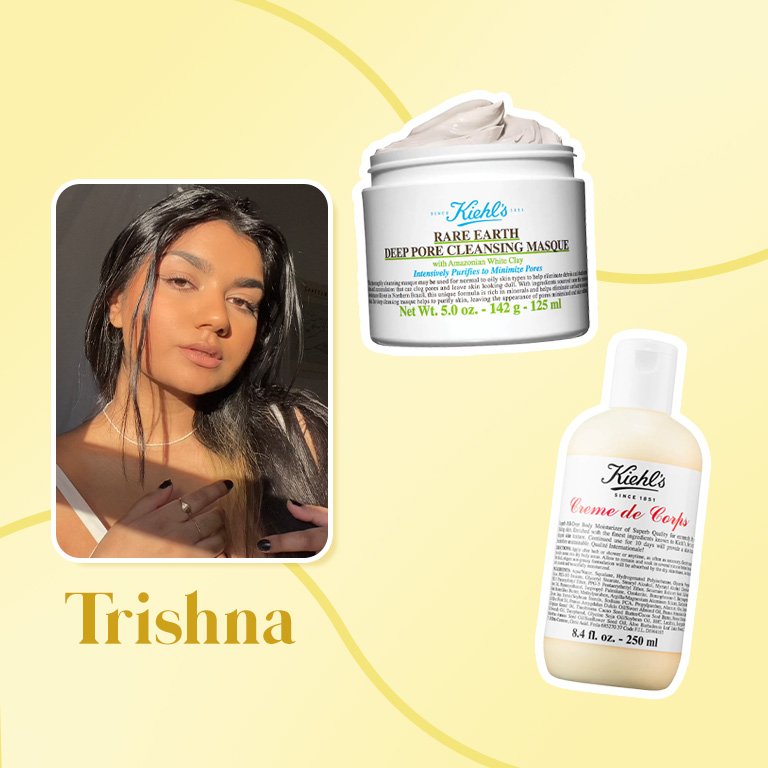 Photo: Chaunte Vaughn, Design: Juliana Campisi

Read more

Back to top