9 Genius Ways to Use Petroleum Jelly in Your Beauty Routine
January 29, 2021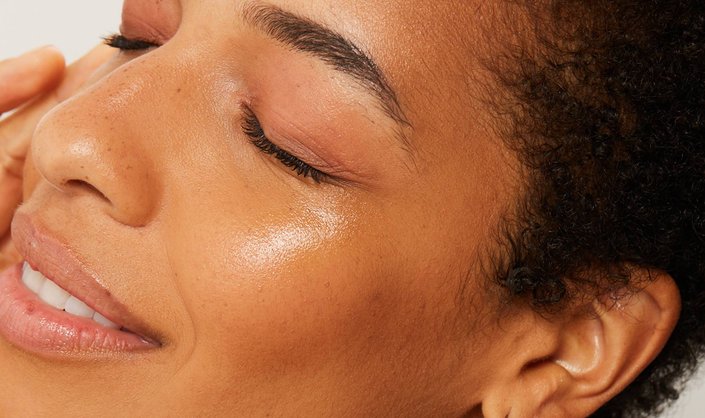 Petroleum jelly is an occlusive skin-care ingredient that works by providing a protective seal over skin and locking in hydration. It's often found in balms and ointments and is great for very dry skin. In addition to helping skin retain moisture, petroleum jelly can be used in a variety of ways all over the body. Keep reading to find out what they are, plus more details on the ingredients' benefits.
What Is Petroleum Jelly? 
According to the National Cancer Institute, petroleum jelly (also called petrolatum) is a thick, emollient substance with no odor or taste made from petroleum, a mixture of oily liquids found in the earth. It can be used on the skin to help prevent and temporarily protect chapped or cracked skin and to help temporarily protect minor scrapes and burns.


Who Can Use Petroleum Jelly?
Since petroleum jelly is heavy and can feel greasy, it's best for those who have dry to very dry skin. If your skin is acne-prone, avoid using petroleum jelly as it may cause breakouts. 


Ways to Use Petroleum Jelly
To Relieve Chapped or Cracked Skin
According to the American Academy of Dermatology (AAD), petroleum jelly can be used to help relieve dry skin. For best results, apply onto damp skin to help lock in moisture. Try the CeraVe Healing Ointment, which is a balm formulated with petrolatum, hyaluronic acid and ceramides to restore dry, cracked and chafed skin.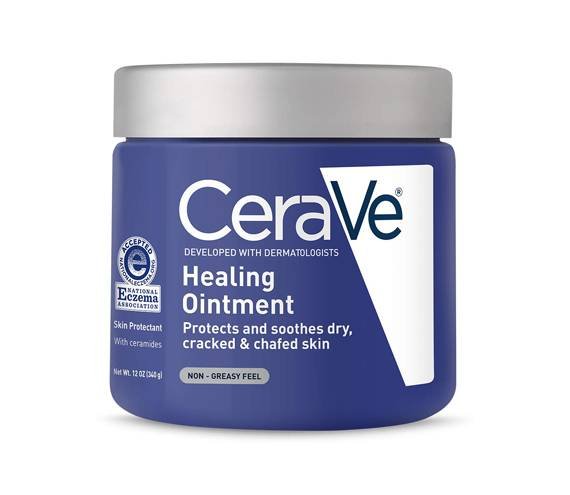 To Prevent Chafing
Petroleum jelly can be used to help prevent irritation caused by chafing by being applied to common problem areas, such as the feet or the inner thighs. 

For Radiant Glow
Similar to how you can use a moisturizer to deliver a dewy skin glow, you can use petroleum jelly as an impromptu highlighter on the high points of your face. The oily texture will give your skin a glowing appearance. Simply take a small dab on your fingertip and apply it along your cheekbones, or wherever you're looking to add some temporary radiance.

To Soothe Dry Lips 
Petroleum jelly can also be used on your lips to help relieve chapped or cracked lips, according to the AAD. Use it as a stand-in lip conditioner when you don't have your go-to lip balm or salve handy. 

To Keep Hair Dye From Staining Your Skin
If you're coloring your hair at home, you may be wondering if there are ways to avoid getting unwanted hair dye on your skin. Lucky for you, petroleum jelly may help create a barrier over your skin, allowing hair dye to glide off swiftly and effortlessly. Simply apply it along your hairline, neck and anywhere you think your hair dye may drip during the coloring process. 

To Hydrate Your Cuticles
Petroleum jelly can also be used to keep your nails and cuticles hydrated, according to the AAD. If you frequently get manicures and pedicures, apply petroleum jelly to your nails and cuticles in between getting your nails done to minimize brittleness and help prevent your nails from chipping.

To Hydrate Dry Eyelids
The skin on your eyelids is the thinnest skin on the body and can get irritated easily, according to the AAD. If your eyelids start to look dry, apply a small amount of petroleum jelly for moisture. Try the SkinCeuticals Hydra Balm, which is formulated with pure petrolatum and soothing aloe vera.

To Customize Your Foundation Finish 
Wish your favorite foundation had a glowing finish? You can mix petroleum jelly with your favorite foundation to create the radiant finish you desire. Just make sure not to mix too much as you'll risk diluting the formula and its coverage.

To Keep Your Brows in Place 
Apply a thin layer of petroleum jelly over your eyebrows to help keep them in place all day long.
Photo: Chaunte Vaughn
Read More: 
How Occlusive Ingredients Can Benefit Dry Skin
Dry Skin? 7 Moisturizing Mistakes to Stop Making
The Difference Between Balms, Ointments and Salves
Read more

Back to top