Your Guide to Active Ingredients
May 13, 2021
Trying to decipher an ingredient label on a skincare product can make you feel like you're back in high school chemistry class. The category of active ingredients — which are considered science-backed and include hydroxy-acids, retinol and vitamin C — in particular can seem like a daunting topic to grasp. To help school us, we asked Dr. Elizabeth Houshmand, a board-certified dermatologist based in Dallas, to explain what exactly actives are and which ones are best to target common skin concerns. 
What is an active ingredient? 
"Actives are the first thing that I look at when I decide to choose a skincare product," says Dr. Houshmand. "An active ingredient has been proven in a lab by research to change the skin in some way; it's an ingredient that has data behind it." 
These important ingredients can be the difference between a product that's effective in treating or targeting specific skin concerns and one that's not. "To me, as a dermatologist, an active ingredient is the ingredient that's doing what the product is supposed to help with," she adds. In an acne product, for example, common actives are salicylic acid and benzoyl peroxide, while in an anti-aging moisturizer, hyaluronic acid may be the key ingredient. 
Common Active Ingredients 
For Anti-Aging: 
To target signs of aging, Dr. Houshmand recommends using a product that contains retinol, a derivative of vitamin A. Retinol is considered the gold standard in anti-aging. It's been shown to improve cellular turnover and boost collagen production, resulting in minimized fine lines and wrinkles and a more youthful appearance in general.  
Try: IT Cosmetics Hello Results Daily Retinol Cream
For Sun Protection:
Zinc oxide, titanium dioxide, avobenzone, oxybenzone are some of the most common active ingredients found in sunscreen, says Dr. Houshmand. Zinc oxide and titanium dioxide are both physical blockers that form a protective layer on skin to block UV rays, while avobenzone and oxybenzone are chemical sunscreens that work by absorbing UV rays.
Try: La Roche-Posay Anthelios Mineral SPF Moisturizer With Hyaluronic Acid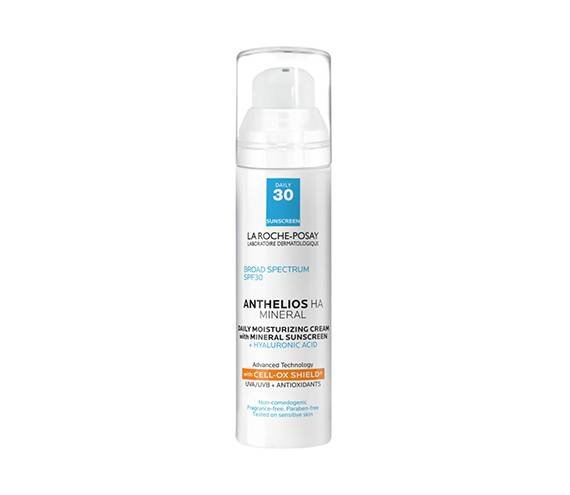 For Pigmentation: 
To get rid of forms of hyperpigmentation like dark spots, Dr. Houshmand suggests looking for products that feature alpha-hydroxy-acids (AHAs) or vitamin C as active ingredients. AHAs help fade dark spots by exfoliation, while vitamin C has been shown to block production of abnormal pigmentation. 
Try: L'Oréal Revitalift Derm Intensives Vitamin C Serum
For Acne: 
To prevent and get rid of acne, Dr. Houshmand says salicylic acid and benzoyl peroxide are two solid actives to use. Salicylic acid is an oil-soluble beta-hydroxy-acid that exfoliates the pores and benzoyl peroxide helps kill acne-causing bacteria. 
Try: Vichy Normaderm Daily Acne Treatment Face Wash
Photo: Chaunte Vaughn
Read More:
5 Cannabis-Infused Skincare Products Our Editors Swear By
Brighten Up With 7 Amazing Vitamin C Serums at Ulta Beauty
What Is a Retinol Sandwich? A Dermatologist Weighs In
Read more

Back to top