What to Look for in a Kids' Sunscreen — Plus, Some of Our Favorites
August 21, 2023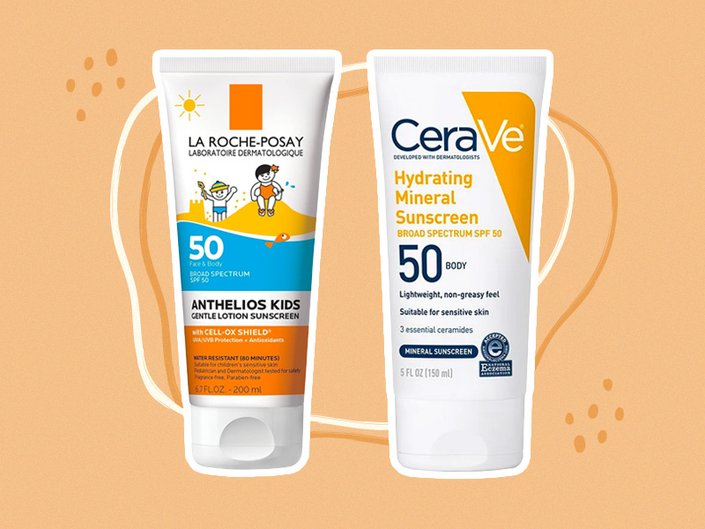 Sunscreen is an essential safety measure for everyone, including kids and especially during the summer months when kids are spending more time outdoors. Between summer camp, pool days, barbecues and more, there are way more opportunities for kids' skin to be exposed to the sun's harmful rays. Luckily, with the right precautions, such as staying in the shade, wearing protective clothing and, of course, slathering on a broad-spectrum sunscreen and reapplying as directed, your family doesn't have to miss out on any summer fun.
We spoke to Dr. Kristina Collins, a board-certified dermatologist and founder of foy by Dr. Collins, about what you should look for when shopping for sunscreen for your little one. Plus, we're sharing some of our favorite gentle, kid-friendly sunscreen formulas.
When it comes to buying sunscreen for kids, Dr. Collins recommends looking for a mineral formula. "These are sunscreens with zinc oxide or titanium dioxide as their active ingredients," she explains. Mineral (also known as physical) sunscreen doesn't absorb into the skin. Rather, mineral sunscreen sits on top of the skin, forming a physical barrier to the sun's rays. Since it doesn't absorb into the skin, mineral sunscreen may be less likely to irritate sensitive skin.
Ease of application is another consideration when choosing the right sunscreen for a child. Look out for formulas that feel lightweight and blend easily so they don't feel too greasy on the skin. "As a mom of two small children, I also know that sunscreen application can be a challenge," says Dr. Collins. "I think that sun-protective clothing is a perfect option for kids," as an additional sun protection measure.
If you do opt for sun-protective gear, you'll still need to make sure any exposed areas of skin are covered with sunscreen — and don't forget to reapply every two hours, or even more frequently if swimming or sweating. Keep reading for some of our favorite sunscreens for kids.
Our Favorite Gentle Sunscreens for Kids
"I like this one because the texture is really light," says Dr. Collins. "I find that the less you have to rub the sunscreen in, the more kids will accept it." Indeed, the lightweight texture was specifically formulated to be gentle on children's sensitive skin. Plus, the non-greasy, non-sticky formula allows you to easily brush away sand — and anyone who has spent time around small children knows that nothing makes a beach day go south faster than a toddler covered in sticky sand.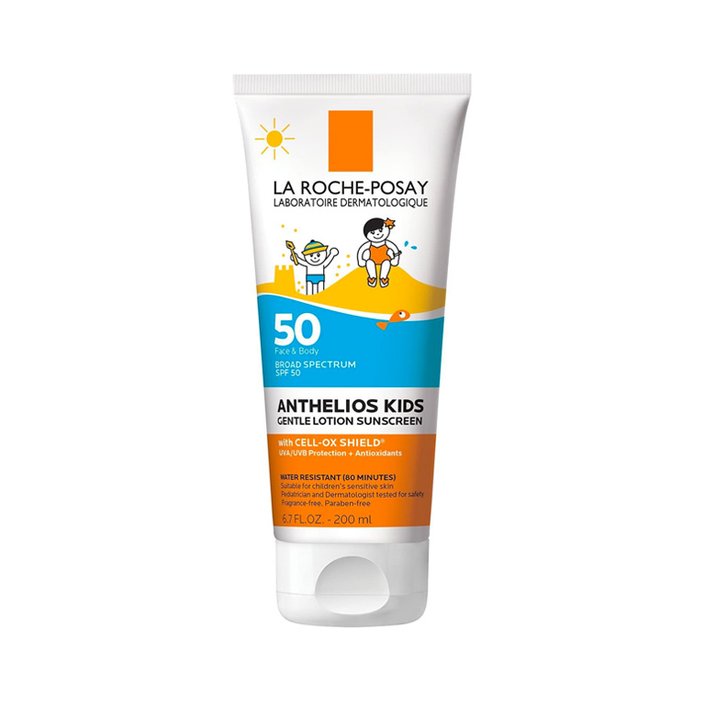 Another gentle option, the CeraVe Hydrating Mineral Sunscreen SPF 50 Body Lotion protects your skin from UVA and UVB rays and is suitable for sensitive skin. Formulated with ceramides and hyaluronic acid, it also helps restore the moisture barrier for more hydrated skin. Non-comedogenic and formulated without pore-clogging oils, it is also accepted by the National Eczema Association.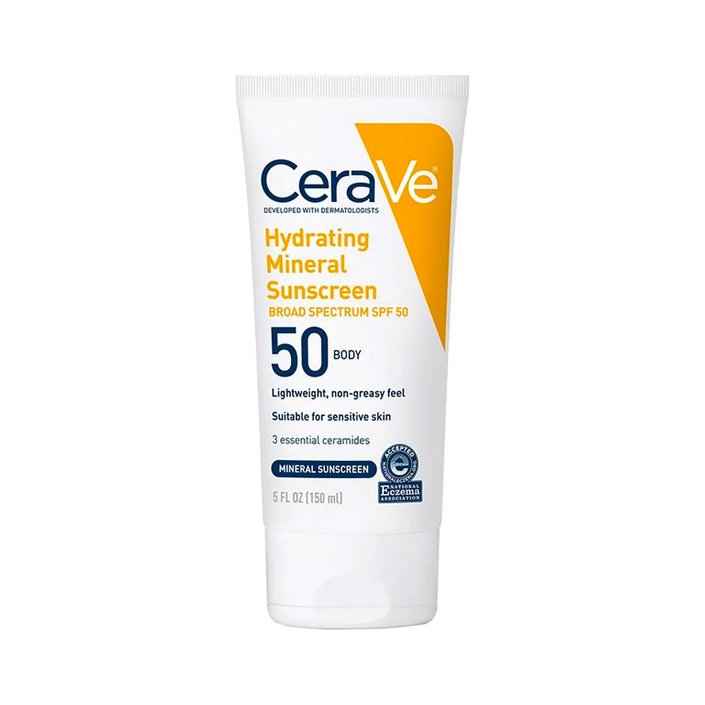 Applying sunscreen to high-energy kids eager to get back to playing has never been easier, thanks to this sunscreen stick from CeraVe. The convenient, mess-free format makes reapplications a breeze, since you can stash this sunscreen in your bag without worrying about spillage. It's suitable for all skin types, water-resistant for up to 40 minutes and goes on evenly with a clear finish, meaning no annoying white cast.
Read more

Back to top