What Is Powder Sunscreen? A Skincare.com Dermatologist Breaks It Down
August 14, 2020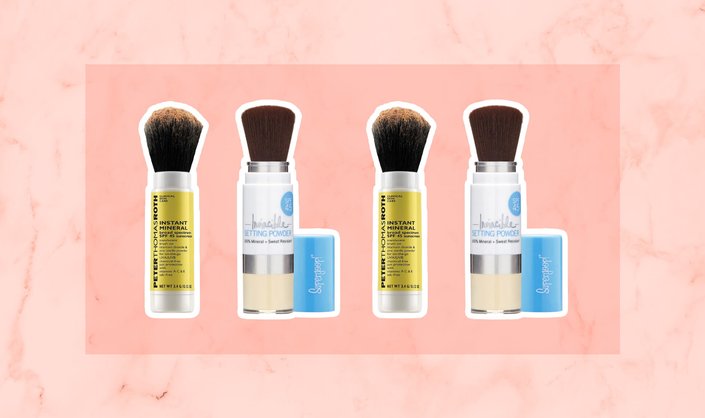 Sunscreen is an important step in any solid skin-care routine, whether you're spending the day social distancing in your backyard or working from home inside by a window. Unless it's nighttime, you need to protect your skin from the sun's harmful UVA and UVB rays.  In addition to taking other sun protection measures, applying a broad-spectrum sunscreen in the morning and reapplying it at least every two hours is essential. But if you're anything like us and like to wear makeup, you probably know that re-applying liquid SPF can be a challenge. Enter: powder sunscreen. Powder sunscreen formulas are a great way to  reapply your SPF on top of makeup (or bare skin) with a powder brush and a few sweeps. Ahead, we spoke to NYC-based Skincare.com consulting dermatologist Rachel Nazarian, M.D, of Schweiger Dermatology about what exactly powder sunscreen does and how to use it.
What Is Powder Sunscreen?
"Powder sunscreen is a method of using ingredients known to help protect skin from ultraviolet radiation, and it comes in a powder form that can be brushed or patted onto the surface of the skin," says Dr. Nazarian. She notes that it's often used for specific areas of the face where regular sunscreen application or reapplication is not ideal, including the hairline, ears, under the eyes and sides of the nose. "Powder sunscreen is a very useful form to use when you are reapplying or touching up sunscreen that was applied earlier to maintain efficacy."
How Do Powder Sunscreens Work?
According to Dr. Nazarian, powder sunscreens work like other forms of sunscreen. "Powder sunscreens work by using ingredients that block and reflect UVA/UVB rays, and scatter them away from the skin surface. Powder sunscreens typically have physical blockers like zinc oxide or titanium dioxide. "Furthermore, the FDA proposed that it needs more data to add powder sunscreens to their SPF guidance.  
Should You Use Powder Sunscreen in Tandem With Other Liquid Sunscreens?
It's important to make sure you are using a powder sunscreen in addition to other SPF products because a small dusting of powder sunscreen is not adequate protection against ultraviolet rays. "I typically recommend using powdered sunscreen on top of traditional creams, lotions or gel forms of sunscreen, or as a really wonderful and convenient way to reapply sunscreen throughout the day over makeup," Dr. Nazarian notes. 
What Should You Avoid Doing When Applying Powder Sunscreen?
When you're ready to apply powder sunscreen, use a small powder brush that can allow you to target the areas you're covering more precisely. Peter Thomas Roth Instant Mineral SPF 45 or the Supergoop! Invincible Setting Powder SPF 45, both come with their own brushes.
"Powdered sunscreens are a really cosmetically elegant way to reapply a layer of protection," she says. We can't help but agree.
Photo Credit: Chaunte Vaughn

Read More: 
4 Things Your Dermatologist Wishes You Did in the Springtime
Read more

Back to top