Our Guide to Post-Workout Skin Care
November 09, 2017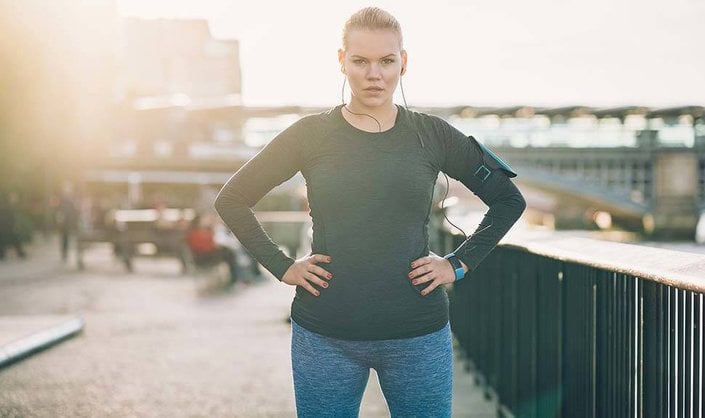 If you're anything like us, you can easily come up with enough reasons to avoid a trip to the gym. You're tired, you're sore, it's out of the way…etc. etc. The point is, the last thing you need is another excuse at the ready. Unfortunately, your skin can easily serve as one. Working up a serious sweat on the regular can do amazing things for your abs, all the while doing the opposite for your skin. As tragic as it is, it makes sense. All that sweat sitting on your skin isn't exactly the secret to smaller-looking pores. Still, we're here to say that's no reason to put an end to exercising. With the right post-gym skin care routine, you can have a perfect complexion, while managing to stay in shape. Here's how to have the best of both worlds—no excuses.
Post-Workout Skin Care Tip #1: Get Clean!
You (hopefully) washed off all your makeup before hitting the treadmill, but that doesn't mean you're off the hook once your workout ends. As important as a pre-workout skin care routine can be, it's still a must to get completely clean afterwards. Head into the locker room and wash away the sign of a really good workout, aka sweat. The American Academy of Dermatology (AAD) recommends using a mild, oil-free cleansing option to remove bacteria without irritating your skin. Take a peek into our gym bags and you'll find they're stocked with cleansing wipes that fit the bill: The Garnier SkinActive Clean+ Purifying Oil-Free Cleansing Towelettes. Not only are they totally travel friendly in case you aren't blessed with a home gym, they also remove oil and leave skin looking mattified.
Post-Workout Skin Care Tip #2: Don't Forget to Moisturize
After seeing your skin look super shiny post sweat-sesh, it may seem reasonable to knock a step off your post-workout routine by skipping over moisturizer. But, that's not actually the case. As you've surely heard before, cleansing should always be followed by moisturizing, and after exercising is no exception. In fact, opting out of this step can trick your skin into becoming even oilier. If you're still concerned about stepping out of the gym with skin that looks greasy, you can stick with a moisturizer that gives skin a matte finish, like the La Roche-Posay Effaclar Mat.
Post-Workout Skin Care Tip #3: Change Your Clothes
Taking care of your complexion is about more than just the products you smooth onto your skin. Even your clothes can play their part. According to the AAD, if you're breaking out after working out, the problem could be with your clothing. Even if you aren't planning to immediately hop into the shower, have a change of clothes on hand. Not only will you be more comfortable in an outfit that isn't soaked with sweat, but it's also better for your skin.
Post-Workout Skin Care Tip #4: Pull Your Hair Up
Pulling your hair up into a ponytail or top knot is practically a necessity for a good workout, unless you actually enjoy exercising with stray strands hanging in your face. When you've finally finished your fitness class, it may seem like the right time to let your locks down—but hold on. Unless you're ready to shampoo your hair straight away, you'll want to wait. Sweaty hair sitting on your skin is never a good idea, even if you always have dry shampoo at the ready. Go ahead and put your hair into a fishtail braid for a post-workout hair style that hits all the marks—keeping your hair off of your face, all the while looking oh-so-chic. 
Post-Workout Skin Care Tip #5: Use a Multi-Tasking Product
Besides being sweaty, after a hard workout your skin probably has a natural flush. Much to our disappointment, the flush seems to rarely look like perfectly placed blush. No, it's more red and blotchy. Instead of covering it up with a full face of foundation and concealer, look for a product that falls somewhere in-between skin care and makeup. A tinted BB cream, like the L'Oréal Paris Magic BB Anti-Redness (For All Skin Tones) should fit the bill. The green tinted product transforms to a universal shade to help reduce the look of post-workout redness. Plus, it has 3 other beautifying actions: It corrects skin color for an even-looking complexion, hydrates for long-lasting moisture, and perfects the appearance of your complexion.
Post-Workout Skin Care Tip #6: Reapply SPF
Pop quiz: You apply sunscreen prior to working out, and are only at the gym for an hour. Do you need to reapply?
The answer is: Yes, yes, yes. While it's true, based on the FDA's recommendations, that sunscreen should be reapplied every two hours—it's also true that SPF needs to be applied more often if you're swimming…or sweating. You know what that means. After exercising, apply a broad-spectrum, water-resistant sunscreen with an SPF value of at least 15 before going outside again.
Read more

Back to top