This Top Dermatologist's UPF Swimwear Line Is a Summer Must-Have
July 25, 2018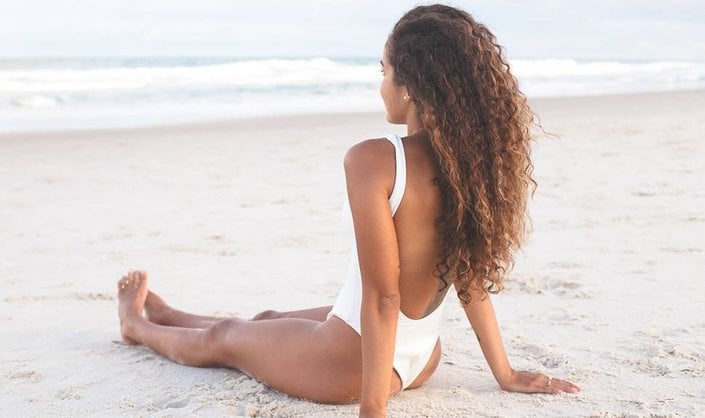 Many people look forward to summer more than any other season. And could you blame them? Between beach trips, backyard BBQs, and—of course—warm weather, there's little not to love about summer. At the same time, summer brings about many skin-related concerns, a painful (yet important) reminder that the sun's ultraviolet rays are truly not a friend to our body's largest organ.
Prolonged exposure to the sun, especially without adequate protection, can cause sunburn, irritation, premature signs of skin aging—think: wrinkles, sagging, and dark spots—and even some cancers. The statistics are also a hard pill to swallow, considering one person dies of melanoma, the deadliest form of skin cancer, every hour. These are simply some of the reasons why dermatologists and skin experts recommend a handful of sun protection measures year-round. These can include wearing broad-spectrum SPF 15 or higher and reapplying at least every two hours, seeking shade, avoiding peak sun hours and wearing UPF (ultraviolet protection factor) clothing. These factors are all important steps to take, but combining them truly gives you the best line of protection against the sun's harmful rays.
UPF clothing goes beyond just t-shirts and pants, but is also available in swimwear, so you can help protect your skin while you're enjoying one of the favorite pastimes of summer: swimming. In fact, board-certified dermatologist, and Skincare.com consultant, Dr. Whitney Bowe recently unveiled a UPF swimwear line of her own in partnership with MOTT50. According to Dr. Bowe, the highest rank a clothing item can receive is UPF 50+, which means that it blocks 98 percent of UVA and UVB rays. "The ability of a fabric to block UV is based on factors like the fiber structure, density of weave, and dye component," she said on her website.
Dr. Whitney Bowe x Mott50 Capsule Collection
The swimwear capsule collection is available in three different styles in a Spiked Melon shade. The Mila One-Piece is sleek one-piece option and is ideal for water activities such as swimming. The Mini Mila is the perfect companion piece to the Mila One-Piece, as it is made for children. Finally, there is the Sonja, which is a flattering swim dress. All of the stylish suits are UPF 50 to protect your skin against harmful ultraviolet rays. To shop, head over to mott50.com.
While these UPF swimsuits are great for protecting your covered skin from sun exposure, you should take care of exposed skin with broad-spectrum sunscreen. Don't know which formula will work best for you? Check out our picks of the best sunscreens for your skin type, here!
Read more

Back to top