3 Skin Care Tips for Your 40s
October 16, 2017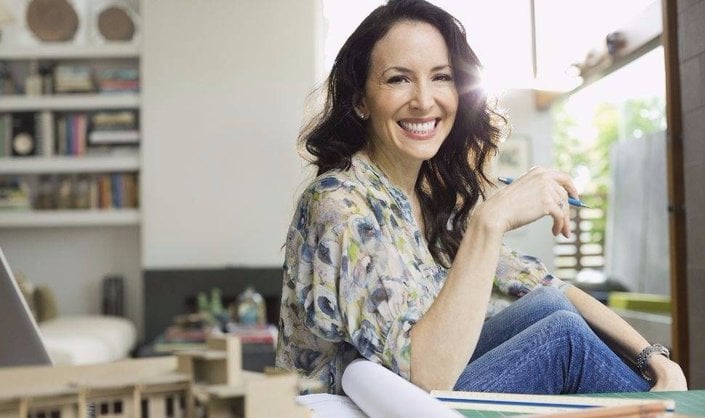 In your 40s and looking for a few all-star skin care tips? Look no further. We spoke to board-certified dermatologist, and Skincare.com consultant, Dr. Dendy Engelman to find out more about the top skin concerns of women in their 40s and how to combat them.
If you're just entering your 40s or if you're nearing your fifth decade of life, we're sure there have been a few recent changes in the appearance of your complexion. Whether it be a few new sunspots or deeper, more-defined wrinkles, there's no stopping the fact that with each new decade comes an assortment of age-related skin care woes, so don't feel like you're the only one!
Before embarking on this new decade of life, it might help to understand what could be in store beforehand. To get a better understanding of some of the most common skin concerns that may arise in your 40s, we tapped board-certified dermatologist, and Skincare.com consultant, Dr. Dendy Engelman. We're sharing the 411 on everything we learned—plus, our best tips on how to help address these issues once and for all, ahead!
The Top Skin Concerns in Your 40s

 
The most common skin concerns among women in their 40s, as Dr. Engelman has witnessed, are dull skin, uneven skin tone, and predominant wrinkles. Not even the best skin care products are capable of reducing every sign of aging, so if you're experiencing these concerns don't jump to the conclusion that your routine is subpar. There are, however, a few products you should make sure you have in tow to help reduce the appearance of these woes, and keep your skin as youthful-looking as possible.
Tip #1: Tone Down Your Face Wash
Now that your skin is entering its "mature" stage of life, it's time to swap out any of your harsh cleansing foams and gels for something gentle.  As the skin matures, "You need something more gentle, like a cleansing oil," Dr. Engelman explains. Looking for a suggestion? Try Kiehl's Midnight Recovery Botanical Cleansing Oil formulated with squalane, evening primrose oil, and lavender essential oil. This aromatic, lightweight oil emulsifies in water to a cleansing milk and can help delicately dissolve hard-to-remove impurities and makeup. 
Tip #2: Target Crow's Feet
"The eye area will be the first to start showing signs of aging," Dr. Engelman states, which is perhaps why crow's feet may be on the top of your list of skin concerns. One simple, seamless way to help reduce the appearance of wrinkles (including those around your eyes), is by hydrating your skin. "I still use my vitamin C antioxidant," Dr. Engelman states, "but follow with a face cream and eye cream for added hydration." With crow's feet specifically, Dr. Engelman suggests targeting the delicate area with a product that provides both anti-aging and hydrating benefits.
One of our favorite products formulated for mature skin types that targets dark circles, puffiness, and the effects of glycation is SkinCeuticals A.G.E. Complex. This anti-wrinkle eye cream is specifically formulated to improve the creping, sagging appearance caused by intrinsic aging processes, like glycation. What's more? It can help alleviate puffiness and dark circles specific to the delicate eye area. For best results, use SkinCeuticals A.G.E. Complex once or twice per day, massaging gently under the eyes and around the brow area.
Tip #3: Brighten Up Dark Spots
Dark spots can be a tricky concern to tackle. They can pop up anywhere on the face, but are particular popular in areas the sun hits most, like the cheekbones, nose, and forehead. There are plenty of products out there that can help target these very concerns, which can make finding the right formula for your skin feel like the ultimate challenge. "To brighten the look of your skin," Dr. Engelman says, "there are great masks and serums that will help fade the appearance of brown spots." For a few of our favorite dark spot correctors, read this!
Now that you've got the expert tips in tow, check out our roundup of the products you need in your 20s, 30s, 40s, and beyond! 
Read more

Back to top