Here's Why You Need This New Cleansing and Exfoliating Mitt
July 22, 2019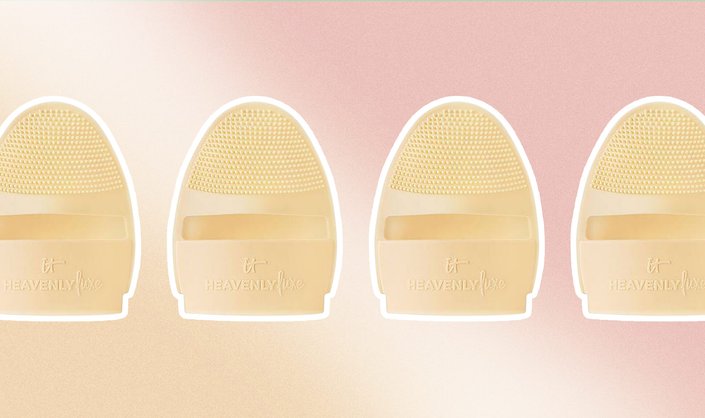 IT Cosmetics never fails to impress me — from its beloved CC+ Cream with SPF 50+ that we seriously can't live without to the makeup-melting cleansing balm that's an absolute must-have. So when the brand launches new products, I feel inclined to test them, no matter our initial thoughts. The latest product to catch my eye in the "new arrivals" section of the site was the Heavenly Luxe Facial Cleansing & Exfoliating Mitt. It surprised us because IT Cosmetics isn't necessarily known for its beauty tools. Brushes? Absolutely. A cleansing mitt? Not so much. Obviously, I had to put it to the test.
But when the mitt arrived in a clear little package, I was hesitant. I mean, the product is unassuming, and well, very innocent looking. From my initial observations, I noticed that one side had soft, tiny bristles, while the other had larger ones. I was curious but definitely hesitant about how this little mitt would actually make an impact on my daily cleansing routine. It was super flexible and I assumed this was to give me full control of my cleansing routine.
At the end of a long day, I grabbed my cleanser and applied it to my face with some water, and then slid my hand into the silicone mitt. I started by massaging the cleanser into my skin with the soft-bristled side and was pleasantly surprised by how gentle and soft it felt on my skin. I used the larger bristles to remove that harder-to-get makeup, and that side still felt soft, but also gave my skin a little more exfoliation. Washing my face with the mitt on my hand felt weirdly satisfying.
The Verdict
In short, this silicone cleansing mitt is worth purchasing if you want to ensure that you're getting a thorough cleanse. After using it, my skin felt noticeably soft and clean — a different feeling than when I just use my hands and a face cloth. It's also great price point as compared to pricier cleansing tool options on the market. 
Read More:
Vitamin C Serums Our Editors Love 
All of Your Sunscreen and Makeup Questions, Answered 
The Best Drugstore Under-Eye Concealers to Blur Dark Circles 
Read more

Back to top