The Skin Care Benefits of Micro-Needling
April 12, 2018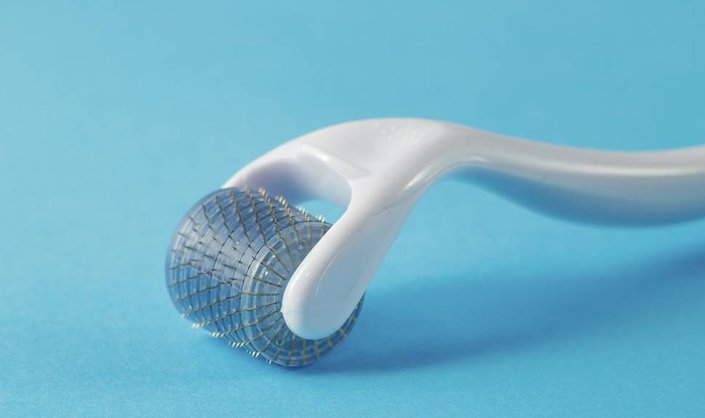 Micro-needling has quickly become one of the most buzzed-about beauty procedures out there—and for good reason. Thinking about giving it a try? We spoke to two board-certified dermatologists to get the scoop on the skin care benefits of micro-needling. Here's what you need to know before taking the plunge. 
WHAT IS MICRO-NEEDLING?
Microneedling (also known as collagen induction therapy) involves puncturing the top layer of the skin with thin, tiny needles using a special instrument. As a wound forms and heals, it stimulates the skin's collagen production. While the procedure sounds a bit intimidating, it's actually very simple and minimally-invasive. Originally introduced for skin rejuvenation benefits, micro-needling has now evolved to address a wide range of skin concerns, including acne scarring, signs of aging, stretch marks, discoloration, and more.
WHAT ARE THE BENEFITS OF MICRO-NEEDLING?
The popularity of micro-needling boils down to the many skin care benefits the procedure can provide. According to the Cleveland Clinic, micro-needling can help improve the appearance of acne scars, wrinkled and sun-damaged skin, and other skin imperfections. While the procedure is most often done on the face, some experts may utilize the procedure on other parts of the body, such as on the thighs or stomach to help smooth the appearance of stretch marks. 
WHAT'S THE DIFFERENCE BETWEEN AT-HOME VERSUS IN-OFFICE MICRO-NEEDLING?

 
According to board-certified dermatologist, and Skincare.com consultant, Dr. Dendy Engelman, there are two different "houses" when it comes to micro-needling: an in-office procedure and an at-home procedure. There are a few key differences between both. Most experts will agree that micro-needling performed by skilled hands is more likely to deliver the results you're looking for since the at-home kits are less aggressive. "The at-home derma rollers don't go into the skin as deeply," Dr. Engelman says. "They can be used safely and effectively at home in order to help drive products that you're using into the skin." That said, the American Academy of Dermatology (AAD) notes that at-home micro-needling devices can be difficult to clean and maintain, and the needles may dull quickly. As a result, the device may not adequately penetrate the surface layer to deliver those skin-rejuvenating results. 
WHAT ARE THE POTENTIAL SIDE EFFECTS OF MICRO-NEEDLING?
According to the AAD, recovery time can fluctuate depending on the depth of penetration of the needles. Mild swelling, redness, and potential scabbing can be present for several day or weeks following the procedure. Following the procedure, be sure to protect your skin from harmful UV rays with a broad-spectrum sunscreen and reapply at least every two hours. Take additional sun protection measures such as seeking shade, covering your face with long-brimmed hats, and avoiding peak sun hours, as well.
WHO IS A GOOD CANDIDATE FOR MICRO-NEEDING?
Before you start assuming that micro-needling is the best way for you to approach your skin concerns, you should schedule a one-on-one consultation with your dermatologist. Since micro-needling does not involve the delivery of heat, a wide variety of skin tones can try the procedure without running the risk of pigmentation issues, according to the AAD. However, micro-needling may not be the best choice out there for everyone, especially those dealing with acne lesions or inflammation. When in doubt, talk to your dermatologist.
HOW SHOULD YOU PREP THE SKIN BEFORE MICRO-NEEDLING?
Those who are the right candidates for micro-needling should adequately prepare their skin prior to procedure. For starters, it's a good idea to steer clear from excessive sunlight–– as well as any triggers that may make you more susceptible to burning. "Avoid using products that contain retinol several days before your procedure," advises dermatologist, and Skincare.com consultant, Dr. Karen Sra. "This can cause excessive irritation." 
What you should do, however, is stick to a routine of cleansing, moisturizing, and broad-spectrum sunscreen day in and day out–– even when it's cloudy! For a more personalized routine, talk to your dermatologist about how to prep your skin leading up to your appointment. 
Our editor gave at-home derma-rolling a try and shared her experience. Find out !
Read more

Back to top