How Wearing a Protective Mask Can Affect Your Skin and What to Do About It
May 13, 2020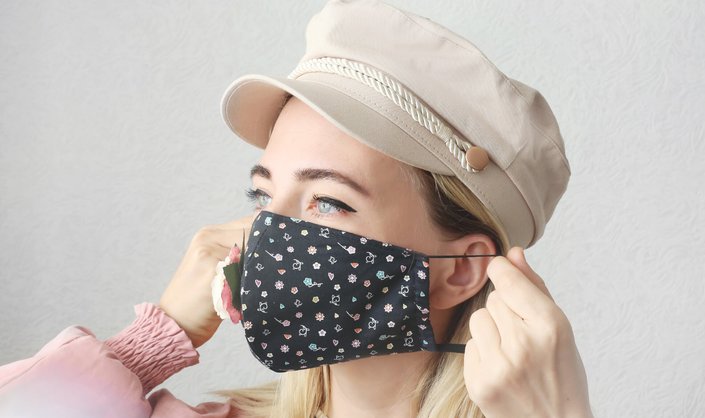 Many of us have recently introduced a new kind of face mask into our daily routines: PPE (or, personal protective equipment) masks. Unlike our favorite pampering sheet, cream and clay masks, PPE masks can wreak havoc on our skin. To find out how to prevent and treat side effects like acne and irritation that come with wearing facial coverings to protect ourselves and others from the spread of COVID-19, we asked three skin experts to share their tips. 
How Can a Protective Face Mask Affect Your Skin?
"Direct friction of the mask against the skin can lead to irritation and inflammation," explains Dr. Joshua Zeichner, an NYC-based board-certified dermatologist and Skincare.com expert. "By trapping your breath under the mask, it can also trap oil, sweat and dirt causing heat rash-like reactions and exacerbations of eczema, rosacea and acne." 
How to Prevent Mask-Related Acne and Irritation
There are several precautions you can take to prevent skin issues from developing. Start by cleansing and moisturizing your skin before putting your mask on.
For a moisturizer, "hyaluronic acid is a great ingredient to look for and it will perform particularly well in the humid environment created by the mask," says Dr. Hadley King, an NYC-based board-certified dermatologist. We love the Vichy Minéral 89 moisturizer. As for ingredients to avoid? "Heavy and potentially comedogenic products under the mask area, as well as potentially irritating ingredients."
Josie Holmes, esthetician at SKINNEY Medspa, recommends skipping the makeup — at least on the bottom half of your face. "Wearing makeup can cause further blockage to the pores in the skin and can sometimes increase the amount of sweat produced," she says. 
If you have a choice, you may also want to consider what type of fabric you're putting against your skin. "If you are going out in low-risk environments, natural fibers like cotton are the most gentle on the skin," says Dr. Zeichner. And don't forget to wash your mask after each use!
How to Treat Mask-Related Acne and Irritation
"For skin breakouts, consider a cleanser that contains salicylic acid to remove excess oil and dead cells from the surface of the skin to keep the pores clear," says Dr. Zeichner. If you have any active breakouts, he says you can also leave on a benzoyl peroxide spot treatment to combat acne-causing bacteria and inflammation. Try the CeraVe Renewing SA Face Cleanser for a cleanser formulated with salicylic acid or the La Roche-Posay Effaclar Duo Acne Spot Treatment with benzoyl peroxide, both made by our parent company L'Oréal. 
"If you notice this kind of irritation after removing the mask, wash the area with water and a gentle cleanser and apply an ointment to help the skin heal," says Dr. King. 
Ingredients like ceramides and emollient oils (such as avocado, grapeseed and pumpkin seed oils) can also help repair the skin barrier, says Dr. Zeichner. 
"For those who have experienced bruising due to overuse of protective masks, lymphatic drainage at the end of the day will help to circulate blood flow and de-puff the face," says Holmes. 
Read More: 
8 Detoxifying Clay Masks to Try While You're Social Distancing
So You Popped a Pimple — Now What
10 Skin-Care Products Our Editors Are Using at Home
Read more

Back to top