Exactly How to Get Smooth Skin From Head to Toe
November 21, 2018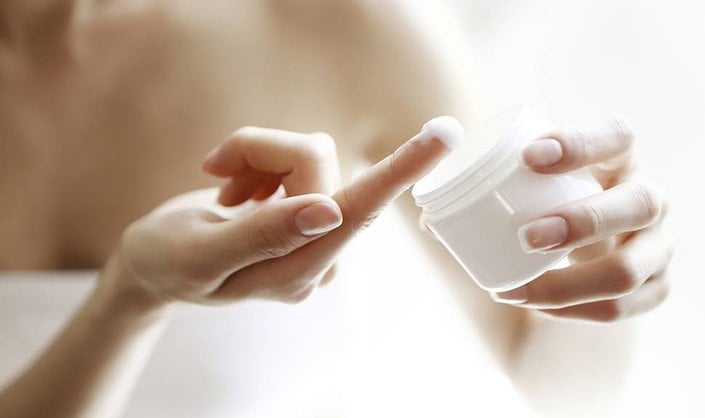 When it comes to skin concerns, methods to achieve soft, smooth skin are high in demand across all skin types. This is a particularly hot topic during the winter months when dryness, flaking, and peeling skin is more prominent. Luckily, soft, smooth skin is easily attainable with just three simple steps. Keep reading to find out how to get smooth skin on your face and body.

HOW TO GET SMOOTH SKIN IN 3 EASY STEPS
In order to get soft, smooth skin, stick to three basic steps. 
Step #1: Cleanse Your Skin
To help prevent breakouts and remove surface impurities at the end of the day—as well as a full face of makeup—the first thing you'll want to do in your smooth skin routine is cleanse. Use a gentle facial cleanser or body wash to wash away any dirt, excess oils, or makeup from your skin. 
Step #2: Exfoliate Your Skin
After you've cleansed your skin, it's time to exfoliate. Exfoliating removes dead skin cells in order to prevent "dead skin cell build up, clogged pores, dryness, dull complexion and rough texture," according to Maffi Clinics' licensed medical aesthetician, and Skincare.com consultant, Bre Knouse. There are two types of exfoliation: physical and chemical. Physical exfoliation involves sloughing away dead surface cells with an abrasive tool or gentle scrub. Besides using a face or body scrub, physical exfoliation can also be accomplished through dermaplaning. "Dermaplaning is the act of exfoliating and shaving the skin's surface layers with the use of a sharp surgical scalpel, comparable to shaving with a blade," Dr. Dendy Engelman, board-certified dermatologist, and Skincare.com consultant, says. 
Microdermabrasion is another method of physical exfoliation. The American Society for Aesthetic Plastic Surgery defines microdermabrasion as a process that works to gently exfoliate the top layer of the skin in order to remove dead skin cells. How, exactly, is that top layer removed? Skincare.com consultant and board-certified plastic surgeon, Dr. Peter Schmid explains, "Microdermabrasion is a non-invasive skin surface treatment, by which the epidermal upper layers of the epidermis of the skin are gently exfoliated. The treatment is administered by a closed vacuum system by which a hand-piece administers, suctions and resurfaces the skin with micro-fine crystals."
If you don't want to try physical exfoliation, chemical exfoliation is another option. Board-certified dermatologist, and Skincare.com consultant, Dr. Elizabeth B. Houshmand (@houshmandmd) states, "Chemical exfoliators are often more gentle for sensitive skin. There are two main types of chemical exfoliators, Alpha Hydroxy Acids [AHAs] and Beta Hydroxy Acids [BHAs]. AHAs work by melting the glue which attaches the dead skin cells to the outer layer of the skin while BHAs are oil-soluble ingredients which go deeper into the skin and pores for a thorough cleanse." One type of chemical exfoliation is known as a chemical peel. According to Dr. Michael Kaminer, "A chemical peel is a form of exfoliation where we can breakdown the surface skin allowing products to work better, oxygen to flow thoroughly through pores, and address aging and/or pigment concerns."
Step #3: Moisturize Your Skin
As with any skin care routine, you want to finish by hydrating your skin. After exfoliating, a moisturizer will help create the soft, silky texture you're after. Use a facial moisturizer or body lotion to do just that.

HOW TO GET SMOOTH SKIN ON YOUR FACE
Now that you know the three steps to take to achieve smooth skin, it's time to focus on a specific routine for your face. If you want to get smooth facial skin at home, read below for a step-by-step tutorial as well as some product picks.
Step #1: Cleanse Your Skin
When choosing a cleanser, opt for one that's formulated for your skin type. If you have acne-prone skin, try Acne Free's Oil Free Acne Cleanser. The cleanser is—with 2.5% micronized benzoyl peroxide—quickly and deeply penetrates pores to help clear blemishes and prevent new ones from forming. What's more, the fragrance-free wash is suitable for both face and body skin.
Step #2: Exfoliate Your Skin
As mentioned, you can exfoliate your face at home with gentle peel pads formulated with exfoliating acids or with a face scrub like the L'Oréal Paris Pure-Sugar Smooth & Glow Grapeseed Scrub. This scrub can be used on both your face and lips for an all-over smooth look. It's formulated with three pure sugars (blonde, brown, and white), finely ground acai, nutrient-rich monoi, and grapeseed oil. The sugar granules melt as you scrub, allowing this ultra-soft sugar scrub to be truly kind to your skin while providing deep, yet gentle exfoliation for a baby-soft, glowing finish. 
Step #3: Moisturize Your Skin
Finish your routine by using a face moisturizer for dry skin. We love Vichy's Aqualia Thermal Rich Cream. This rich moisturizing cream is formulated with Vichy Mineralizing Thermal Water and hyaluronic acid, and can fortify sensitive skin, while boosting hydration and comfort levels.

HOW TO GET SMOOTH SKIN ON YOUR BODY
Want to get smooth skin below your jaw? Here's how to get smooth skin on your body.
Step #1: Cleanse Your Skin
Start your regimen by cleansing your body in the shower. We recommend Kiehl's Original Musk Bath and Shower Liquid Body Cleanser which is infused with Kiehl's signature Original Musk fragrance. The foaming body wash leaves skin feeling cleansed and lightly fragranced. Opt for lukewarm water so as not to dry your skin out with water that's too hot.
Step #2: Exfoliate Your Skin
Treat the skin on your body the same as you would your face by using a gentle body exfoliator, like Kiehl's Gently Exfoliating Body Scrub. The scrub is formulated with exfoliating apricot seed particles to help remove dead surface skin cells without over-drying.
Step #3: Moisturize Your Skin
Complete your smooth skin routine by applying Carol's Daughter's Almond Cookie Shea Soufflé body cream liberally all over your body. This comforting shea soufflé is formulated with almond oil and can help restore skin softness. Its cushiony texture melts into the skin, without leaving behind a greasy or sticky feel. Your body skin will be moisturized and smooth.
Read more

Back to top