Benzoyl Peroxide vs. Salicylic Acid: Which Acne-Fighting Ingredient Is Right for You?
September 12, 2023
Without a doubt, two of the biggest power players when it comes to combating acne are benzoyl peroxide and salicylic acid. If you've ever used an acne spot treatment, it's probably been formulated with one of these blemish-fighting skincare ingredients. While they do similar things, it's important to know the difference between benzoyl peroxide and salicylic acid to help you determine which ingredient (if not both) best suits your battle with acne. Here, we've read through the research and gotten insight from plastic surgeon Dr. Peter Schmid to break down all you need to know about these popular skincare ingredients. Read on for the key differences between benzoyl peroxide and salicylic acid — plus benefits, side effects and product recommendations you'll want to use to update your acne-fighting regimen.
Benzoyl Peroxide
Chances are high that you've used a product formulated with benzoyl peroxide in your routine, or at the very least have heard your peers or a dermatologist talk about the ingredient. And while you may already be familiar with the ingredient, read on to get fully up to speed on how it can help your skin.
What Is Benzoyl Peroxide?
"Benzoyl peroxide is an antibacterial made of benzoic acid and oxygen," says Dr. Schmid. "It penetrates the pores or follicles of the skin and kills the bacteria that live there and contribute to inflammation that results in acne." When used topically, benzoyl peroxide works as a peeling agent that increases skin turnover and clears pores, per Science Direct. You can find this ingredient in many different types of skincare products, including face washes, creams, lotions, gels and even pre-moistened wipes.
What Does Benzoyl Peroxide Work Well On?
If you're dealing with pesky, tiny, surface pimples Dr. Schmid says benzoyl peroxide is particularly effective on whiteheads. According to the American Academy of Dermatology (AAD), benzoyl peroxide is also recommended to help reduce moderate to severe acne when used in conjunction with a topical retinoid. Keep in mind that per Science Direct, it's best to avoid layering these products in the same routine. Instead, use your product with benzoyl peroxide during the day and your retinol at night.
What Percentage Should I Use?
You can find benzoyl peroxide in concentrations between 2.5 and 10%. According to the AAD, studies have shown that products formulated with a higher percentage of benzoyl peroxide — over 2.5% — are not synonymous with increased effectiveness. In fact, they could even irritate the skin. "When first trying a benzoyl peroxide product, I recommend starting with the lowest percentage and working your way up if needed to minimize dryness and irritation that can often occur," says Dr. Schmid.
3 Ways to Add Benzoyl Peroxide to Your Skincare Regimen
Blemishes have a way of showing up at the worst possible times. If you have a big event coming up and an even bigger pimple on your face, try this spot treatment formulation with 5.5% benzoyl peroxide. Apply a thin layer of the fast-absorbing cream on the affected area one to three times per day and watch as blemishes are visibly minimized in three days.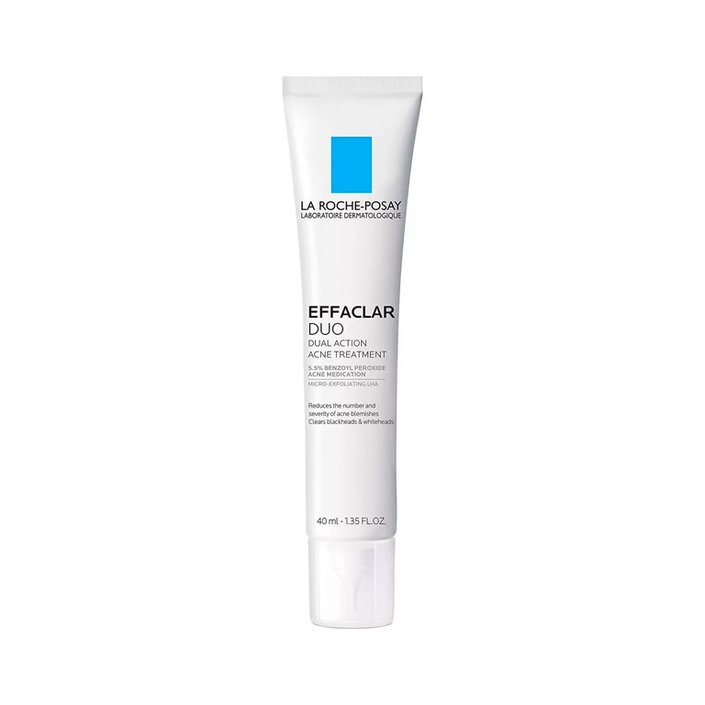 Introduce yourself to benzoyl peroxide with a gentle face formulated with the acne-fighting ingredient. This foaming face wash from CeraVe has 4% benzoyl peroxide to clear acne while dissolving dirt, sweat and excessive oil from the skin. Your skin will appreciate the added hyaluronic acid and niacinamide to soothe irritation.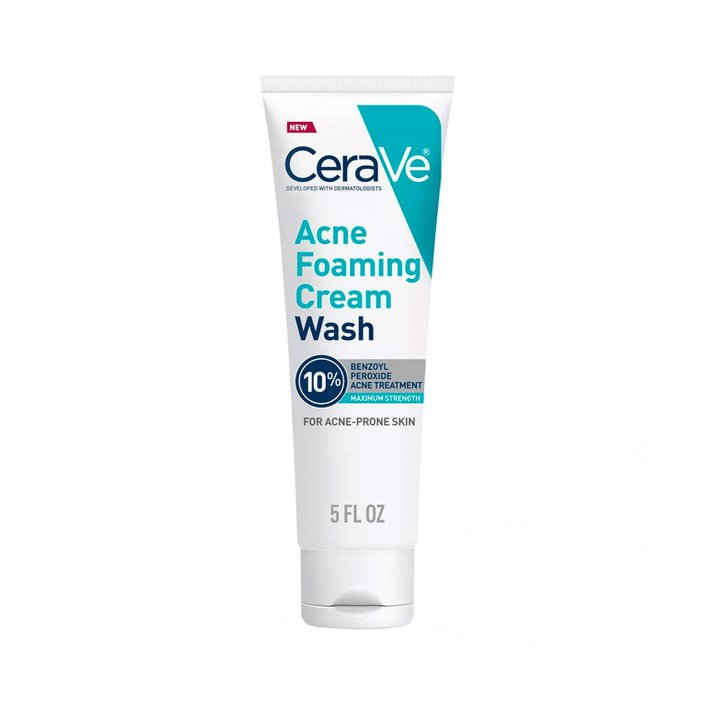 For those with chronic acne, try this cleanser that offers the most concentrated formulation of benzoyl peroxide available over-the-counter. This cleanser goes from a cream to a foam texture that cleans the skin while attacking acne. A bonus is that this wash works on the face and body to treat facial acne and
body acne
.
Salicylic Acid
Salicylic acid is the most commonly used form of beta-hydroxy acid for its incredibly popular acne-fighting abilities, per the National Center for Biotechnology Information (NCBI). To learn more about whether or not salicylic acid is right for your skin concerns, keep reading.
What Is Salicylic Acid?
As a topical, salicylic acid works by exfoliating dead skin cells that can clog pores. "It's very effective at getting through the oil that exists in our pores or follicles to exfoliate the skin cells that exist there," Dr. Schmid says. "[This] ultimately reduces the formation of acne." You can find salicylic acid in a wide range of skincare products, including face washes, creams, scrubs, cleansing cloths and cleansing pads.
What Does Salicylic Acid Work Well On?
It can be applied on all types of acne and can even be applied on the skin once the blemish clears according to the Cleveland Clinic. Additionally, salicylic acid can help address visible signs of aging by working to exfoliate dead skin cells on the skin's surface.
What Percentage Should I Use?
Usually, this exfoliant is found in small concentrations of 1 or 2%. It can cause skin dryness when used in excess, so talk to your dermatologist about the best concentration and frequency to abide by.
3 Ways to Add Salicylic Acid to Your Skincare Regimen
This pimple patch alternative offers the calming and pimple-reducing abilities of a hydrocolloid bandage in a liquid formulation. Apply a small amount of the invisible patch to your pimple and allow it to dry before applying the rest of your skincare routine. Kiehl's formulation of 2% salicylic acid, 4% niacinamide and 0.2% licorice root works to reduce the size of pimples in 24 hours.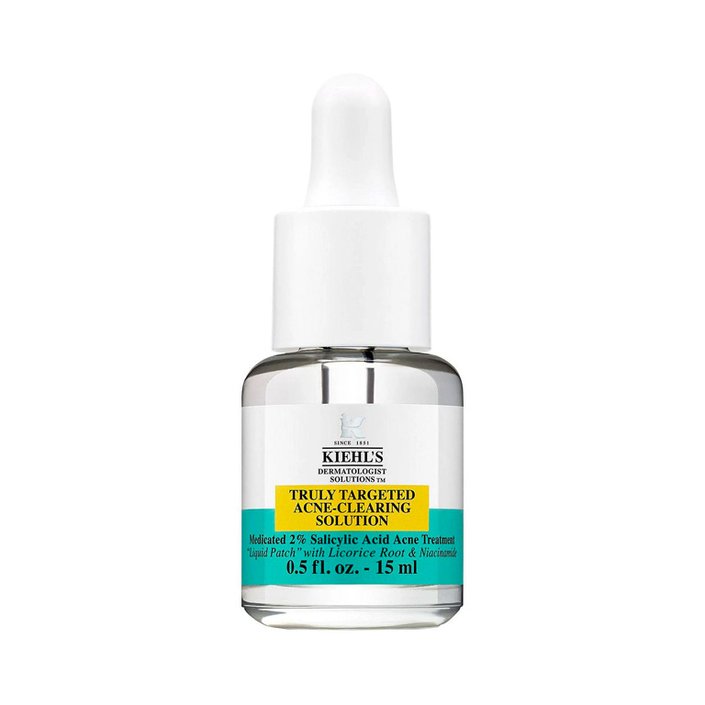 A blend of lipo-hydroxy acid (LHA), glycolic acid (AHA) and salicylic acid (BHA) make up this best-selling exfoliant wash from Skinceuticals. This cleansing gel helps decongest clogged pores, eliminate dead skin cells and reduce acne with its exfoliating properties. You can use this cleansing gel twice a day to gently refine skin for a deep cleansing.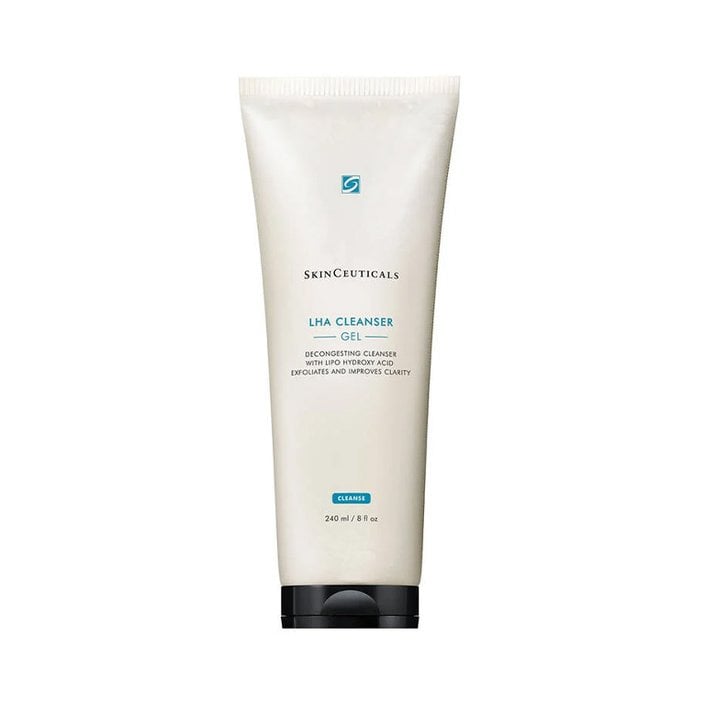 This serum is Dr. Schmid's go-to product for acne-prone skin. "I recommend it to nearly all of my patients concerned with acne," he says. "It contains the optimal combination of alpha-hydroxy acids (glycolic and citric) and beta-hydroxy acids (salicylic acid and LHA), as well as a 2% dioic acid, which helps to minimize excess sebum." Dr. Schmid recommends using it to spot treat or simply use it all over the face. The best part? All skin types can benefit from the product. "I consistently have very positive feedback from our patients who incorporate it into their skincare regimen," he says.
What is the Difference Between Benzoyl Peroxide and Salicylic Acid?
The key difference between benzoyl peroxide and salicylic acid is that benzoyl peroxide kills acne-causing bacteria, while salicylic acid removes dead skin cells that can clog pores. Both can help address acne and prevent new blemishes from forming, which is why some patients choose to combine the two in their routine. Keep in mind, however, that some may experience excess skin dryness or irritation when pairing benzoyl peroxide and salicylic acid together in a routine. Sensitive skin types should also avoid benzoyl peroxide products as this ingredient may cause mild dryness and irritation, per the NCBI.
Editor's note: Acne-fighting ingredients like benzoyl peroxide and salicylic acid are notoriously drying. Be sure to use all products as directed and keep your skin hydrated from the inside out. When using products formulated with benzoyl peroxide make sure to protect skin from excessive sun exposure by applying broad-spectrum sunscreen — even if it's cloudy!
Read more

Back to top