A Step-By-Step Guide for an Even-Looking Skin Tone
January 03, 2017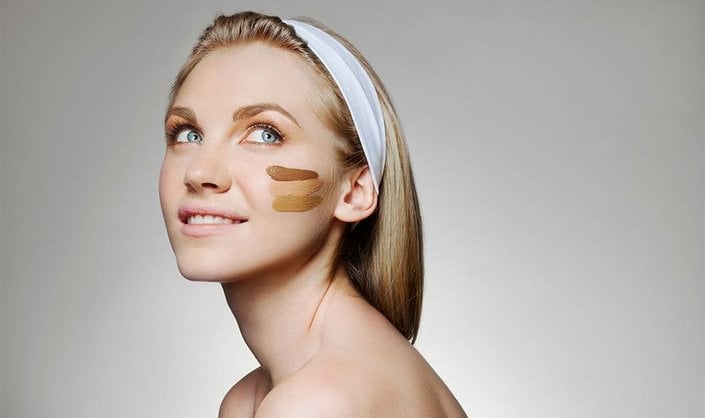 Kudos to you if your skin is naturally flawless, but for the rest of us gals who struggle with an uneven skin tone, a spot-free complexion doesn't come without a little help from makeup and a religious skin care routine with the right products (and maybe even a few visits to the derm). Of course there are plenty of good skin practices to help achieve brighter-looking skin for the long-haul—more on that later—but when you're in a pinch, the first place to go is inside your makeup bag. Below, we share 4 easy steps to achieving a skin tone that's visibly even. From start to finish, the routine will take less time than it takes for your morning coffee to brew.
STEP 1: PRIME
All good makeup applications should start with primer. These products can help makeup stay put for longer, as well as provide a well-hydrated and smooth canvas to work with. If redness is your concern, reach for a color-correcting primer, like L'Oreal Paris Studio Secrets Anti-Redness Primer. The formula glides on smoothly to help blur spots and reveal an even skin tone.
STEP 2: APPLY FOUNDATION
Using your favorite foundation, apply an even coat on your face and gently blend it in with a clean blending sponge or foundation brush. Feel free to build on the product until your desired coverage is achieved. Try Dermablend Blurring Mousse Camo Foundation. The formula can help camouflage skin concerns—think: bumps, redness, zits, enlarged pores—with a natural, matte finish.
STEP 3: CONCEAL BLEMISHES
We prefer to use concealer AFTER foundation to help conceal spots with additional coverage, though some gals prefer to use it first. Whether you're hoping to reduce the appearance of dark circles or a pesky blemish, use a concealer that's ultra-blendable and—most importantly—the right shade for your skin tone. Pat the formula in gently with a sponge or your fingers—don't wipe!—to ensure a smooth, natural-looking appearance.   
STEP 4: SET WITH POWDER
By now, your skin tone should be looking a whole lot better and more even. The last step is to set everything in place. Dust on some setting powder—like Maybelline FaceStudio Master Fix Setting + Perfecting Loose Powder—for a soft-focus effect. That's all it takes! 
OTHER HELPFUL TIPS
Faking flawless skin—and an even skin tone—with makeup is a great option for instant results, but why rely on it? With the right skin care routine, you can help reveal glowing radiant looking skin  without covering it up. Below, we share additional tips to follow to help reduce the appearance an uneven skin tone over time.
Apply SPF: Daily sunscreen—broad-spectrum SPF 15 or higher—is crucial for everyone to help protect skin against harmful UV rays. Since UV exposure can darken preexisting spots, you'll want to apply broad-spectrum sunscreen liberally to your face to help keep skin protected.    
Wear Topical Antioxidants: Vitamin C is a great antioxidant to apply onto your skin because in addition to helping to defend the skin against free radicals, it can also help reduce the appearance of an uneven skin tone to reveal bright, radiant skin. To learn more about the benefits of vitamin C, read this!
Use a Dark Spot Corrector: Dark spot correctors may help fade the look of dark spots and even out your skin's tone with continued use. Try La Roche-Posay Mela-D Pigment Control. The concentrated serum is formulated with glycolic acid and LHA, two power players when it comes to exfoliating skin, smoothing and evening its surface, and boosting radiance. For a list of more dark spot correctors we recommend, click here!
Invest in an In-Office Peel: Chemical peels sound scary, but are actually quite beneficial for your skin when done right. They help exfoliate the skin—shedding unwanted dead skin cells and allowing products to work better—as well as help address aging and/or pigment concerns. To find out if you're a good candidate for a chemical peel, chat with your dermatologist or a licensed skin care practitioner. 
Read more

Back to top