How to Address Signs of Aging Based on Your Skin Type
October 28, 2022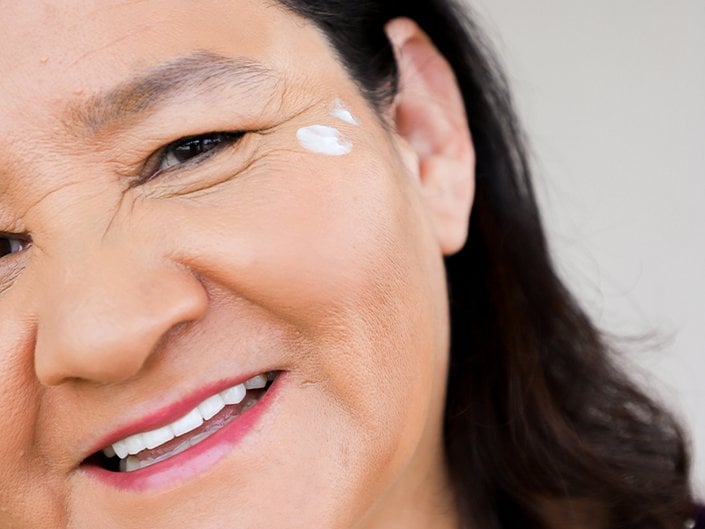 No matter how old you are, we think it's safe to say that no one wants to experience premature signs of aging. While a completely natural, normal part of life, fine lines and wrinkles are something we'd like to try to avoid for as long as possible. One of the best ways to keep wrinkles and fine lines at bay is by taking preventative steps and committing to an anti-aging skin-care routine.
When putting together that routine, though, it's important to consider your skin type because different types age differently and have varying tolerances to ingredients. Here, we tapped board-certified dermatologists Dr. Hadley King and Dr. Susan Van Dyke, as well as esthetician at Pomp Beauty, Nicole Hatfield, to give us tips on how to address aging for different skin types.
How to Address Signs of Aging If You Have Dry Skin
There's a common misconception that dry skin causes wrinkles. While this isn't true, the reason it's so often believed is because dry skin can accentuate wrinkles. The key to addressing noticeably aging skin if you're prone to dryness is to hydrate and moisturize the skin to keep it looking plump, explains Dr. Hadley. Additionally, Dr. Van Dyke recommends using something like the Crepe Erase Overnight Facial Plumping Treatment, which has a rich texture and contains nine super hydrators as well as emollients and natural lipids to hold moisture, and to smooth the appearance of crepey skin and fine lines.
When it comes to sloughing off dead skin from the skin's surface, Dr. Hadley says that dry skin may not tolerate a daily exfoliating cleanser, so it's best to use a gentle exfoliator one or twice a week. One of our favorite gentle exfoliators is the La Roche-Posay Ultra Fine Face Scrub because it's made with ultra-fine pumice particles to gently remove excess dead surface cells while respecting sensitive and dry skin types. "Dry skin also may not tolerate a retinoid, so other options like anti-aging peptides or gentler retinol alternatives can be used instead," says Dr. Hadley.
Ultimately, Hatfield says, when it comes to dry skin and aging, the key is to focus on hydrating and nourishing the skin, using rich moisturizers and to be careful not to overdo it with active ingredients like retinol and hydroxy acids.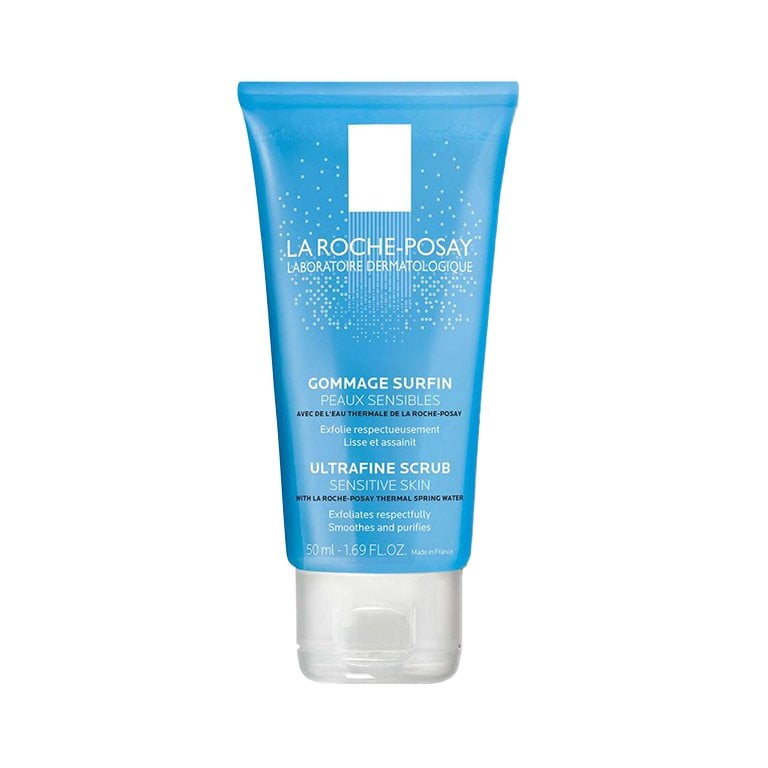 How to Address Signs of Aging If You Have Oily Skin
"With oiliness usually comes thicker skin because the oil-producing components actually help to plump the skin," says Hatfield. "This means oily skin will develop less fine lines and crepiness than dry skin but will actually have deeper wrinkles because once the skin's collagen breaks down the skin has further to fall."
The main goal when it comes to addressing aging in oily skin is to balance oil production. "Salicylic acid is wonderful for this," says Hatfield. "Niacinamide is also a great ingredient that helps to regulate oil production." Try incorporating a cleanser with salicylic acid into your routine, like the Vichy Normaderm PhytoAction Daily Deep Cleansing Gel and then follow up with the CeraVe AM Facial Moisturizing Lotion with Sunscreen, which is formulated with hydrating hyaluronic acid, ceramides to help restore and maintain your skin's barrier and soothing niacinamide.
"Some ingredients that are potentially irritating, like retinoids and alpha-hydroxy-acids, may be better tolerated by less sensitive, oilier skin types," says Dr. Hadley. That means, don't be afraid to incorporate a retinol to help prevent premature signs of aging. If you're new to retinol, start by using a product once or twice a week that has a low percentage of the ingredient, like the SkinCeuticals Retinol 0.5 Face Cream. It's important to build up your tolerance when using retinol, but once you do, the results are worth it.
How to Address Signs of Aging If You Have Mature Skin
While mature skin is not necessarily a skin type, it does need some specialized attention when addressing signs of aging. "Mature skin is generally more dry and more sensitive than the same skin at a younger age, so adjustments must be made," says Dr. Van Dyke.
As we age, we tend to lose moisture and oil production within the skin, and cellular turnover slows down, explains Hatfield. "Mature skin individuals should most definitely be using antioxidants like vitamin C and because cellular turnover slows down, vitamin A is also very beneficial." One of our go-to vitamin C serums? The L'Oréal Paris Derm Intensives 10% Pure Vitamin C Serum. And because retinol is a derivative of vitamin A, you can incorporate the use of a retinol into your routine provided it doesn't irritate your skin. When it comes to moisturizing, don't be afraid of using a richer formula to give you a more plump-looking complexion.
How to Address Signs of Aging If You Have Sensitive Skin
When addressing signs of aging on sensitive skin, gentle products will be your saving grace. "Sensitive skin can be tricky when introducing anti-aging ingredients," says Hatfield. "First, you need to focus on calming and nourishing the skin." She explains that it's best to look for products that contain ceramides because they can help restore the skin's barrier.
The CeraVe Hydrating Cleanser is a great daily gentle cleanser that's made with ceramides and offers an effective cleanse without stripping the skin of moisture or leaving it feeling tight and dry. "Once the barrier is intact, you can incorporate low percentage alpha-hydroxy-acid, such as mandelic or lactic acid." She also recommends that her clients with sensitive skin try products with bakuchiol, like the Indeed Labs Bakuchiol Reface Pads. Similar to retinol, the formula works to reduce the appearance of fine lines and wrinkles, improve uneven skin tone and texture all while improving barrier function and protecting against water loss.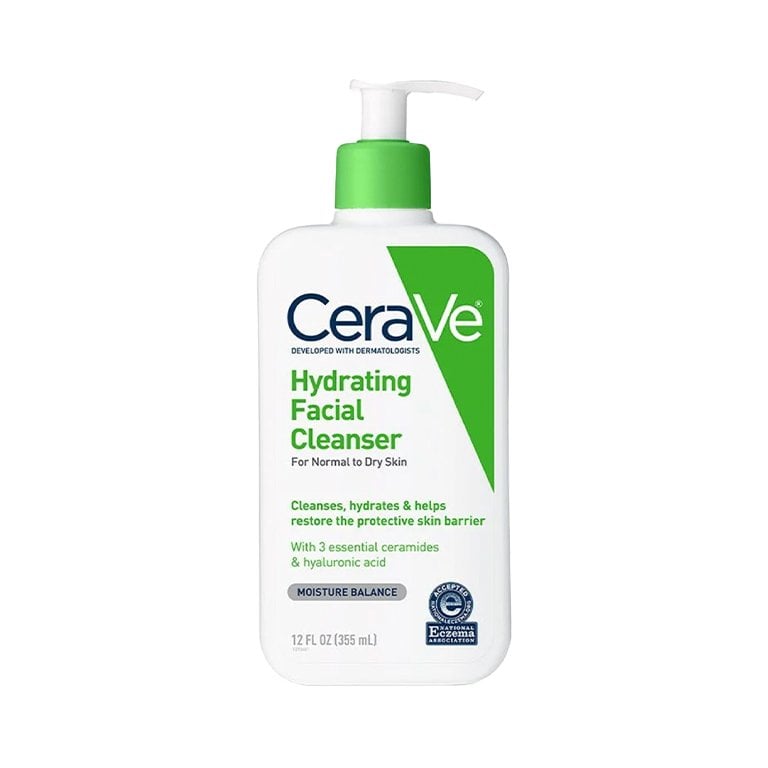 Photo: Melissa San-Vincente Landestoy
Read more

Back to top