Yes, Hair Sheet Masks Are a Thing — Here's What to Know
February 23, 2021
Sheet masks are great for giving your skin a little boost, but did you know that there's actually sheet masks made to give your hair the same kind of TLC? While traditional hair masks in tubs and tubes have their place, sheet masks are optimal for mess-free, nourishing hydration — all in a few minutes. To find out everything you need to know about hair sheet masks, keep reading, because we're breaking down how to use them and our favorite product, below. 
What Is a Hair Sheet Mask?
Don't expect a sheet mask for your hair to exactly resemble the ones for your face. There will be no holes for your eyes and mouth, obviously, but instead the sheet will have a cap-like structure that's soaked with a hair mask formula. These sheets allow you to skip the process of slathering your strands with a mask. Instead, all you have to do is put the cap on (see, no mess!). There are a range of different formulas, from hydration to damage repair, so you can pick an option that best suits your needs. Two options we love are the L'Oréal Paris EverPure Deep Moisture Hair Sheet Mask, which helps hydrate dry hair, and the L'Oréal Paris EverPure Intense Repair Hair Sheet Mask, which is a good option for color-treated or heat-damaged hair. 
How to Use a Hair Sheet Mask
Incorporating a sheet mask into your skin-care routine is easy, but using a hair sheet mask may not be as self-explanatory. Here's what to do. 
STEP 1: Prepare Your Mask
Hair sheet masks should be used in the shower, and it may be difficult to get your product out of the packaging when your hands are wet. So before stepping in the shower, open the package and unfold the mask, then leave it somewhere that's within reach but out of the way of the water.
STEP 2: Wash Your Hair 
When using a sheet mask on your hair, it should take the place of your conditioner.  Wash your hair as usual and rinse out any product. 
STEP 3: Apply the Mask
Twist and wrap your hair, gathering the entirety of your hair on top of your head. Then, similar to how you would apply a shower cap, place the sheet mask over your hair. 
STEP 4: Massage Your Scalp 
Simply sitting a mask atop your head isn't enough. To ensure your hair is completely coated with the mask formula, you'll have to gently massage the cap.
STEP 5: Be Patient 
A hair mask needs a bit of time to work, and hair sheet masks are no different. Leave yours on for five to 10 minutes or as directed on the packaging. When time is up, remove the cap and rinse out the product with lukewarm water.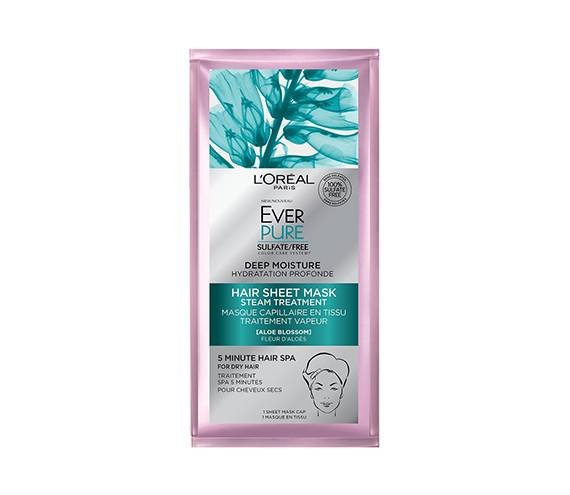 Design: Hannah Packer
Read More:
Our Favorite Anti-Aging Moisturizers for Men
What's the Difference Between Fine Lines and Wrinkles
The Perfect Overnight Face Mask for Your Skin Type
Read more

Back to top